Update3: From Samaja – 10% seats will be reserved for students from Odisha.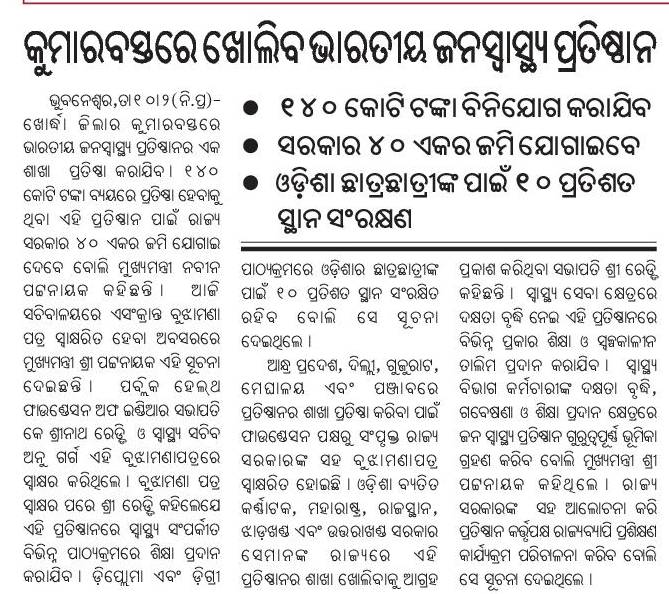 ---
Update2: From Dharitri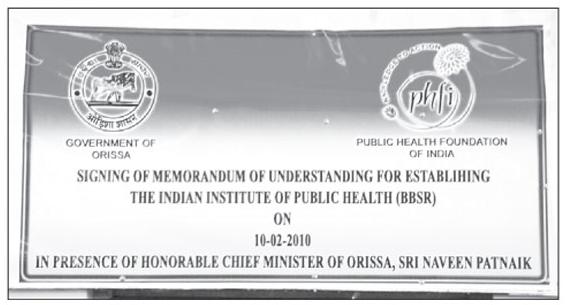 ---
Update: Business Standard has more details on this. Following are some excerpts.
Speaking on the occasion, Patnaik said, … "IIPH, in consultation with the state government, will impart training programmes for enhancing the capacity of the public health functionaries across all levels. The institute will offer Post-Graduate diploma programmes in Public Health Management, Health Economics, Health Care Financing, Health Policy, Biostatistics and Data Management. In addition, IIPH will conduct two-year diploma course in Public Health and Masters in Public Health", he added.

… Reddy, the PHFI president, said, "Once the IIPH campus is fully operational, it will offer training short-term training programmes to 500 people and long-term training to 300 others.
As per the IIPH web pages currently the following courses are offered by the existing IIPHs.
Delhi: PG Diploma in (a) Clinical Research (b) Public Health Management and (c) Health Economics, Health Care Financing and Health Policy
Hyderabad: PG Diploma in (a) Biostatistics and Data Management
Gandhinagar: PG Diploma in (a) Public Health Management
---
Earlier when it was announced that PHFI centers will open in Bhubaneswar and Balasore it was not clear what kind of center it would be. (See also here and here.) Following is an excerpt from a PTI report that says an IIPH will start in Bhubaneswar this July.
Orissa will soon get an Indian Institute of Public Health (IIPH) here which will start functioning from July this year.

An MoU in this regard was signed between the state government and the New Delhi-based Public Health Foundation of India (PHFI) for establishment of an IIPH here at an investment of Rs 140 crore.

"The institute will deal in education, training and research on prioritised health problems of the state," Chief Minister Naveen Patnaik said while attending a function on the occasion.

While the state government had agreed to give 40 acres of land free of cost at Kumarbasta village near here to establish the IIPH, the PHFI would invest the money for the purpose, Patnaik said.
Considering the real need with respect to containing Cholera, Malaria and other diseases that frequently break out in the hinterlands the IIPH in Bhubaneswar must establish branches in the hinterlands of Odisha.
2 comments February 10th, 2010