June 1st, 2008
Many JEE qualified students may be wondering about the new IITs. In a series of articles we will talk about the IIT in Bhubaneswar and the advantages of the Bhubaneswar area.
Bhubaneswar has excellent connectivity by train, road and air. It has multiple daily direct trains to/from Delhi, Kolkata, Chennai, Bangalore, Hyderabad, a daily train to/from Mumbai, and trains to/from all corners of India (Guwahati, Kerala, Goa, Gujarat, Jaipur, Punjab, Haradwar, Kanpur, Lucknow, Benras, Patna, Raipur, Bhopal, etc.) It has direct train connections to all the old IITs (Bombay, Delhi, Madras, Kanpur, Kharagpur, Roorkee, and Guwahati).
Following is a map of Bhubaneswar's railway connectivity.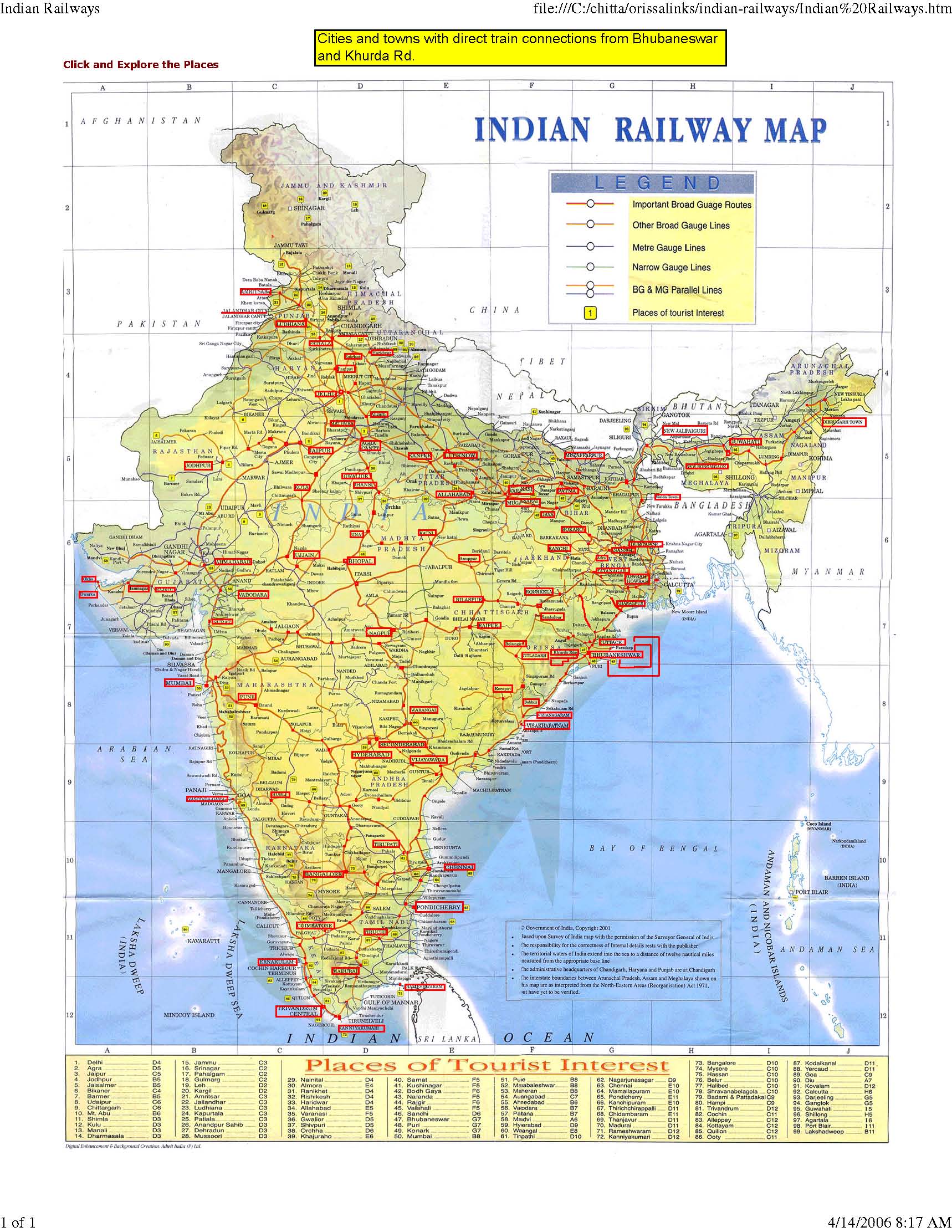 Following information about train connectivity of Bhubaneswar is from the site http://trainyatra.com/arrival_departure.php?step=1&station_name=BBS.
(See also http://trainyatra.com/arrival_departure.php?step=1&station_name=Khurda for connectivity to Khurda Rd which is 18 kms from Bhubaneswar. There are a few trains from Puri to the west (e.g. Ahmedabad) and south (e.g. Tirupati) that go through Khurda Rd without touching Bhubaneswar.)
Arrivals & departures in BHUBANESWAR (BBS)
Sr No
Train No
Train Name
Source
Destination
Arrival
Departure
Mon
Tue
Wed
Thu
Fri
Sat
Sun
1
8463
PRASANTHI EXP
BHUBANESWAR
BANGALORE CY JN
04:15
Y
Y
Y
Y
Y
Y
Y
2
8411
INTER CITY EXP
BHUBANESWAR
VISHAKAPATNAM
05:25
Y
Y
Y
Y
Y
Y
–
3
2074
BBS JAN SHATABD
BHUBANESWAR
HOWRAH JN
06:00
Y
Y
Y
Y
Y
Y
–
4
2893
BBS BLGR SUPER
BHUBANESWAR
BALANGIR
06:30
Y
Y
Y
Y
Y
Y
Y
5
2845
BBS YPR SUP EXP
BHUBANESWAR
YESVANTPUR JN
07:30
–
–
–
–
–
–
Y
6
7015
VISAKHA EXPRESS
BHUBANESWAR
SECUNDERABAD JN
08:25
Y
Y
Y
Y
Y
Y
Y
7
2443
BBS RAJDHANI EX
BHUBANESWAR
NEW DELHI
09:05
Y
–
–
–
Y
–
–
8
2421
BBS RAJDHANI EX
BHUBANESWAR
NEW DELHI
11:25
–
–
Y
–
–
–
Y
9
2830
BBS CHENNAI EXP
BHUBANESWAR
CHENNAI CENTRAL
11:45
–
–
–
Y
–
–
–
10
2898
BBS PDY EXPRESS
BHUBANESWAR
PONDICHERRY
11:45
–
Y
–
–
–
–
–
11
2822
DHAULI EXP
BHUBANESWAR
HOWRAH JN
13:15
Y
Y
Y
Y
Y
Y
Y
12
1020
KONARK EXPRESS
BHUBANESWAR
MUMBAI CST
15:15
Y
Y
Y
Y
Y
Y
Y
13
2819
ORISSA S KRANTI
BHUBANESWAR
NEW DELHI
15:55
–
–
Y
–
–
–
Y
14
2892
BBS BPO EXPRESS
BHUBANESWAR
BARIPADA
17:30
–
–
Y
–
Y
–
Y
15
8425
BBS R EXPRESS
BHUBANESWAR
RAIPUR JN
19:15
Y
Y
Y
Y
Y
Y
Y
16
8447
HIRAKHAND EXP
BHUBANESWAR
KIRANDUL
20:00
Y
Y
Y
Y
Y
Y
Y
17
2146
BBS LTT SUP EXP
BHUBANESWAR
LOKMANYATILAK T
23:00
–
Y
–
–
–
–
–
18
8410
SRIJAGANNATHEXP
PURI
HOWRAH JN
00:05
00:15
Y
Y
Y
Y
Y
Y
Y
19
5640
GHY PURI EXPRES
GUWAHATI
PURI
01:35
01:40
–
–
–
–
–
Y
–
20
8450
B NATH DHAM EXP
O
PURI
01:35
01:40
–
–
–
Y
–
–
–
21
8409
SRIJAGANNATHEXP
HOWRAH JN
PURI
02:40
02:50
Y
Y
Y
Y
Y
Y
Y
22
6309
PATNA EXPRESS
ERANAKULAM JN
O
03:00
03:05
–
–
Y
Y
–
–
–
23
2515
GUWAHATI EXP
TRIVANDRUM CNTL
GUWAHATI
03:00
03:05
–
Y
–
–
–
–
–
24
2513
SC GHY EXP
SECUNDERABAD JN
GUWAHATI
03:00
03:05
Y
–
–
–
–
–
–
25
2509
GUWAHATI EXP
BANGALORE CY JN
GUWAHATI
03:00
03:05
–
–
–
–
Y
Y
Y
26
2863
HWH YPR EXPRESS
HOWRAH JN
YESVANTPUR JN
03:10
03:20
Y
Y
Y
Y
Y
Y
Y
27
2802
PURSHOTTAM EXP
NEW DELHI
PURI
03:40
03:50
Y
Y
Y
Y
Y
Y
Y
28
2895
HWH PURI EXPRES
HOWRAH JN
PURI
04:10
04:25
–
–
–
–
–
Y
–
29
2887
HWH PURI EXPRES
HOWRAH JN
PURI
04:10
04:25
–
Y
–
–
–
–
–
30
2145
BHUBANESHWAR EX
LOKMANYATILAK T
BHUBANESWAR
04:20
–
Y
–
–
–
–
–
31
1019
KONARK EXPRESS
MUMBAI CST
BHUBANESWAR
04:35
Y
Y
Y
Y
Y
Y
Y
32
8478
KALINGAUTKALEXP
HARIDWAR JN
PURI
04:50
05:00
Y
Y
Y
Y
Y
Y
Y
33
2842
COROMANDEL EXP
CHENNAI CENTRAL
HOWRAH JN
04:55
05:05
Y
Y
Y
Y
Y
Y
Y
34
2837
HWH PURI EXP
HOWRAH JN
PURI
05:30
05:40
Y
Y
Y
Y
Y
Y
Y
35
8302
RGDA SBP EXPRES
RAYAGADA
PURI
05:50
06:00
Y
Y
Y
Y
Y
Y
Y
36
8451
TAPASWINI EXPRE
HATIA
PURI
05:50
06:00
Y
Y
Y
Y
Y
Y
Y
37
2847
AMARAVATHI EXP
HOWRAH JN
VASCO DA GAMA
06:05
06:15
–
Y
Y
–
Y
–
Y
38
0201
YPR GUWAHATI EX
YESVANTPUR JN
GUWAHATI
06:15
06:25
–
–
Y
–
–
–
–
39
2507
GUWAHATI EXP
ERANAKULAM JN
GUWAHATI
06:25
06:40
–
–
–
Y
–
–
–
40
5227
MUZAFFARPUR EXP
YESVANTPUR JN
MUZAFFARPUR JN
06:25
06:40
–
–
–
–
Y
–
–
41
2659
GURUDEV EXPRESS
NAGARCOIL JN
SHALIMAR
06:25
06:40
–
Y
–
–
–
–
–
42
6323
SHALIMAR EXP
TRIVANDRUM CNTL
SHALIMAR
06:25
06:40
Y
–
–
–
–
Y
–
43
2603
HWH MAS MAIL
HOWRAH JN
CHENNAI CENTRAL
06:30
06:40
Y
Y
Y
Y
Y
Y
Y
44
8406
ADI PURI EXP
AHMEDABAD JN
PURI
06:55
07:05
–
–
–
–
–
–
Y
45
6324
SHM=TVC EXPRESS
SHALIMAR
TRIVANDRUM CNTL
07:15
07:30
Y
–
Y
–
–
–
–
46
6310
PNBE-ERS EXPRES
O
ERANAKULAM JN
07:15
07:30
–
–
–
–
Y
Y
–
47
2660
GURUDEV EXPRESS
SHALIMAR
NAGARCOIL JN
07:15
07:30
–
–
–
Y
–
–
–
48
8646
EAST COAST EXP
HYDERABAD DECAN
HOWRAH JN
07:30
07:40
Y
Y
Y
Y
Y
Y
Y
49
0202
GHY YPR SPECIAL
GUWAHATI
YESVANTPUR JN
07:35
07:45
–
–
–
–
–
–
Y
50
8426
R BBS EXP
RAIPUR JN
BHUBANESWAR
07:45
Y
Y
Y
Y
Y
Y
Y
51
8507
HIRAKUD EXPRESS
VISHAKAPATNAM
AMRITSAR JN
07:50
08:00
–
Y
–
–
Y
Y
–
52
2516
GHY-TVC-EXPRESS
GUWAHATI
TRIVANDRUM CNTL
07:55
08:05
–
–
–
Y
–
–
–
53
2510
GHY-SBC-EXPRESS
GUWAHATI
BANGALORE CY JN
07:55
08:05
Y
Y
Y
–
–
–
–
54
2508
GHY ERS EXPRESS
GUWAHATI
ERANAKULAM JN
07:55
08:05
–
–
–
–
–
Y
–
55
2514
GHY SC EXPRESS
GUWAHATI
SECUNDERABAD JN
07:55
08:05
–
–
–
–
Y
–
–
56
8448
HIRAKHAND EXP
KORAPUT
BHUBANESWAR
08:30
Y
Y
Y
Y
Y
Y
Y
57
2891
BPO BBS EXPRESS
BARIPADA
BHUBANESWAR
10:00
Y
–
–
Y
–
Y
–
58
8474
JU PURI EXPRESS
JODHPUR JN
PURI
10:30
10:35
Y
–
–
–
–
–
–
59
8303
SBP PURI INT EX
SAMBALPUR
PURI
10:45
10:55
Y
Y
Y
Y
Y
Y
–
60
2704
FALAKNUMA EXP
SECUNDERABAD JN
HOWRAH JN
10:50
11:00
Y
Y
Y
Y
Y
Y
Y
61
2816
PURI EXPRESS
NEW DELHI
PURI
10:55
11:05
–
Y
–
Y
Y
–
Y
62
2846
BHUBANESHWAR EX
YESVANTPUR JN
BHUBANESWAR
11:30
–
–
Y
–
–
–
–
63
2820
ORISSA S KRNTI
NEW DELHI
BHUBANESWAR
12:10
–
–
Y
–
–
Y
–
64
2875
NEELACHAL EXP
PURI
NEW DELHI
12:20
12:30
–
Y
–
–
Y
–
Y
65
2815
PURI NDLS EXP
PURI
NEW DELHI
12:20
12:30
Y
–
Y
Y
–
Y
–
66
2821
DHAULI EXP
HOWRAH JN
BHUBANESWAR
12:45
Y
Y
Y
Y
Y
Y
Y
67
2703
FALAKNUMA EXP
HOWRAH JN
SECUNDERABAD JN
13:55
14:10
Y
Y
Y
Y
Y
Y
Y
68
7016
VISAKHA EXP
SECUNDERABAD JN
BHUBANESWAR
15:10
Y
Y
Y
Y
Y
Y
Y
69
2876
NEELACHAL EXP
NEW DELHI
PURI
15:20
15:30
Y
–
Y
–
–
Y
–
70
2848
VSG HOWRAH EXP
VASCO DA GAMA
KACHEGUDA
15:30
15:40
Y
–
Y
–
Y
Y
–
71
8449
B NATH DHAM EXP
PURI
O
15:50
15:55
Y
–
–
–
–
–
–
72
5639
PURI GHY EXPRES
PURI
GUWAHATI
15:50
15:55
–
–
–
–
–
Y
–
73
2422
BUBNESWR RJDHNI
NEW DELHI
BHUBANESWAR
16:00
–
Y
–
–
–
Y
–
74
8473
PURI JU EXPRESS
PURI
JODHPUR JN
16:00
16:05
–
–
Y
–
–
–
–
75
8508
HIRAKUND EXP
AMRITSAR JN
VISHAKAPATNAM
16:10
16:20
Y
Y
–
–
Y
–
–
76
2829
BHUBANESWAR EXP
CHENNAI CENTRAL
BHUBANESWAR
17:30
–
–
–
–
–
Y
–
77
2444
BUBNESWR RJDHNI
NEW DELHI
BHUBANESWAR
17:35
–
–
–
Y
–
–
Y
78
8304
PURI SBP INT EX
PURI
SAMBALPUR
18:00
18:10
Y
Y
Y
Y
Y
Y
–
79
2897
PDY BBS EXPRESS
PONDICHERRY
BHUBANESWAR
19:25
–
–
–
Y
–
–
–
80
5629
GUWAHATI EXPRES
CHENNAI EGMORE
GUWAHATI
19:25
19:40
–
Y
–
–
–
–
–
81
5929
DIBRUGARH EXP
CHENNAI EGMORE
DIBRUGARH TOWN
19:25
19:40
–
–
–
–
Y
–
–
82
2664
HOWRAH EXPRESS
TIRUCHCHIRAPALI
HOWRAH JN
19:25
19:40
–
–
Y
–
–
Y
–
83
2666
CAPE HOWRAH EXP
KANYAKUMARI
HOWRAH JN
19:25
19:40
–
–
–
–
–
–
Y
84
8645
EAST COAST EXP
HOWRAH JN
HYDERABAD DECAN
19:25
19:40
Y
Y
Y
Y
Y
Y
Y
85
8405
PURI ADI EXP
PURI
AHMEDABAD JN
20:00
20:10
–
–
Y
–
–
–
–
86
2073
BBS JAN SHATABD
HOWRAH JN
BHUBANESWAR
20:20
Y
Y
Y
Y
Y
Y
–
87
2604
HOWRAH MAIL
CHENNAI CENTRAL
HOWRAH JN
20:35
20:45
Y
Y
Y
Y
Y
Y
Y
88
8564
PRASANTHI EXP
BANGALORE CY JN
BHUBANESWAR
20:55
Y
Y
Y
Y
Y
Y
Y
89
2841
COROMANDAL EXP
HOWRAH JN
CHENNAI CENTRAL
21:20
21:35
Y
Y
Y
Y
Y
Y
Y
90
2838
PURI HWH EXP
PURI
HOWRAH JN
21:45
21:55
Y
Y
Y
Y
Y
Y
Y
91
2894
BLGR BBS SUPER
BALANGIR
BHUBANESWAR
22:00
Y
Y
Y
Y
Y
Y
Y
92
8452
TAPASWINI EXP
PURI
RAYAGADA
22:10
22:20
Y
Y
Y
Y
Y
Y
Y
93
2663
HWH TPJ EXPRESS
HOWRAH JN
TIRUCHCHIRAPALI
22:40
22:50
–
–
–
Y
–
–
Y
94
5630
GUWAHATI MS EXP
GUWAHATI
CHENNAI EGMORE
22:40
22:50
–
–
–
–
–
Y
–
95
5930
DBRT MS EXPRESS
DIBRUGARH TOWN
CHENNAI EGMORE
22:40
22:50
–
Y
–
–
–
–
–
96
2665
KANNYAKUMARI EX
HOWRAH JN
KANYAKUMARI
22:40
22:50
Y
–
–
–
–
–
–
97
8477
UTKAL EXPRESS
PURI
HARIDWAR JN
22:45
22:50
Y
Y
Y
Y
Y
Y
Y
98
8412
INTER CITY EXP
VISHAKAPATNAM
BHUBANESWAR
22:55
Y
Y
Y
Y
Y
Y
–
99
2864
YPR HOWRAH EXP
YESVANTPUR JN
HOWRAH JN
23:05
23:10
Y
Y
Y
Y
Y
Y
Y
100
2888
PURI HWH EXPRES
PURI
HOWRAH JN
23:15
23:20
–
–
–
–
–
–
Y
101
2896
PURI HWH EXPRES
PURI
HOWRAH JN
23:15
23:20
–
–
–
Y
–
–
–
102
2801
PURUSHOTTAM EXP
PURI
NEW DELHI
23:25
23:35
Y
Y
Y
Y
Y
Y
Y
Entry Filed under: Bhubaneswar-Cuttack-Puri- Khurda area (1),IIT Bhubaneswar,IIT, oDishA,IITs, IISc, IISERs, NISER, IIMs