February 11th, 2010
Update: Following is from Samaja.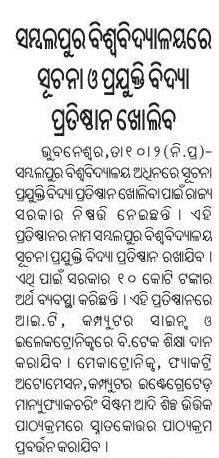 ---
Following is from a report in Pioneer.
The State Government has decided to set up a technical university in Sambalpur. This university would be christened as Sambalpur University Institute of Information Technology. The State Government has provided Rs 10 crore for this institute.
The Pioneer news above is a bit inaccurate. As far as I know it will be a part of Sambalpur University. The idea was mooted by Sambalpur University VC (who was earlier a Computer Science professor at University of Hyderabad) Prof. Arun Pujari. I have seen part of the proposal. Prof. Pujari had a very good proposal. His proposal and persistent efforts to get it approved finally got enthusiastic support from the IT Secretary Mr. Pradipta Mahaptra, the RDC and the Additional Chief Secretary Mr. S. P. Nanda and higher education officials (HE Secretary Mr. M. Padhi and others) and ministry. Kudos to all of them.
With the establishment of this Odisha will soon have three IIIT type institutes in Bhubaneswar, Berhampur and Sambalpur.
Special thanks to Prof. Arun Pujari. He has several other innovative plans for Sambalpur University. He has also made some very good hires in the Science disciplines at Sambalpur University. If he continues at the current rate he will be remembered as one of the best VCs of Sambalpur University. Lets support his innovative initiatives with all our heart.
Entry Filed under: Berhampur-Gopalpur-Hinjilicut area (3),Bhubaneswar-Cuttack-Puri- Khurda area (1),NITs, IIITs,Sambalpur University,Sambaplpur-Burla-Jharsuguda-Baragarh area (4)