Following is an excerpt from a Business Standard report in sify.com.
The Institute of Chartered Accountants of India (ICAI) has proposed to set up a Centre for Excellence in Bhubaneswar.

"ICAI currently has around 600 members in Orissa and we intend to set up a Centre of Excellence in Bhubaneswar. We have sought the cooperation of the state government to allot land to us", said Amarjit Chopra, president of ICAI.

… This is set to be the first Centre of Excellence of ICAI in the eastern region.
In 2007 ICAI had first announced setting up of 11 such centers. Following is an excerpt from a 2007 Economic Times report.
Institute of Chartered Accountants of India (ICAI) is planning to open centres of excellence in 11 cities across India at a cost of Rs 100 crores with an aim to diversify avenues and broaden communication skills of professionals. "We will be opening up centre of excellence in 11 Indian cities, which would primarily cater to broadening the outlook and skill set of chartered accountants", ICAI's newly appointed President Sunil Talati told reporters after taking charge.

Talati said there was a need to impart management-level education to CAs, which prompted the institute to go in for the centre of excellence.

The first such centre would come up at Hyderabad, while other cities where the centre would be set up are Mumbai, Chennai, Kolkata, Noida, Kanpur, Ahmedabad, Pune, Jaipur, Bangalore and Chandigarh, Talati said.

He said the course length would be between three and six months adding that it would be optional for CA professionals. "We have plans to tie up with Management institutes like IIM Ahmedabad and Kolkata Business school for this initiative," he said.

Talati said the institute would provide classroom facilities to CAs and will give them exhaustive training in communication and presentation skills.

"Trade, business and commerce need this kind of professional services and, therefore, we are going in for this course," He said.
The website of the ICAI Hyderabad Center of excellence is http://www.icaihyd.org/centre_excellence.php. The following letter from that site explains the purpose of the center.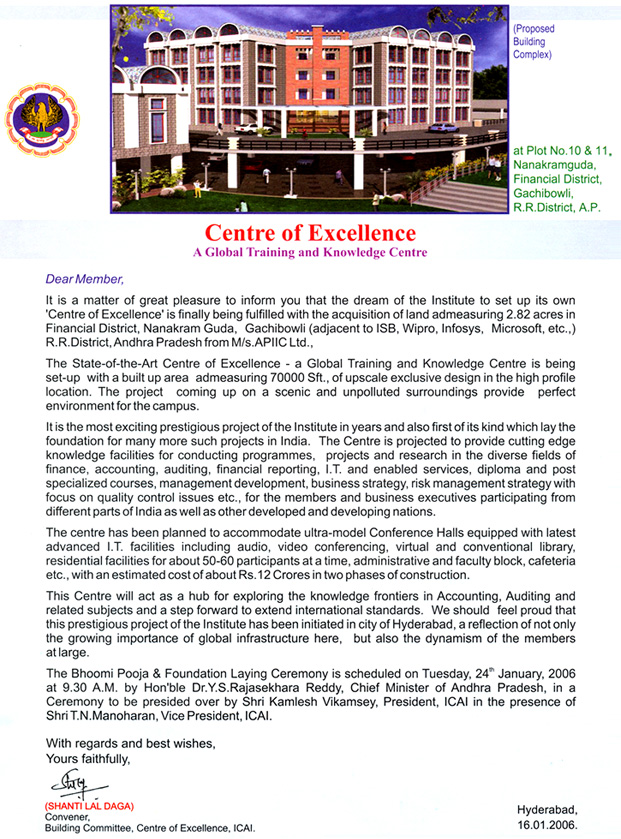 1 comment November 15th, 2010