Update: See also http://www.orissalinks.com/orissagrowth/archives/4308.
---
Rourkela is the second largest metropolitan area of Orissa with an official metropolitan population of 550,668 but perhaps much more (at least 700 K) if one takes into account nearby places like Biramitrapur and Rajgangpur. It is probably the most cosmopolitan area of Orissa. Because of its steel plant it has world-wide name recognition. It has a lot of young talents; I am told that Rourkela youngsters have done much better in entrance exams like IIT JEE than from other parts of Orissa. Rourkela and the Sundergarh district have produced many national hockey players (both male and female), some of whom have gone on to captain the Indian national side.
Being an important station in the Mumbai-Howrah line, Rourkela is very well connected to both. The National Institute of Technology at Rourkela is often ranked among the top 5 NITs of the country; in recent years it has done much better and is in the process of starting a business program. Rourkela also has two private engineering colleges and at least one more is in the works. Rourkela has at least two good magament schools: Rourkela Institute of Management Studies (sometimes ranked nationally) and Indian Institute of Production Management, Kansbahal.
Overall, Rourkela has the potential to be a Tier II city of India at the level of Vizag, Chandigarh, etc. But unfortunately, that has not happened so far and active organized efforts need to be made to achieve that.
So here I will list some of the things that should be pursued so that Rourkela becomes a Tier II city of India.
Knowledge and HRD aspects:
Metropolitan University: Rourkela is perhaps the largest metropolitan area of the country, or may be the whole world which does not have a general university. This needs to be rectified at the earliest. IMHO, the best model to follow would be of Delhi University. So a Rourkela Metropolitan University should be established with graduate programs as well as with a few constituent colleges spread (offering Bachelors as well as Masters degrees) across the metropolitan area, but with no affiliated colleges. The exisiting government colleges in Rourkela (Govt. College, Rourkela; SG Women's, Rourkela and Rourkela College) would be made constituents of this university.
Medical College: Although a WODC sponsored PPP-based medical college is in the works, we must continue pursuing an ESIC medical college here. SAIL, which is making a medical college in Bokaro, should also be pushed to establish a medical college here.
BPUT: BPUT must become fully operational from Rourkela.It needs to have real departments and centers and offer its own courses. It should be expanded to have programs in Science and Humanities.
Research Centers: The state should pursue one of the central government departments such as CSIR, DAE, Sc & Tech, etc. to open a research center in Rourkela.
Centrally funded University: At some point a centrally funded university should be pursued for Rourkela.
More private institutions: Rourkela has the population base and the amenities that metropolitan areas offer to have more private institutions such as engineering colleges, management institutions etc. A multi-pronged apporoach should be taken.

Local big industries should be cajoled to participate in this. For example, SAIL is also planning an engineering college in Bokaro. They should be pushed to have one in Rourkela.
Local people should also open private institutions on their own.
Educational foundations inside and outside state that have developed good private institutions should be approached and invited to open institutions in Rourkela. Inside Orissa, institutions like Silicon and NIST should be approached.

STP: The STP at Rourkela should be expanded.
IT/BPO: Because of the cosmopolitan nature of Rourkela, it would be a good place for BPO and call center operations. This should be pursued.
Sports Institute/University: Sundergrah district is considered by many to be the Hockey cradle of India, both in men's and women's hockey. It has produced both Men's and Women's hockey team captains in Dilip Tirkey and Jyoti Sunita Kullu. Orissa government should pursue to establish a National Sports Institute (of the kind in Patiala) in Rourkela. It should include programs in physical training, coach training, official training etc. This would specially contribute in the enhancing the employment opportunities for Adivasis who constitute 50.74% of Sundergarh's population.
Connectivity Aspects:
Rail Connectivity -Trains: While the connectivity to Mumbai and Kolkata is marvelous, connectivity to other places needs improvement. Dilip has a good list of new trains needed for Rourkela at http://rourkelarail.wetpaint.com/page/DEMANDS. This list is:

Rourkela-Bhubaneswar Intercity Express( Day Time)
Rourkela-Berhampur Gajapati Express
Rourkela-Secundarabad/Hyderabad Express
Trains to New Delhi from Bhubaneswar via Rourkela OR Rourkela-Nizamuddin/New Delhi Express (Any extension of Ranchi-Hatia or Tatanagar trains will also work)
Trains to Patna and Eastern U.P.

Rail Connectivity-Others: The Talcher-Bimlagarh line must be fast-tracked.
Roads: The 4-laning of the state highway 10 connecting Sambalpur and Rourkela must be expedited.
Air Connectivity: Rourkela airport must be made functional with commercial flights at the earliest.
Metro area:
A larger metropolitan area for Rourkela that includes Kansbahal and Rajgangpur in the west and Biramitrapur in the North must be formally established.
The state government should pursue Rourkela to be included in JNNURM.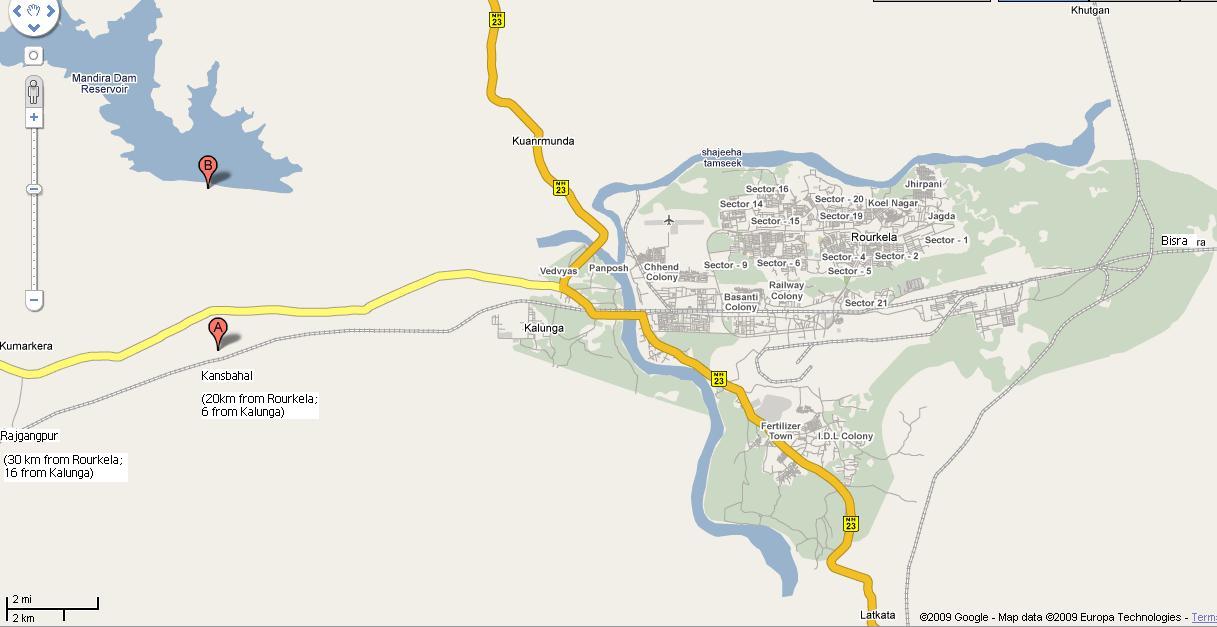 (The above is from Google Maps.)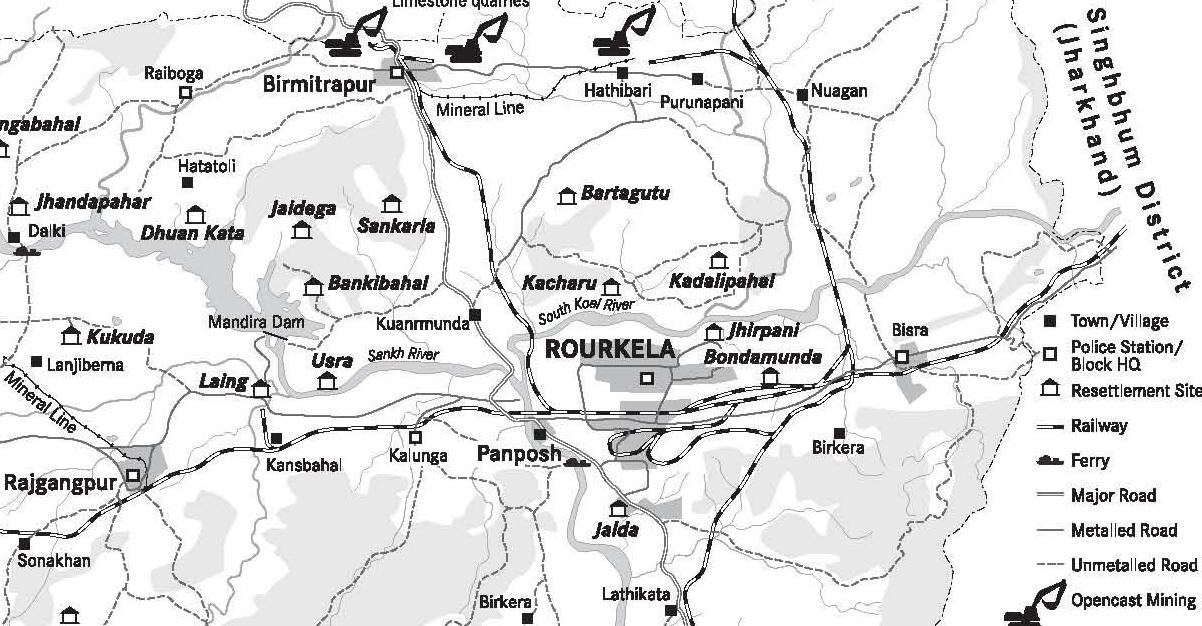 (The above is from "sarini: Occasional papers, No. 4, Adivasis of Rourkela")
Work in Progress…
43 comments November 15th, 2009