Update: A picture courtesy Devasis Sarangi and Rajeswar Rao.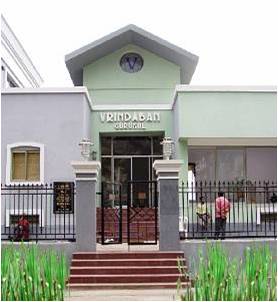 Update: Post-inauguration coverage from Dharitri.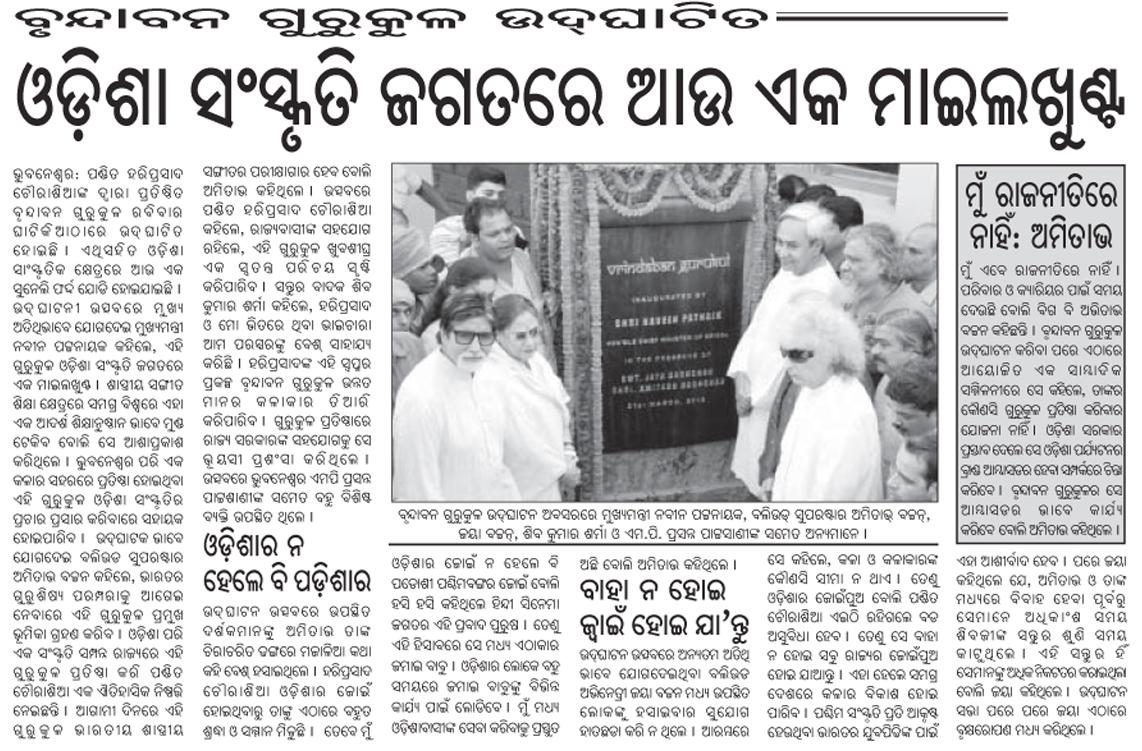 ---
Following is an excerpt from an older report in orissatv.
Renowned flute player, Hariprasad Chaurasia has decided to set up a training institute in Bhubaneswar to train students having penchant for classical music.

The flute maestro's proposed institute has been christened as 'Vrindaban Gurukul' that would spread on two acre land at Ghatikia in the outskirts of the capital city. Nearly Rs 5 crore would be invested in the project.
His initial Vrindaban Gurukul in Mumbai came up in 1996. In this article in Hindu the reason behind a similar one in Bhubaneswar is explained. Following are some excerpts:
So the jet-setting flautist, who spends almost half-a-year in Holland as part of the Rotterdam Conservatory, realised the need to set up a gurukul. Situated in Versova (Mumbai), Chaurasia's Vrindavan (the name of the gurukul) is where students with a passion for music live and learn sangeet free of cost. The students won't come out of this gurukul armed with degrees and certificates. They will just have their talent to flaunt. Despite his hectic concert schedule, he takes time out to be with his students, guide and interact with them. "Though I stress on discipline; we laugh, crack jokes…there's enough fun at Vrindavan. I share a good rapport with these youngsters."

His second gurukul is coming up at Bhubaneshwar. "The progress has been really slow. Who wants to fund a gurukul?" But why Bhubaneswar? The maestro spent quite a few years in Cuttack working as a staff artiste for All India Radio. It is also where he met his wife Anuradha, then an established singer on radio.
Orissadiary reports that Amitabh Bachchan and his family will come to Bhubaneswar (first trip to Orissa for Mr. Bachchan) to "attend a program organized by internationally renowned exponent of the bansuri or bamboo flute Pandit Hari Prasad Chaurasia. … They will attend in the inauguration ceremony of Brindavan Gurukul in Bhubaneswar." The older orissatv report also mentioned about the inauguration of the Gurukul in March 2010. The Orissadiary report has a nice description on what the Gurukul's aims are. Following are some excerpts:
Brindavan Gurukul is dedicated to the teaching and promotion of performing arts of the world (music and dance particularly), yoga, and meditation techniques, in a serene atmosphere, along the ancient Indian "gurukul" principles.

BGI was established in 1996 by Pandit Hari Prasad and Dr. Shyamala Rajender, for promoting, presenting and teaching Indian classical music, Indian-Western integrated music, along with meditation techniques, yoga, and music theory. Focus will be on gifted or talented children and youth, especially underprivileged and needy children. Pandit Chaurasia's mission is world peace, love and harmony through music, meditation and relaxation.

To create and inculcate in children and youth a love for and appreciation of Indian music, especially bansuri music as well as Indian-Western (jazz) fusion music. To provide for children at an early age, a constructive, disciplined, satisfying and creative alternative to the culture of drugs, gangs, violence and sex to which they are constantly exposed and to prepare them for the unique challenges of the 21st Century.

For the guru to work closely with sishyas (students/disciples) to identify, recognize, encourage and create a desire to learn and excel in the music or musical instrument of their choice.

To expose children at a very early age to different types and kinds of music and musicians and combination of styles; to expand their horizons and acceptability of styles new or foreign to them by encouraging them to attend various concerts and musical performances by great artists from all around the world.

To bring different artisans from India to practice their different art forms within Vrindaban Gurukul and to keep alive some of the great creative arts so unique to India which are being allowed to perish.

To build a library to house a large collection of books, audio and video cassettes, CDs, DVDs of Indian classical and bhajan music, literature, books, other types of recordings etc.

To promote other activities to make Vrindaban Gurukul an economically and emotionally self-supporting institution for the promotion of Indian classical performing arts, heritage and culture.
Following is an excerpt from an interview in Expressbuzz that adds more to the bond between Pandit Chaurasia and Orissa.
… After a sound training in Hindustani music, I learnt Odissi under great masters like Singhari Shyam Sundar Kar and Balakrushna Dash after I came to Cuttack for my college education.

Kabichandra Kali Charan Patnaik – the doyen of Orissa's theatre, dance and music who was my maternal uncle – guided my music career. As a result I topped the State in the youth festival in 1959 and also became an AGrade singer for All India Radio (AIR) besides performing in many major music conferences in Orissa.

How was the first meeting with Chaurasia?

I was a student at Sailabala Women's College and as a staff artiste of AIR he came there to play for a cultural programme.

He was only 19 then. I was mesmerised by the tonal quality of his rendition and you may say that it was love at first sight that grew up into courtship later during our association at AIR Cuttack. Finally we got married against the wish of my father and my mentor (Kalicharan Patnaik).

…

Was it a choice or coincidence that your daughter in law is an Oriya?

A coincidence but we are really fortunate to have a caring, efficient and noble 'bohu' like her. She has an excellent academic record and was a gifted Odissi dancer. But she also loved to serve the family. She now takes care of Hariji and the family so nicely that I am able to go back to music. I teach at Hariji's institution in Mumbai known as Vrindavan.

Do you miss your motherland Orissa at times?

Not only me, our whole family loves Orissa more than any other place on this earth. I am happy that Hariji decided to build his Gurukul here that would link all of us to Orissa for the rest of our life more intimately.
11 comments March 21st, 2010