Following is Sambada's take on it.
September 20th, 2007
Following are excerpts from a report in NDTV.
The government is likely to re-orient Sarva Siksha Abhiyan (SSA), the flagship programme of Human Resource Development (HRD) Ministry, into a National Mission for Quality Elementary Education.

A decision to transform SSA into a national mission with specific monitorable target is likely to be taken by the Planning Commission meeting on higher education under the chairmanship of Prime Minister. …

The meeting will also consider a proposal to enact a law to provide compulsory quality education to children of 6-14 years of age, with joint funding from the Centre and states.

The Commission will take a view on the proposal to revamp the National Literacy Mission and introduce Lifelong Education and Awareness Programme.
Following are excerpts from a report in Asian Age on Orissa's plans.
The Orissa government on Wednesday decided to provide Rs 500 crores in the coming supplementary budget for widening of the Sarva Shiksha Abhiyan programme in the state.

This was decided after a review meeting held here …

It was found that the at least 40,000 teacher posts are lying vacant in various primary and high schools. The chief minister asked the department officials to fill up the vacant posts on war footing.

The long standing demand for establishment at least one high school in each gram panchayat was discussed in the meeting. It was resolved that 1,119 gram panchayats — which do not have high schools — will soon get new high schools. Middle english schools in all these gram panchayats will be upgraded as high schools, the meeting decided. Mr Patnaik also stressed the need for increasing the literacy rate in the state.
September 13th, 2007
Quoting from http://ssa.nic.in/ssaframework/
Sarva Shiksha Abhiyan is an effort to universalise elementary education by community-ownership of the school system. It is a response to the demand for quality basic education all over the country. The SSA programme is also an attempt to provide an opportunity for improving human capabilities to all children, through provision of community-owned quality education in a mission mode.
EGS is one of schemes that has been used for the above effort. Now that the central govt has asked some aspects of EGS to be changed the Orissa government plans to develop an alternative. The following article in Samaja elaborates on a proposal that is under consideration.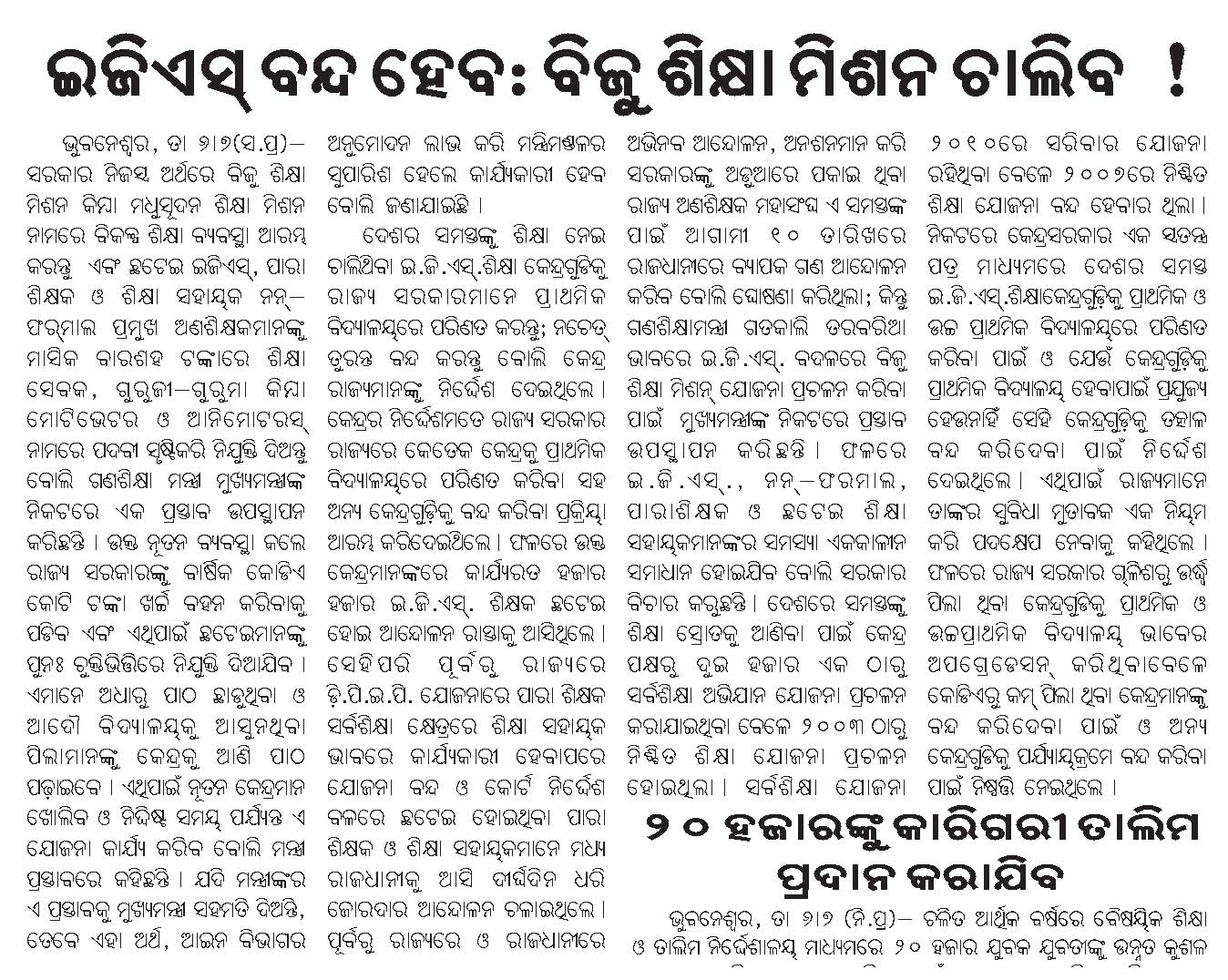 July 7th, 2007