The advertisement http://www.cipet.gov.in/pdfs/advt.2010.pdf mentions that CIPET is upgrading its centers to High Learning Centers to impart B.Tech, M.Tech and Ph.D programs with exclusive R & D hubs ARSTPS & LARPM. (Note: I think LARPM was the first R & D hub to be created by CIPET and was mentioned in a Jan 2009 PIB report. But both were also mentioned in a May 2008 Economic Times article.)
As per http://www.cipet.gov.in/research.html:
Technology innovation through dedicated research work by a Core team has been the philosophy of CIPET, which led to the establishment of 02 R&D centres – Laboratory for Advance Research in polymeric Materials (LARPM) & Advance Research School for Technology & Product simulation (ARSTPS) at CIPET Bhubaneswar & Chennai respectively. …

The vision for these R&D Centres have been conceived with objectives of transforming CIPET as a Global research Centre on Polymeric Materials as well as a Resource centre for newer concept development & conversion of concept into reality by Product development on commercial scales. Technology transfer, creation of Intellectual Property (IP), knowledge base with validated documentation would be the key aspects of functioning of R&D entities.

The significance of LARPM & ARSTPS is evident from the fact that they will be chaired by Director General and functioning independently under the Technology & Business development department of Corporate Office. The targets for both R&D centres have been set to pursue the objectives in mission mode. The experienced & competent faculties have been drawn from the existing pool of CIPET along with newly inducted researchers.

Operating model of LARPM & ARSTPS would be influenced with 03 "Rs"- Relevance to industry needs, Result-oriented output, Resourceful base to operate as 'Centre of excellence". It is worth mentioning that LARPM has already been sanctioned 03 sponsored projects from Funding agencies of Govt. of India. Similarly, ARSTPS has already initiated industry sponsored projects for Automotive, Medical & Aerospace Industries.

The identified focus areas of LARPM & ARSTPS are as follows:

| | | |
| --- | --- | --- |
| Biopolymers | | Innovative Product Design for Medical, Automobile, Aerospace and Packaging Industries |

| | | |
| --- | --- | --- |
| Polymer Composites & Nanocomposites | | Product and Tool Design Conceptualization (modeling, analysis, process optimization & simulation approach ) |

| | | |
| --- | --- | --- |
| Functional Plastics, Carbon nanotubes | | E- Manufacturing of Prototypes. |

Polymer Membranes, Conducting polymers

Reverse Engineering for metal and conventional
material substitution.

Development & Characterization of Engg.
Polymers, Blends/Alloys
–
---
The home page of LARPM is http://cipet.gov.in/cipetr&d/. As per http://cipet.gov.in/pdfs/research.pdf there are already 5 students pursuing Ph.D at LARPM. Following are concept drawings of their upcoming building.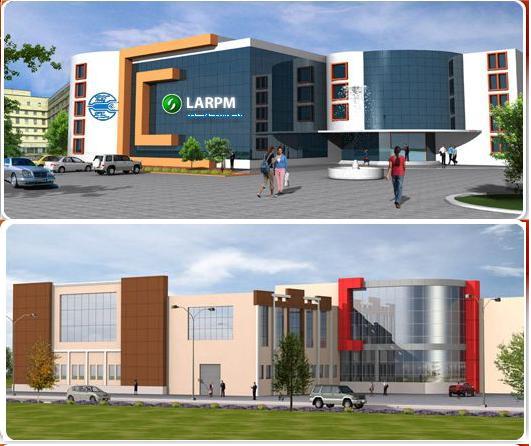 ---
The 2010-2011 admission ad shows the B.tech and M.tech programs that will be offered in 2010-2011. The program that will be offered at CIPET Bhubaneswar are:
B.Tech in Plastics Engineering/Technology (Bhubaneswar, Ahmedabad, Chennai , Lucknow, Haldia – proposed)
B.Tech in Manufacturing Engineering & Technology – proposed (Bhubaneswar, Ahmedabad, Chennai, Lucknow)
M.Tech in Plastics Engineering/Technology (Bhubaneswar, Chennai , Lucknow, Hajipur)
M.Tech in Polymer Nano Technology (LARPM – Bhubaneswar)
M.Sc M.Tech in Material Science & Engineering (Bhubaneswar, Chennai, Lucknow).
The only program not listed to be offered at Bhubaneswar, but offered elsewhere, is
M.Engg in CAD CAM (ARSTPS – Chennai)
---
Besides the above; all the 15 CIPET centers offer the following diplomas and PG Diplomas:
Diploma in Plastic mould technology (3 yrs)
Diploma in Plastics technology (3 yrs)
PG Diploma in plastic mould design (1 yrs)
PG Diploma in plastic processing & testing (1.5 yrs)
---
Finally, the Mancheswar branch of CIPET offers the following programs:
ITI-Fitter, ITI-Electrician, ITI-IT&ESM and ITI-Welder
and various short term courses and CAD/CAM courses.
---
From the above it looks like CIPET Chennai and Bhubaneswar are among the leaders. However neither Odisha nor Tamil Nadu have a NIPER. (The original NIPER is near Mohali and Chandigarh. As part of the 11th plan, new NIPERs were made in Hyderabad, Kolkata, Hajipur, Ahmedabad, Guwahati and Rae Bareli.) I hope Odisha pursues and gets one during the next five year plan.
1 comment February 20th, 2010