Its web page is http://nkccds.nic.in/. Following are excerpts from that page.
Nabakrushna Choudhury Centre for Development Studies was established in 1987 vide the Govt. of Orissa Resolution dated the 16th April 1987 in consultation with Indian Council of Social Science Research (ICSSR) under the Ministry of Human Resource Development, as an autonomous body under the Societies Registration Act XXI of 1860. Thus, the Centre has been jointly sponsored by the ICSSR and Govt. of Orissa and receives matching maintenance and development grants from them on 50:50 basis.
Following are excerpts from the page http://nkccds.nic.in/locationinfra.asp about the location of this institute.
The Centre is situated in a prime institutional area, 6 Kms from the Bhubaneswar railway station, 10 Kms away from the Biju Patnaik International airport and 1.5 Kms away from the Jaydev Vihar Square on a very quiet and serene campus on 5 acres of land. It forms part of an institutional area covering Survey of India, IGNOU Regional Centre and Council of Higher Secondary Education (CHSE) on the one side and the Fortune Tower and Xavier Institute of Management, Bhubaneswar on the other side of the main road leading towards Nandan Kanan, the famous Zoological Park at the outskirt of the city.
It has a small faculty of 3 readers, 2 lecturers and one research associate. The director position is open after the recent passing away of Prof. Sakti prasad Padhi. The faculty are involved in research and guide students for their Ph.D. Following are excerpts from the page http://nkccds.nic.in/doctoralprogram.asp.
At present, although the Centre does not have a formal M.Phil/Ph.D. programme unlike other ICSSR institutes, the faculty have been given recognition by the Utkal University to guide doctoral research on different topics. … the faculty members of the Centre are preoccupied with guiding many doctoral dissertations. Many such researchers registered with the Centre's faculty either as regular UGC/ICSSR JRFs (Junior Research Fellows) or as private Ph.D scholars, have been awarded with doctoral degrees in economics, sociology and social anthropology in the past and quite a few others are on the verge of getting their degrees from Utkal University. …

The Indian Council of Social Science Research allocates three institutional doctoral fellowships (two ordinary and one salary protected) to the Institute every year. The NCDS offers these fellowships in economics, sociology and social anthropology. The selected candidates are given fellowship @ Rs.6000/- p.m. and a contingency grant of Rs.12000/- p.a. for a period of two years, which may be extended by one more year.
Following is the advertisement for its director's position.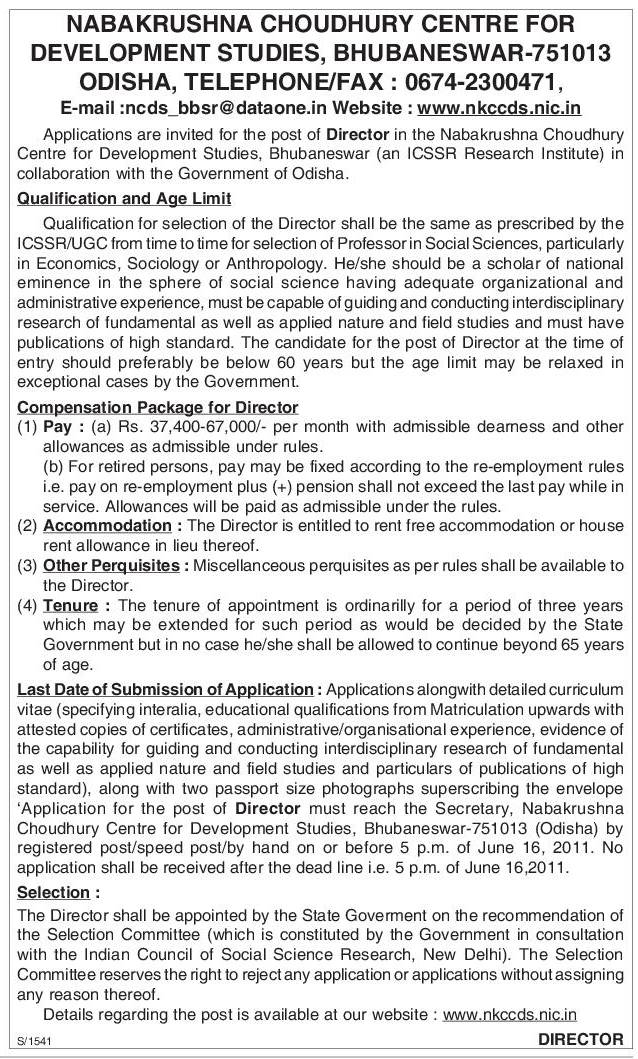 May 21st, 2011