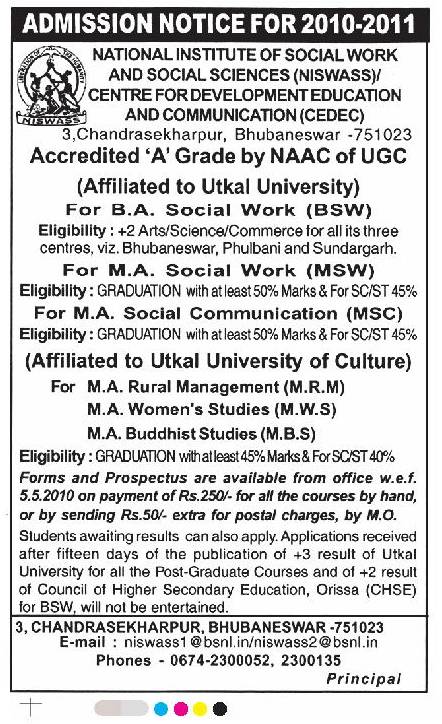 May 2nd, 2010
Following is from the UGC report http://www.ugc.ac.in/more/commissiondecision/467.pdf (page 8, item 3.1). Thanks to Prof. Pujari for the pointer.
The Commission considered and approved the recommendations of the Expert Committee to the proposal of National Institute of Social Work and Social Sciences (NISWASS), Bhubaneswar (Orissa) for financial assistance for Infrastructural Development and approved one time financial grant of Rs.20.00 crores to the Institute.
The web page of NISWASS is at http://www.niswass.org/. It has the following departments:
Some of the programs it offers are:
BA and MA in Social Work
MA in Social Communication
MA in Rural Management
Master in Women Studies
Master in Buddhist Studies
Admission forms are available every year around 15th May.
Some of the features and achievements of NISWASS are:
It is affiliated to the University of Utkal, Sambalpur and Berhampur in the State of Odisha. The Vice Chancellors of all these Universities happen to be in the Board of Governors of NISWASS.

It has also been recognized by each of them as an Advanced Research Centre.
The Institute has already been recognized by the University Grants Commission under Sections 2 (f) and 12 (B) of the UGC Act, 1956. Utkal University and the Government of Odisha separately have recommended the application of NISWASS filed with the University Grants Commission for conferring on NISWASS of a Deemed University.

As an Institution catering to teaching and training in professional social work courses, NISWASS has been recognized and taken as a member of the Association of Schools of Social Work in India (ASSWI), New Delhi.

NISWASS has been recognized as a Nodal Centre for the purpose of evaluation and inspections, Family Counseling Centres, etc. by the Central Social Welfare Advisory Board, Govt. of India, New Delhi.

NISWASS publishes its research reports in the form of books, monographs and handbooks. It also publishes a journal, The Fourth World (bi-annually in English). Its Journal has been registered under the Press and Registration Act and has also obtained the ISSN number.

Also, its development workers are active in more that ten thousand villages in Orissa and are engaged in carrying out various development works in addition to implementing education, health, skill improvement training, etc. focusing on women, children, disabled and other rural people and urban slums.

NISWASS has been accepted by CAPART for training of trainers from various NGOs to conduct training of the Social Animators.

NISWASS has been able to establish two prestigious Chairs for advanced research and training viz.


Dr. Ambedkar Chair on Social Work and

Shri K.R. Narayanan (Late President of Indian) Chair on Social Communication.

NISWASS had entered into international collaboration arrangements with the University of Missouri, Columbia (USA), the South Asian Institute (SAI, University of Heidleberg (Germany) and the Free University of Berlin (Germany) in matters of research, publications, faculty visits, and students' exchange programmes. "Memoranda of Understanding (MOU)" have already been signed with the concerned University authorities. But relationship is active in the case of the Free University of Berlin.
There seems to be a lot of jobs available at NISWASS. See http://www.niswass.org/career_with_niswass.php.
NISWASS is located in Chandrasekharpur, Bhubaneswar.
The only things that I could not find in their web pages are the names of the faculty and researchers working there. The only name I could find was the name of Dr. R. K. Nayak, mentioned as the Founder of NISWASS.
April 19th, 2010