It was established in 2008 with the first batch entering in 2008-09. It is the 5th IIHT of the country. (There are now 8 of them.) It now has a website at http://iihtbargarh.webs.com/. The following information is from that site.
Its current full time faculty and technical staff are:
1. MUKHTAR AHMAD, Director, B.Sc., B.Text.(t.c.) Kanpur university
2. Y.K.Suryavanshi, Senior Lecturer in textile design, B.Tech. ,Bangalore university, M.Tech. Chennai
3. Jitender Tak, Senior Lecturer in textile chemistry, B.Tech. from Bhilwara(raj.)
4. Siddharth Singh, Sr. Lecturer in text. designs, B.Tech. Kanpur & M.Tech.Delhi
5. Bishu Mondal, Art Designer, BFA
6. Sandeep Kumar, Instructor cum Demonstrator, Diploma in Handloom Technology from IIHT, Varanas
Its part time faculty for 2009-10 are:
Mrs. Krishna Dutta – Engg. Physics
Shri Suraj Prakash Bank – Engg. Chemistry & Pollution, Control in Textile Industry
Shri C.R.Sahu – English I &II
Shri R.C.Tosh – F.S.&C.A. I & II
Shri Soumyajeet Mishra – Engg. Drawing & Material Sc. & Engineering
Shri Rajender Sikandar – T.D.C. – II
Shri Dileswar Karmi – Engg. Mathemetics & Computer Applications and I.T.
Shri H.K.Biswal – Chemistry Practice
Shri Bhaskar Bhue – Physical Education Instructor
The main course currently being offered there is a 3 yr Diploma in Handloom Technology. There are currently 30 seats in this program with 13 seats for students from Orissa. This is the main course that is offered in the various IIHTs. The IIHTs in Salem and Varanasi are the only ones that offer a post diploma in textile processing.
It is presently functioning in the campus of Panchayat College, Bargarh (a 50 yrs. old college in the district). It is about 4 Kms. from the Railway station, 3 kms. from private B.S. & 2 kms. from Govt. bus stand. The road called as 'college road' links the campus with other parts of the town.
Permanent campus of the institute is coming up 8 kms. away from the town on Bhatli road in a 33.02 acres land provided by the Orissa Govt.
The plan of the permanent campus is given below.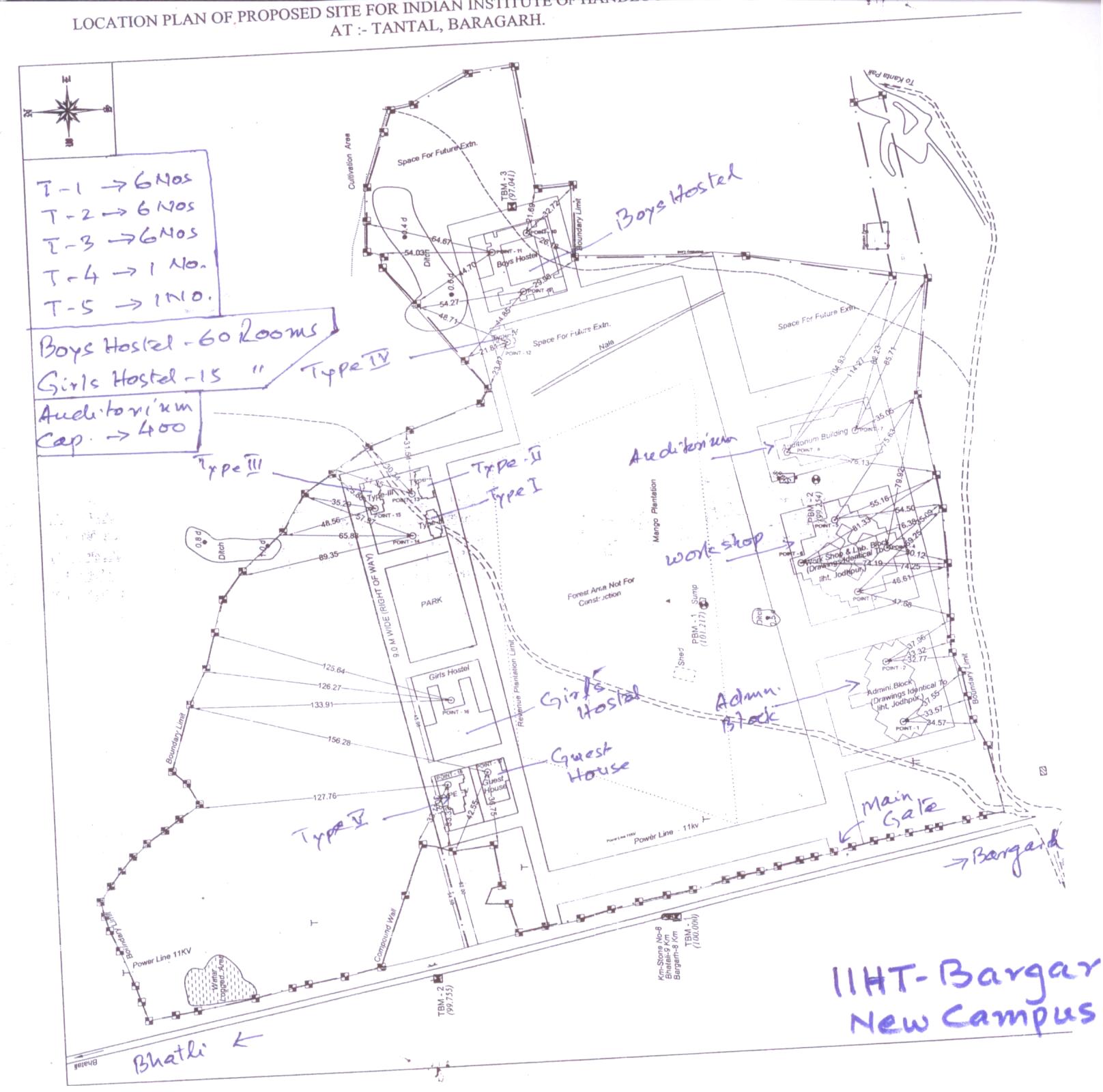 April 17th, 2010