Sri Sri University at Naraj, Cuttack is starting its business school (Faculty of Management) from 2012-13 with three MBA programs:
General Management
Agribusiness
Enrepreneurship
It has assembled a good list of faculty (23 core faculty, adjunct faculty, and visiting faculty) and academic and industry mentors. Many of them have degrees from and/or other associations with top institutions in India (IIT, IIM) and abroad (Cornell, UT Austin, etc.). The following youtube video gives a quick introduction of Sri Sri University's Faculty of Management.
A photo presentation based on screenshots of the above video is linked below.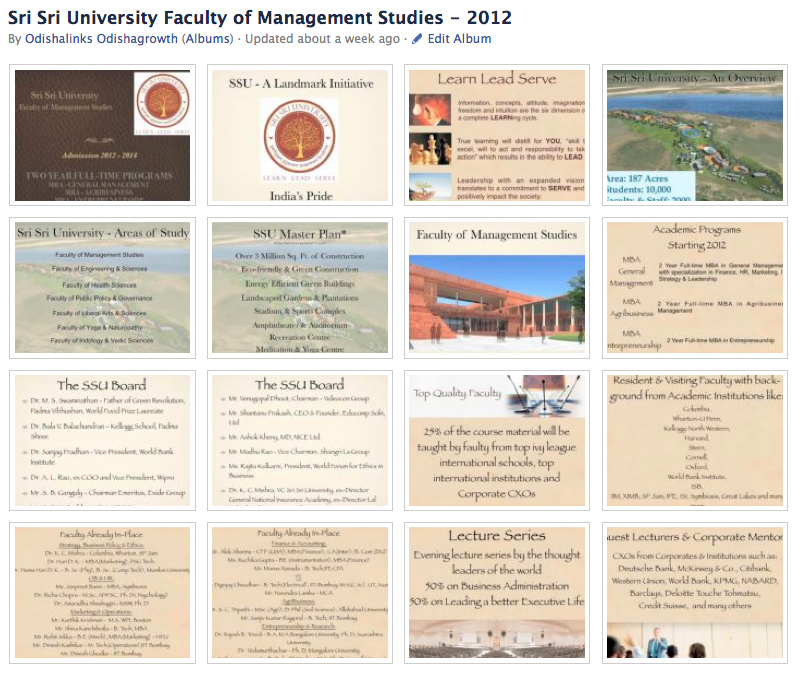 The campus design is impressive. See the youtube video of the Architect's flyby below.
A photo presentation based on screenshots of the above video is linked below.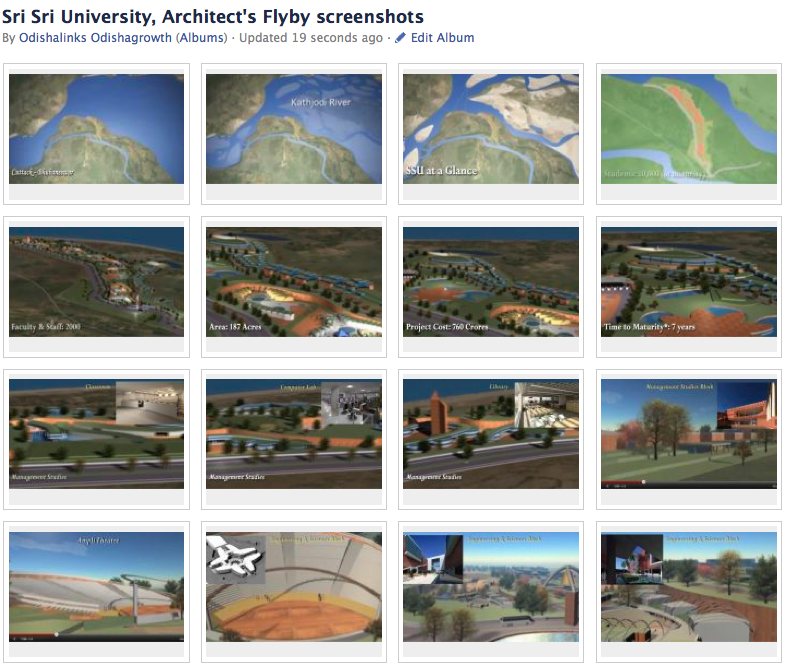 Note that the basic parameters of this university, as given in the above pictures, are as follows:
Students: 10,000 (at maturity) [some documents mention 15,000]
Faculty and Staff: 2000

Project Cost: 760 crores

Area: 187 acres
Time to maturity: 7 years
Building area: 3 million sq ft
Academic Components of the University

Management (to start in 2012-2013)
Engineering & Science
Governance and public policy
Health Sciences
Yoga and Naturopathy
Indology and Vedic Sciences
Liberal Arts and Sciences
Fine arts
Note that many of the above numbers, especially the project cost, are comparable with that of IIT Bhubaneswar.
Based on the faculty it has already assembled for its business school, if they continue to hire at that level for the other disciplines, then, I think, at maturity (i.e., in 7 years) this university will be better than most central universities in India.
At that time with 10,000 students the tuition and housing income from students will be about 10,000 * 3 lakhs = Rs 300 crores per annum. (The 3 lakhs/year is based on the numbers here. The business school fees would have increased by that time. On the other hand other programs may have lesser tuition fees.) That is a good number to spend on the university.
November 30th, 2011