Bhubaneswar- Cuttack- Puri, CENTER & ODISHA, Cuttack, ENVIRONMENT, HRD-n-EDUCATION (details at orissalinks.com), IT, New Indian Express, Indian Express, Financial express, Tatas, Thermal
October 5th. 2010, 8:30pm
Following is an excerpt from a report in Expressbuzz.com.
The wildlife wing of the Forest department has raised concerns over the setting up of 1,000 mw thermal power plant proposed by Tata Power Company at Naraj.

Its proximity to critical sites, impact of pollution on them as well as on the wildlife are issues the wildlife wing is worried about. The ` 4,900 cr coal-based power project is proposed at Naraj Marthapur, about 12 km from Cuttack and 20 km from Bhubaneswar.

"The Centre had referred the project site matter to me. Subsequently, I inspected the proposed power plant site and submitted a report in which I have indicated certain concerns relating to environment and wildlife," Principal Chief Conservator of Forests (Wildlife) P N Padhi said on Monday.

One of the major issues is its location. According to Padhi's report, the power plant is proposed amidst six critical sites.

It has Bhubaneswar and Cuttack on both sides and it is located between two major rivers __ Mahanadi and Kathjodi.

Besides, it is flanked by two wildlife habitats __ Chandaka- Dampara wildlife sanctuary on the one hand and Nandankanan Zoological Park and Zoo, also a notified sanctuary, on the other.

"With two protected areas (PAs) on its sides, a thermal power plant may have adverse impact on wildlife," Padhi said. Chandaka, for one, is an elephant sanctuary and has witnessed growing man-animal conflict over the past 10 years.

Besides, the jumbos are known to stray out of their habitats more frequently in the last few years.

Similarly, apprehension of pollution is a major concern …

The power project, which is located in Cuttack Sadar tehsil, needs about 990 acres. It is well close to a road that connects Khurda, Chandaka, Barang and Gobindpur. …
That location (close to Sri Sri University) is apt for a knowledge park. Since the Tatas have already worked hard on the land acquisition Odisha government should tell them that instead of a power plant they should create a Knowledge Park there. It could include a large operation of TCS, a TCS training center like the Infosys center in Mysore, space and infrastructure for multiple universities, medical colleges, etc.
There the total land area is about 990 acres. Currently such an amount of contiguous land is not available so close to Bhubaneswar where one can build IT parks and knowledge parks.
So the Odisha government should consider giving the Tatas some other land for their power plant and use that land for a knowledge park, possibly even built by the Tatas.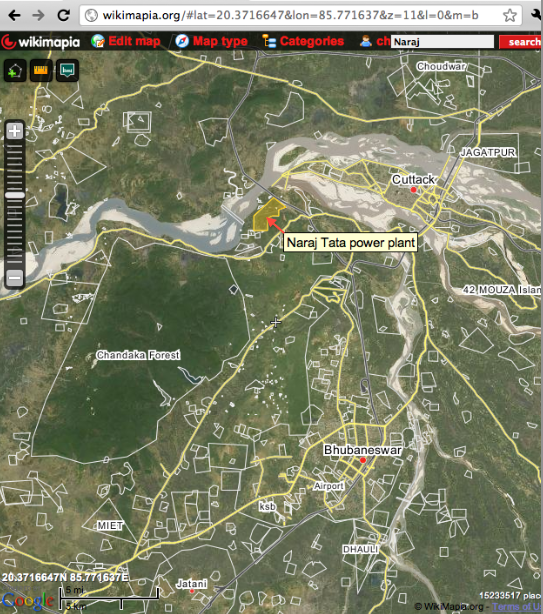 2 Responses to "Location for Tata power in Naraj is more apt for a Knowledge Park"