CENTER & ODISHA, Kalahandi, Wagon Factory
April 5th. 2011, 3:42pm
Following is a page from the Lok Sabha tarnscript of 4th March 2011.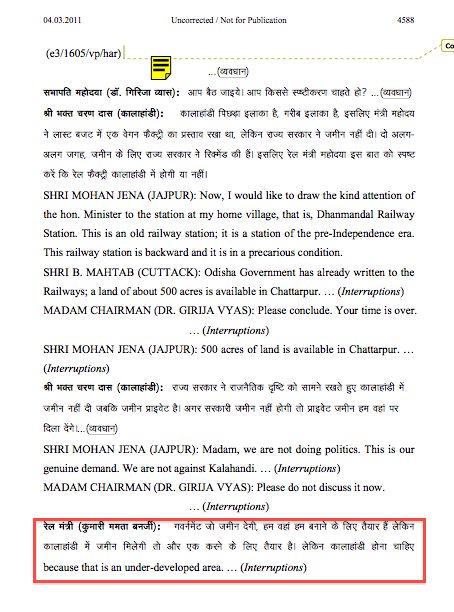 In the part marked by red above, the Railway minister Ms. Mamta Banerjee says:
We are ready to make (the wagon factory) in the land that the government gives us; but if we get land in Kalahandi then we are ready to do one more. But it must be Kalahandi because that is an under-developed area.
So the government is shooting itself on the foot by not taking immediate steps to offer a site in Kalahandi and asking for a second wagon factory.
Some small stirs have started happening on this issue in Kalahandi.
If the issue is not taken care of immediately then this could form the core of a rallying cry from Congress.
On this issue the government is in the wrong and they will have to bow down to do the right thing. The more they delay the more they will lose politically.