Archive for the 'Agricultural markets' Category
Agricultural terminal
Comments Off

on Three world class agricultural terminals to be built in Orissa: Samaja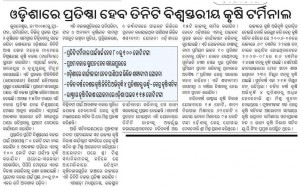 Following are excerpts from a statesman report.
Union agriculture secretary Dr Pramod Kumar Mishra …was addressing the 46th foundation day celebration of Orissa University of Agriculture and Technology (OUAT).

The Centre is planning for implementation of two schemes. The first scheme, for which Rs 5,000 crore will be earmarked, will concentrate on rice and pulse. A total of 133 and 168 districts of the country will avail the scheme for rice and pulse respectively. Many districts of Orissa are selected for the scheme, Dr Mishra, said. The second scheme, with Rs 25,000 crore will be implemented with active support of the states. Here the states can propose any project, they feel suitable for them, he added.

"Only rise of production will not solve the problems of the farmers. The post-harvest aspect including processing and marketing are to be taken care of. The premier institutes like OUAT should focus on those type of research, that help the farmers most, Dr Mishra suggested. Keeping this aspect in mind, the Centre is planning to set up three world class modern markets in Orissa," Dr Mishra, added.

Describing Orissa as one of the leading states in disbursement of crop insurance, he said that the Centre is planning to implement the weather or rain insurance for the welfare of the farmers. He also emphasized on need of study on climate change, food security, maximum utilisation of national horticulture mission, and revitalisation of Extension System (ES), research on seed and opined that in favour of an integrated and holistic approach.