Archive for the 'Organic turmeric' Category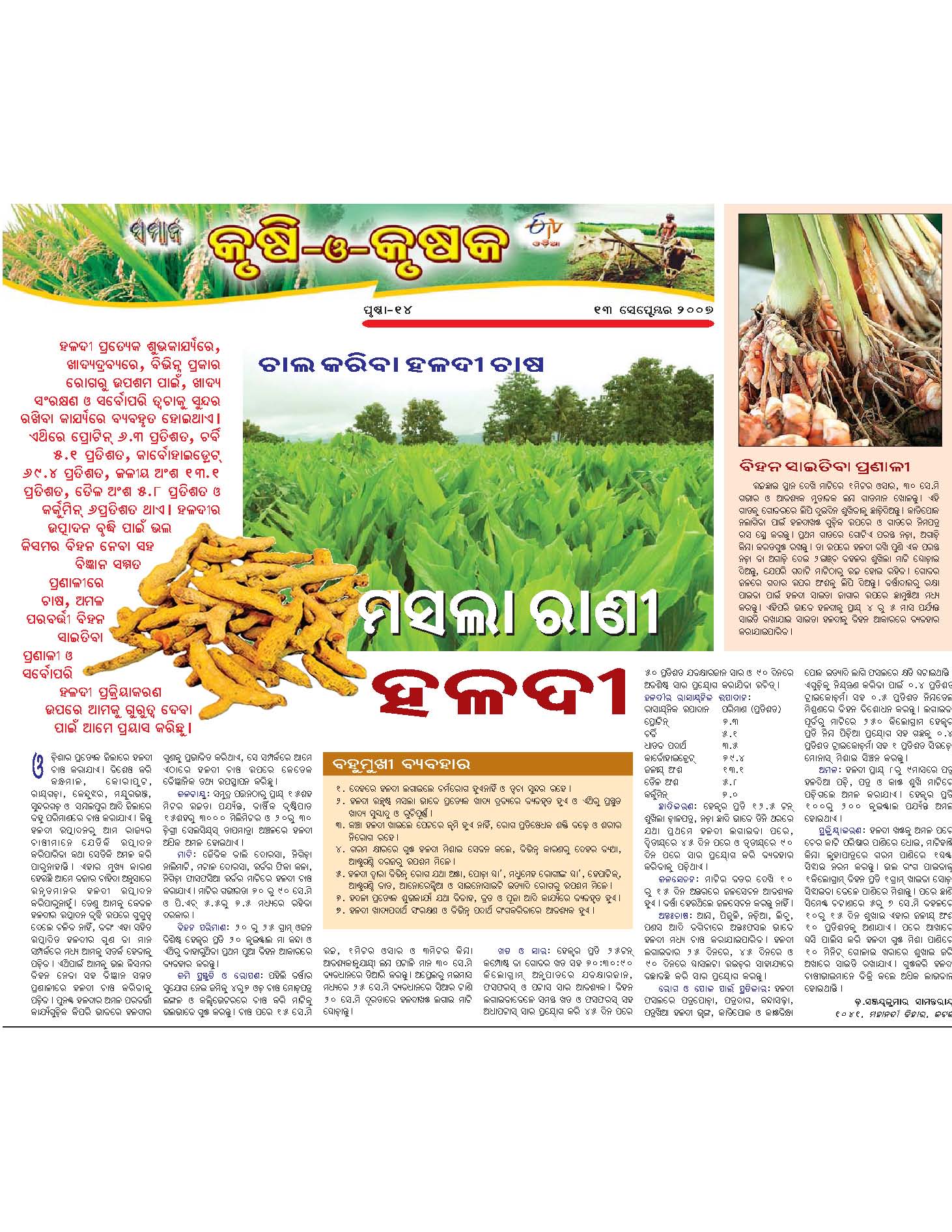 Telegraph has a nice article on organic turmeric from Kandhamala and its marketing. Following are some excerpts.
But finally the precious haldi was traced to a small shop at the back of Ekamra Haat, Bhubaneswar's equivalent of Dilli Haat, showcasing handicrafts and products made by tribals. …

The golden yellow Kandhamal haldi, named after the district where it is produced, is creating ripples in the world of spices. The spice has made its way to shelves across the United States, several countries in Europe, including Germany and Netherlands, besides Japan because of its organic value. It smells just right, lasts longer and only a pinch adds the colour and the flavour to the food. And it is of course devoid of toxic elements and chemicals. …

In the district, about 12,000 hectare is diverted for turmeric cultivation and dry haldi weighing 10,000 metric tonne is produced every year. Kandhamal haldi is famous for its colour, texture, aroma, flavour and long shelf life.

The curcumic content in it is claimed to be the highest in the country, to be recognised soon by the Union Control of Holland, a certifying agency engaged to certify its purity.

The spices are being marketed by Omfed, Aryan International, New Delhi; Samiter India, Mumbai; ABC International, Bangalore and Aricha Trading, Calcutta. But as the experience in Bhubaneswar shows, most of it gets exported. Till 2003, however, traders from Berhampur continued to purchase dry turmeric from tribals for paltry sums.

However, the idea of organised turmeric farming on Kandhamal terrain stuck Omfed. It started a government-sponsored project called Kandhamal Women's Organic Turmeric project (KWOTP) in 2003. …

But soon, we realised the potential for turmeric plantation. Each family in the district had at least a field where they grew turmeric. We knew that if we could channelise the whole thing, there would be no stopping. Soon, societies were formed, training imparted, improved varieties of seed were supplied and marketing of the product under the brand Kandhamal haldi started."

Currently Omfed directly supervises 305 all-women societies that work for the project and the production has leaped form 250 quintal to 2,937 quintals in a span of four years. This apart the product is being processed and packaged to be sold though Omfed's existing distribution channel (marketing outlets and booths) across the state.

This apart, two other units named Samanwita and Kasam, who have their processing plant where the Omfed turmeric is packed and independently marketed.
AEZ: Agricultural export zone, AGRICULTURE & FARMING, Coffee development, Cold storage, Exports, Ginger, Kandhamala, Koraput, Marine products, Mayurbhanj, Organic turmeric, Sal
3 Comments »
New Indian Express reports that the central govt. has suggested that Orissa apply for an agricultural export zone. Following are excerpts from that article.
Union Minister of State for Commerce Jairam Ramesh on Tuesday hinted that an Agriculture Export Zone (AEZ) in Orissa could be considered once the proposal for the same was received by the Centre.

Ramesh, who met Chief Minister Naveen Patnaik at the Secretariat, told reporters that the AEZ would be established in Kandhmal for organic turmeric. …

The State Government has already identified land for establishment of the AEZ in Kandhmal where a majority of the tribals cultivate organic turmeric.

Ramesh said that he requested the Chief Minister to concentrate more on export of organic coffee from Koraput, ginger and turmeric from Kandhmal and Sal from Mayurbhanj which could generate more employment opportunities.

The Union Minister said that Orissa exported goods worth Rs 10,400 crore last year, 90 per cent of which accounted for minerals only while the handicraft and other non-traditional products had a very negligible share.

Though Orissa is known for its famous handicraft, the export of such products stood only at 3 to 4 per cent of the total export of the country. Ramesh said the State had exported marine products to the tune of Rs 350 crore last year adding that this has to cross Rs 1000 crore in the next five years.

The Centre, he said, would sanction a cold storage for perishable products in Bhubaneswar and another for marine products in Paradip soon.