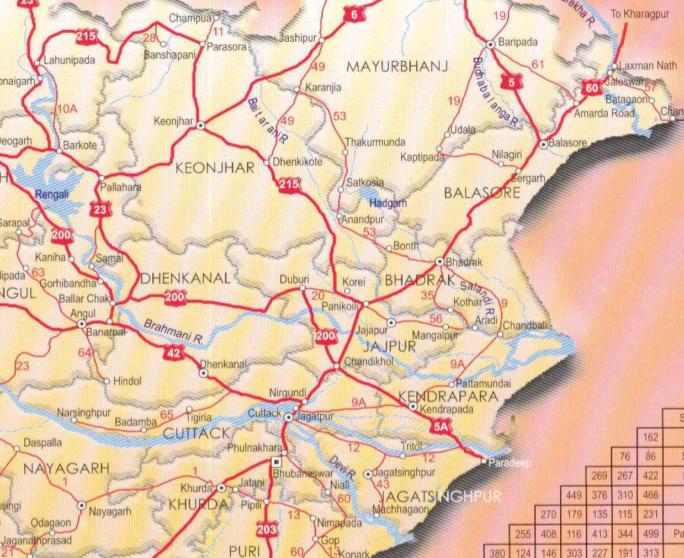 Note, that Jajpur-Rd Duburi is also being 4-laned. With all these 4-laning, Kalinganagar area will be surrounded by four 4-lane segment: NH-5, NH-200, NH-215 and Jajpur Rd-Duburi.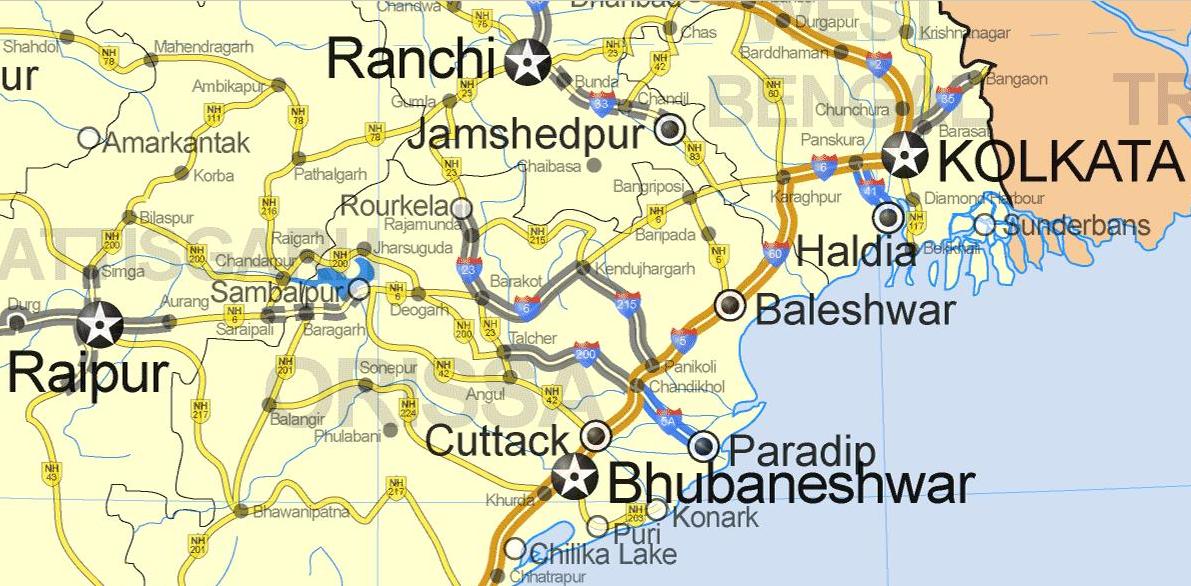 (The above map fragment is from an wikipedia map.)
There will also be two four lane paths from Kalinganagar area to Rourkela.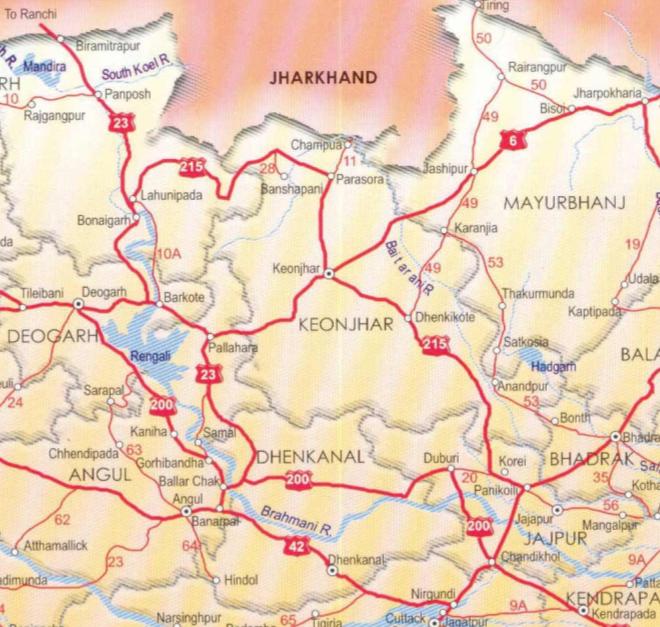 With approved plans to four-lane NH 42 between Angul and Sambalpur, the state govt. needs to four lane the segment between Angul and Talcher to have a seamless 4-lane transition between NH-42 and NH-200 at Angul-Talcher.
---
There is plan to four-lane Bhubaneswar-Puri. The Orissa government should pursue the four-laning of the following:
NH-42 from Cuttack to Angul
NH-23 from Talcher to NH-6
The Orissa government should team up with Jharkhand to 4-lane
NH-23 from Rourkela to Ranchi
NH-83 from Jamshedpur to NH-6
NH-5 between NH-6 and Balasore (the last two need for port access in the upcoming ports in the Balasore district)
The Orissa government should team up with West Bengal, Jharkhand, Chhatisgarh and Maharashtra for four-laning NH-6 completely.
These actions will 4-lane the upper part of Orissa with fairly direct 4-lane paths from many areas of Orissa to Delhi and Mumbai. (Fairly direct 4-lane connections exist between Orissa to the south and Kolkata.)
---
Following is from http://pib.nic.in/release/release.asp?relid=46329.
The Cabinet Committee on Economic Affairs today gave its approval for the development of 4 laning of (i) Panikoili-Keonjhar-Rimouli, (ii) Rimouli-Roxy-Rajmundra sections of NH-215 and (iii) Chandikhole-Duburi-Talcher Section of NH-200 in the State of Orissa under NHDP Phase III A on BOT Basis.
The project cost of (i) Panikoili-Keonjhar-Rimouli section (163 km) is estimated as Rs.1170.59 crore including Rs.84.40 crore towards Land Acquisition (LA), Rehabilitation and Resettlement and preconstruction. Similarly, the estimated cost for Rimouli-Roxy-Rajmundra (106 km) and Chandikhole-Duburi-Talcher Section (133 km) are Rs.849.05 crore and Rs.969.63 crore respectively. The cost towards LA, R&R and preconstruction of other two projects are Rs.195.29 crore and Rs.185.63 crore respectively. The Government would provide the viability gap funding (VGF), which would not exceed 40% of the total project cost excluding the cost of LA, R&R and pre-construction.
The project will be developed by the National Highways Authority of India (NHAI) through the Private Sector Concessionaires who will be selected by NHAI following two stage bidding process. The first stage of the bidding process i.e. pre-qualification of the bidders has already been completed by NHAI. The second stage of bidding process is in progress.
The Concession period for the Panikoili-Keonjhar-Rimouli section will be 20 years. For Chandikhole-Duburi-Talcher Section and Rimouli-Roxy-Rajmundra section the concession period is 18 and 25 years respectively.
*****
AD/SH/LV