As per their 2010 placement brochure, NIT Rourkela has 675 acres and following some high court order would be expanding by adding another 400 acres. The following Samaja article talks about that expansion.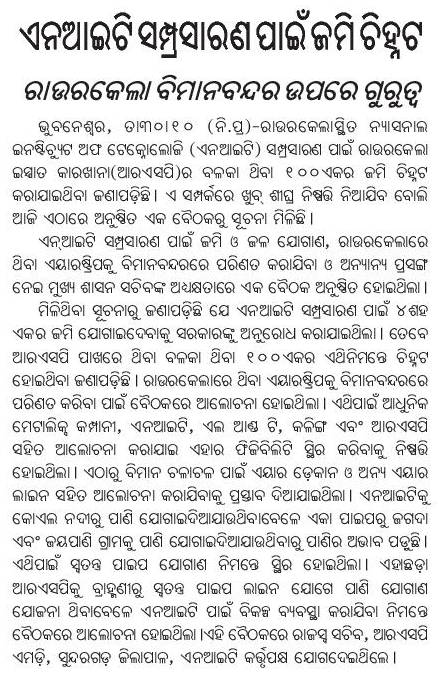 It is great that this discussion came up at the Chief Secretary level. With stability at that position for next several years pursuing a comprehensive development agenda for Rourkela with him could work well. Some of the issues that should be pursued with him include:
Medical Colleges (ESIC, SAIL)
University (a comprehensive metropolitan university with all branches)
A national level sports or physical education institute or university (upgrade existing sports academies)
Airport
Raiway issues (world class station, Division HQ, Talcher-Bimlagarh line; more trains)
Declaring greater Rourkela as a municipal corporation
Public transport inside Rourkela
Enticing IT/BPO industries to take advantage of the cosmopolitan demography to set shop there; Development of IT parks.
Encouraging various companies in RKL to further contribute with respect to HRD (SAIL medical and Engineering College, etc.)
Please suggest more.
---
We discussed this earlier in greater length at http://www.orissalinks.com/archives/3480. See also http://www.orissa2020.org/home/area-wise-plan.