Following is from http://www.idco.in/2009/Aluminium_Park_IEOI_Document%2026.07.11.pdf.
EOI SUBMISSION – DATE AND TIME 7.1. The Interested Parties should submit their EOIs, in the form & manner mentioned under Clause 4 hereinabove and seal it in an outer envelope and mark the envelope as " EOI for Participating in the proposed Aluminium Park at Angul" on or before 17: 00 hours (IST) on September 20, 2011.
SITE DETAILS
1. The site of around 450 (four hundred and fifty) acres is located adjacent to the NALCO smelter plant in Banarpal Block of Angul District south of NH 42 and for the purpose of clarity it is delineated with red boundary line in the map under clause 2 herein below (the 'Site').
2. The Site is undulating in nature with no apparent physical encroachments and utility lines.
INFRASTRUCTURE LINKAGES
1. Approach Road: There is an access to the site from NH 42 through a single lane carriageway through Kulad village having a length of around 2.50 km. In addition, the Site is also connected by a single lane road of length 6.4 km from NH 42 running along the periphery of the NALCO smelter unit. An alternate dedicated approach road to the site from NH 42 is being planned by IDCO. In addition, the proposed Aluminium Park shall be having a connecting link road from the proposed Angul Bypass Road.
2. Rail: There exists a single track rail siding of NALCO which runs along the edge of the site till Budhapanka Railway Station with a length of about 14 km.
3. Water: Major perennial source of water for the site is river Brahmani to the north of the site on the other side of NH 42 at a distance of about 15 KM. To the extent possible, technologies and processes to be implemented by the prospective unit holders within the proposed park should aim at maximizing recirculation and reuse of water as major demand of water for envisaged processes is expected to be for cooling requirements. This would ensure in optimizing water requirements for the park on a sustainable basis.
4. Power: One of the major substations of the State is located at Meramandali (400/220/132/33 KV) which shall be approximately 7 Km from the Site. National Grid located at Chainpal near Talcher Thermal Power Station is also a likely source. Power shall be a key parameter for the Project and steps would be taken to consider sustainability.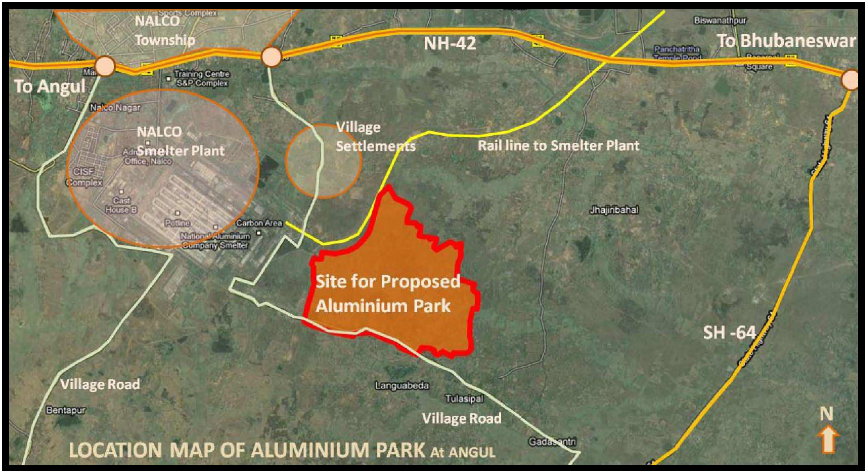 PROJECT CONCEPT
1. Primarily, the idea is to promote aluminium based downstream and ancillary units in Orissa and to capitalize upon the inherent location based advantage for the Site. The current practice for the NALCO smelter unit is to extract aluminium having purity of about 99.97% through an electrolytic process in potlines at a temperature of around 10000c in molten form and then to utilize the same in casting standard billets, ingots, plates, wire rods, sheets etc. Aluminium in solid form as mentioned above is procured by downstream industries and utilized for different end products. Due to proximity of the Site with respect to the smelter unit, the molten metal directly may be procured by interested downstream industrial units within the proposed park and then utilized to form different end products as desired. Even considering issues like chances of oxidation, dross formation or heat loss during the transfer process for molten aluminium, advantages for prospective unit holders within the park using aluminium in molten form rather than the conventionally used solid form include:
• Savings in terms of energy costs for the downstream industrial units
• Reduction in terms of adverse environmental impact due to reduction in energy
requirement for the process and transportation needs • Better quality of the metal in terms of lesser chemical impurities
• Efficient management of inventory with minimized requirement of stock for unit holders
2. Under the Project, the Aluminium Park is being proposed to be developed as a state-ofthe- art industrial park for entrepreneurs in related business who shall set up new units within the park and utilize the molten metal as mentioned above. The existing customers of NALCO who currently buy the metal in conventionally available solid form and utilize it for various end products at locations away from the smelter unit in Angul may also relocate their plants/set up new units in the proposed Aluminium Park.
3. In addition, ancillary units may also set up units within the proposed Aluminium Park. There would be a mutually benefitting relationship between such units and NALCO.
4. The Aluminium Park would be so developed so as to fulfill comprehensively the functional requirements in terms of common facilities, physical and social infrastructure amidst a green environment. The suggested components that may come up within the the Aluminium Park include:
• Industrial Sheds / Plots
• Warehouses/Storage Facilities
• Common Facility Centers
• Material recycling and handling facilities
• Skill development centers and ITIs
• Landscaped (green) areas, Buffer Zones
• Truck Terminal and Parking facilities
5. The envisaged support infrastructure facilities for the Project to include:
• Reserved green space
• A systematic network of internal roads
• Regular supply of quality water with adequate storage facilities
• Reliable power supply to ensure maximization of production levels on a sustainable basis including renewable energy sources
• Promoting the use of solar energy to the extent possible
• Underground utility lines
• Fire fighting system for the Park
• Adequate parking space for trucks/others
• Common effluent treatment and solid waste disposal and management facilities including for hazardous and non hazardous wastes
• Sturdy storm water and Sewerage networks, Sewage Treatment Plant
• Common Rail Siding
• Banks / ATMs / STD – PCOs
• Public and Semi public facilities including Emergency Health Services, Crèche, Public Health Centers etc.
• Efficient and professional service-oriented Operations & Maintenance system
• Dedicated access controlled road corridor from NALCO smelter unit for carriage of molten aluminium
6. For the downstream industrial units, molten aluminium may be arranged to be supplied through a dedicated road corridor from the NALCO smelter unit with appropriate safety measures. Units may make payments individually to NALCO for the molten metal being used and a suitable pricing mechanism for molten metal shall be established by NALCO for the park including provisions for revision.
7. The suggested indicative products for the proposed Aluminum Park would include:
Downstream Industries of Aluminium
• Conductors
• Extrusions
• Castings
• Foil
• Others including powder
Ancillary Industries
• Raw materials like caustic soda, coal tar pitch, alum etc.
• Dross recovery unit
• Mechanical Items: Chisel Poker, LDPE sheets, Ingot skimming tool, etc
• Instrumentation Electronic Items: Alarm card, Pressure Switch, T/C sockets, photocell etc
• Refractory Items- like LCC lid cover, flue wall bricks etc.
• Miscellaneous Items- Hand gloves, casting wheel nozzle, cotton dust mask etc.
8. Products to be considered for commercial production within the proposed Park shall be decided based on mutual consent of the prospective Entrepreneurs/Manufacturers and AAPPL –the project SPV taking into account current and planned production facilities and commercial plans of the existing NALCO Smelter Unit adjacent to the proposed project site.
9 The aspect of current pollution level at the Angul Talcher Area shall be critically considered while assessing investment proposals and arriving at the final Project contours