Following is an excerpt from a release by the Resident Commissioner of Orissa:
Shri Naveen Patnaik, Chief Minister, Orissa met Shri Anand Sharma, Union Minister for Commerce and Industry at New Delhi and discussed various issues pertaining to development of Industry Clusters and handicrafts in Orissa.

… The Union Minister also agreed to the proposal of the State Government for providing infrastructure support for development of industrial clusters under the Industrial Infrastructure Upgradation Scheme (IIUS) of GoI for the clusters located at Balasore (Plastic Products Cluster) at a project cost of Rs 62.50 crore and another at Mancheswar (Engineering Cluster) at a project cost of Rs 61crore. He complimented the State Government for smooth implementation of the Metallurgical Cluster Project in Jajpur (Kalinganagar) which has already been sanctioned for Orissa under the IIUS.
Following is from Samaja: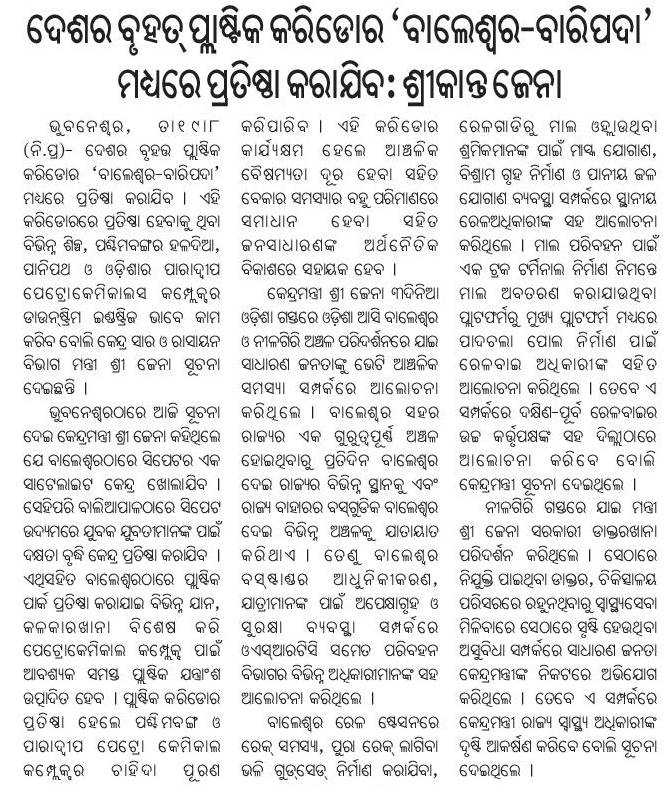 In the following Business standard reports on progress on the proposed Aluminum park in Angul.
The proposed aluminium park of the public sector National Aluminium Company (Nalco) at Angul in Orissa, which was mired in uncertainty, is finally set to see the light of the day.

The proposed venture will be set up jointly by Nalco and the state owned Industrial Infrastructure Development Corporation of Orissa (Idco). The two partners are expected to sign a memorandum of understanding (MoU) in this regard soon.

Sources said, Nalco and Idco will have equal stake in the project. …

"All the contentious issues have been resolved and the terms and conditions of the draft MoU have been agreed upon by both the partners. The signing of the MoU is a matter of technical formalities", a senior official of the state industry department told Business Standard.

Sources said, the MoU will be signed by the end of this month and the chief minister Naveen Patnaik will lay the foundation stone for the project in the first week of September. The proposed park will come up adjacent to the existing smelter plant of Nalco at Angul.

The complex will house various downstream and ancillary aluminium industries. Though it was originally planned to develop the project over 200 acres, it has been decided to acquire 50 to 100 acres more to increase the size of the park. This will take care of the future growth requirement and creation of some social infrastructure.

… Sources said, the cost of developing the land in the park will be borne by Nalco and Idco equally and this will be recovered from the units which will come up in the park. An innovative pricing structure is proposed to be put in place for this.

The aluminium park, once fully developed, is expected to attract investment of Rs 300 to 400 crore. It may be noted, the project passed through uncertainty as the state government was earlier reluctant to join the project as a joint venture partner.