IBM, IT, Back office, BPO, Jharsugurha, Jharsugurha- Brajarajnagar- Belpahar, Malls, Multinationals, Multiplexes, Sambalpur, Sambaplur- Burla- Bargarh- Chipilima
24 Comments »
Thanks to reader Jitu for the pointers.
Following is an excerpt from a report in Indiainfoline.com.
Nikon India, the 100% subsidiary of Nikon Corporation the leaders in imaging technology has started Nikon Collection Centre (NCC), an initiative taken by Nikon India to cater to the wider base of Nikon customers by floating Camera Collection Points across locations, especially the non metro areas.

… The collection centres would act as main contact point for collection of any Nikon Imaging Products ( D-SLR's, COOLPIX Compact cameras, NIKKOR lenses and accessories) that shall be sent for repair to the nearest Service Facility Centre for necessary correction by NCC. Once repaired, the product will be sent back to NCC from where customer can collect his product.

Under the plan for the business year 2010-2011, Nikon has already started the services in Bhopal, Noida & Mangalore. Going forward Nikon plans to start the services in Siliguri, Dehradun, Kanpur, Nagpur, Mysore and Tiruanantpuram within this month and Dhampur, Sambalpur, Udaipur, Varanasi, Shimla, Aitsar, Jammu, Agra, Coimbatore, Vishakapatnam and Rajkot taking the total to 20 by the end of this financial year.
Following is an excerpt from a report in Hindustantimes.com.
IBM has chalked out plans to expand its business development processes to smaller cities in the country over the next couple of years. The company plans to spread its footprint to 45 cities of India. At present, a large part of the company's business comes from the metropolitan cities such as Mumbai, Delhi and Bangalore.

"Business activities of small and medium business enterprises are increasing at a fast pace in smaller cities of the country and it is logical for us to expand our footprint across the country," said Nipun Mehrotra, vice president, general business, IBM India and South Asia. He said with the growth of Indian economy, the small and medium enterprises would flourish and opportunities would increasingly come up in cities such as Ranchi, Ludhiana, Tirupur and Jharsuguda, among others.
Following is from http://eylex.co.in/Pages/Sambalpur.aspx. The mall in Sambalpur is promoted by K.K. Homes (a local Developer of Sambalpur) and will have a three screen multiplex with 800 seats. Its target Operational date is March 2011.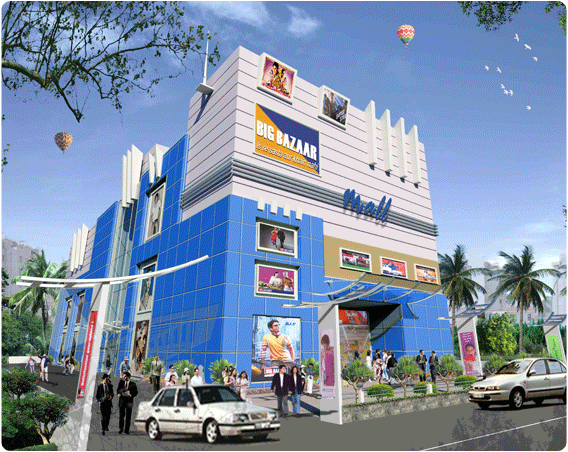 Following is the picture from http://eylex.co.in/Pages/Jharsugda.aspx.