The website of this league is http://www.efli.com/. This league is backed by some big names in American Football. Following is an excerpt from the page http://www.efli.com/news/american-football-is-coming-to-india/.
The Elite Football League of India plans to kick off in the fall of 2012, and Daniel Kaplan of Sports Business Journal reports that its backers include some familiar names to American fans, such as Ron Jaworski, Mike Ditka and Packers linebacker Brandon Chillar (pictured), who is of Indian descent.
Following is an excerpt from the page http://www.efli.com/news/cowboys-in-india-jaworski-helps-launch-new-football-league/.
Former Philadelphia Eagles quarterback, and current ESPN football analyst, Ron Jaworski is an investor and consultant for a new football league being started in India, according to a report in our sister publication Sports Business Journal.

… Other investors in the proposed eight-team league, which would begin play in November 2012, include Michael Irvin and Mike Ditka, who are both in the Pro Football Hall of Fame.
The eight teams in this league and the tentative week 1 schedule in 2012 is:
WEEK 1
DATE
HOME
VISITOR
Game 1
Monday
12-Nov-12
(7) Mumbai Gladiators
(8) Pune Black Tigers
Game 2
Saturday
17-Nov-12
(3) Goa Swarm
(4) Hyderabad Skykings
Game 3
Sunday 1
18-Nov-12
(5) Kolkata Vipers
(6) Punjab Warriors
Game 4
Sunday 2
18-Nov-12
(1) Bhubaneswar Warhawks
(2) Delhi Defenders
This is a big deal for Bhubaneswar and if indeed things go as planned Bhubaneswar will get a lot of publicity in the USA.
The logo of the Bhubaneswar Warhawks is a nice one. See below.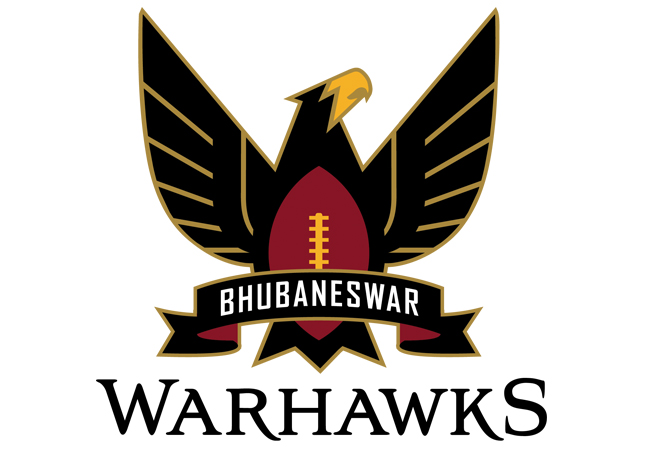 I was wondering how come Bhubaneswar is one of the eight teams. Its probably because they will try to get some of the rugby players to play American Football and the KISS Bhubaneswar rugby team has won several international championships in recent years. Following are some pointers.