(Thanks to Devasis Sarangi for the pointer to this in facebook.)
Following is from a report in Business Standard.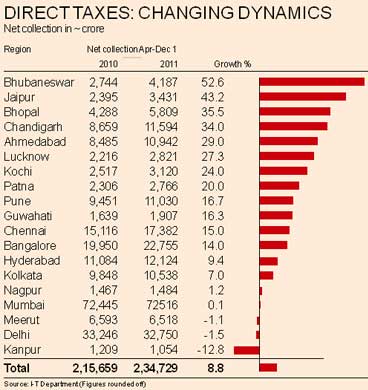 Number one in growth over last year's net direct tax collection during April 1-December 1 is Bhubaneswar, with a 52.6 per cent increase at Rs 4,187 crore (Rs 2,744 crore in last year's corresponding period). Of the collection this year, Rs 2,959 crore has come from corporate tax and Rs 1,226 crore from personal income tax.

A senior department official said the better growth in direct tax realisation in smaller regions clearly indicated an increase in business activities in these. And, that this had come despite overall sluggish performance.
I am tempted to draw more conclusions but am not sure of jurisdictions of each of the locations in the left. For example, for the number corresponding to Bhubaneswar, is the data just about collection from Bhubaneswar city (as defined by what?) or about the collection from Bhubaneswar tax circle (what are the areas it covers?). Although not knowing this makes it difficult to draw more conclusions, one thing is for sure; Bhubaneswar tops in the growth of direct tax collections.