Following is an excerpt from a report in expresstravelworld.
Deccan Charters and TajAir have recently joined hands to form a marketing alliance called Powerfly. The alliance includes Capt GR Gopinath's Deccan Charters, IHCL owned charter services TajAir and Business Jets India (BJETS) and is poised to connect as many as 500 airports in India with the extensive charter services. Capt Gopinath, CMD of Deccan Charters, said, "The aim of setting up Powerfly is to tap the top of the travelling pyramid, providing seamless experience to international travellers. With Powerfly, we will be able to provide hassle free travel to any location in the country with complete end-to-end solutions." Powerfly services will be active from February 14, 2011 operating from eight cities – Mumbai, New Delhi, Bengaluru, Kolkata, Bhubaneswar, Hyderabad and Jammu.

The Powerfly alliance fleet will have 16 Deccan Charter crafts, and four crafts each of TajAir and BJETS, bringing three Hawker 850XPs and the Cessna Citation CJ-2, along with the P180 Avanti and the Falcons. Deccan Charters will take over the maintenance and operations of the BJETS crafts. Deccan Charters will also be the exclusive marketing concessionaire for BJETS aircraft in India and will work on developing, expanding and consolidating the market across the country through Powerfly. The combined fleet will be available through various programmes including ad hoc charters and memberships, loyalty programmes that extend across all three brands and the various hotels of Taj, and membership options. "People can buy hours and utilise them according to their needs. We aim at tying up with major charter operators in Middle East, Europe and Singapore. We are also looking at fractional ownership in these international destinations and are currently in talks with the government to allow the same," added Capt Gopinath.
The web pages of the three participating companies mentioned above are:
Among these Deccan Charters shows a map of its major operations.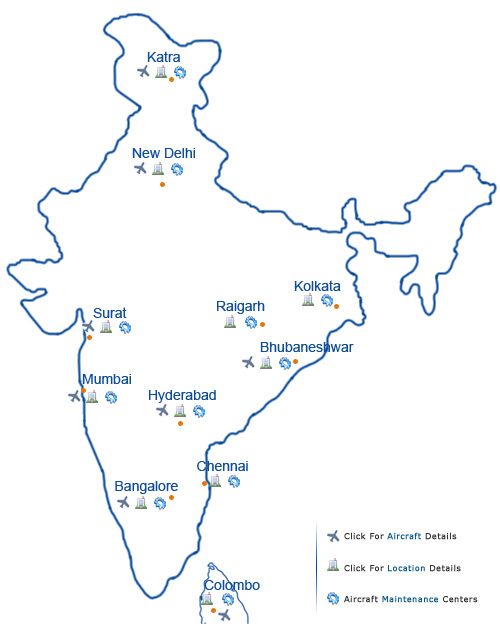 What the above map and the list of eight locations in the Powerfly list suggests is that Bhubaneswar is one of the eight places in the country where a lot of charter flying happens. This is partly because of the development and growth happening in Odisha and partly because of the lack of airports in Odisha with regularly scheduled commercial airlines. Considering that a lot of charter flying happens by business houses, this means Bhubaneswar and Odisha are among the top 7 (Jammu is more for tourists) places in the country with ties to top business houses. While most of them are eying our mineral resources, Odisha should make efforts to cajole them to put positive long term legacies (such as Vedanta University) in Odisha.