Balangir, HRD-n-EDUCATION (details at orissalinks.com), Jeypore, Kalahandi, KBK Plus district cluster, Khurda Rd - Balangir (under constr.), Koraput, Lanjigarh Rd - Junagarh, Malkangiri, Nabarangpur, Nuapada, Rayagada, Sonepur, Vijaywada-Ranchi highway
Comments Off

on Bringing up KBK by building its infrastructure: plans for what to realistically push with the central government for the next 7 years
Various KBK statistics are known to everyone here as well as to the planning commission. We will not rehash them here. We will just like to point out that various programs in KBK (such as RLTAP) will not work to their potential unless qualified people are willing to be there to implement those programs and unless there are enough local people who are qualified. For example, one can open schools and hospitals and initiate irrigation projects. But if teachers, doctors and engineers do not go there in sufficient numbers to staff the schools, hospitals and irrigation projects they will not achieve their impact. So while we make programs for schools, hospitals and irrigation projects we need to pay attention to the infrastructure aspects that will (a) create enough local teachers, doctors and engineers and (b) will not deter teachers, doctors and engineers to come to this place.
With that in mind we propose that the following be pushed with the central government for implementation in the next 7 years — the remaining part of the 11th plan and the 12th plan starting in 2012. I think the list below is doable. (Much more needs to be aimed for and done through the state government, industries and people in this region; but here we only focus on what one can realistically push with the central government and achieve.)
1. Railway Infrastructure: The Railway infrastructure of the KBK districts need to be drastically improved. In particular there are several approved lines that need to be speeded up. In addition there are some hanging lines that need to be extended and completed. The following shows the current Railway lines in Odisha.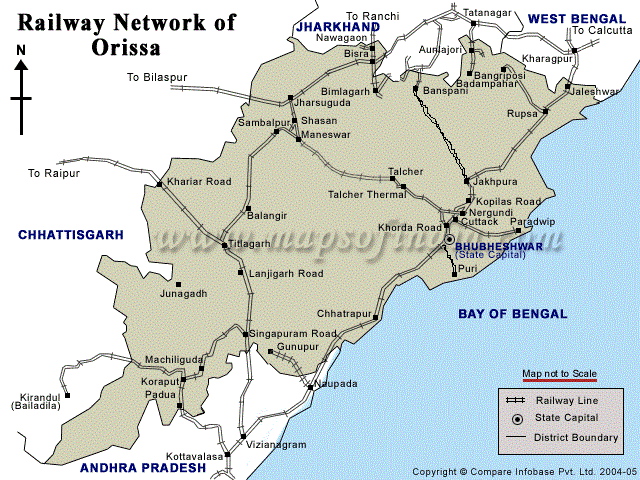 The following picture shows the lines that bring better rail connectivity to the KBK districts. The ones in brown have been approved and we request that they be completed within the next 2-3 years and. We request that the ones in blue are approved and completed within 5 years.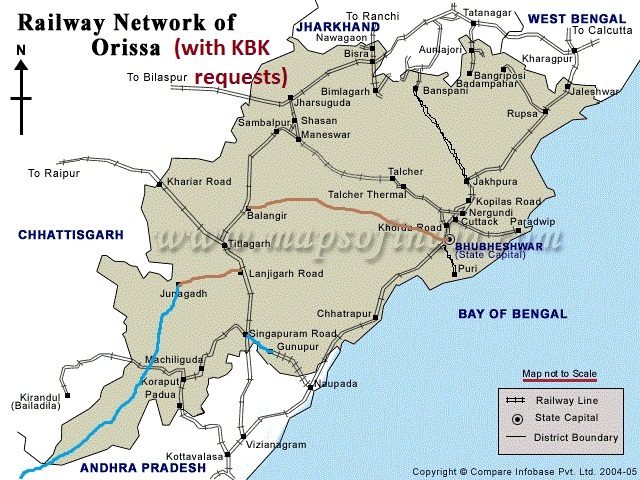 2. Airport at Jeypore: Currently Odisha has one airport with commercial flights. That is in Bhubaneswar. AAI is in the process of making another airport at Jharsuguda. We propose that another airport be built near Jeypore-Koraput with commercial flights in mind (small planes to start with) to serve the KBK area. An airstrip is already there. The following map shows the location and its distance from the other airports in India.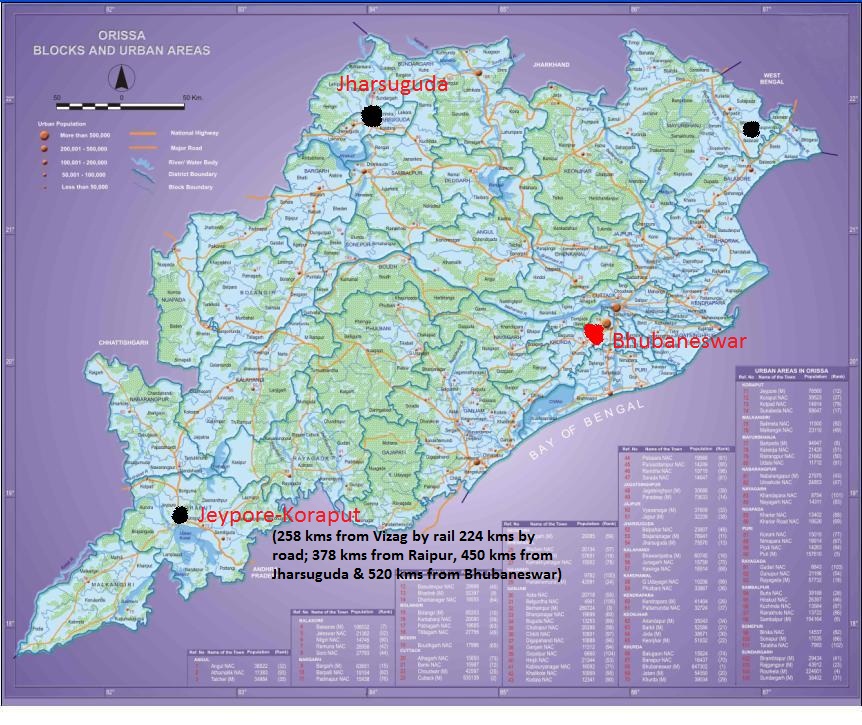 3. Roads: On roads, we request that the construction of the Vijaywada-Ranchi highway be expedited. More.
4. HRD/Education: The 11th plan has good proposals regarding schools, ITIs and model colleges. But as we said in the beginning of this document, KBK needs to produce its own teachers, doctors and engineers.
As a first step the Odisha government decided to locate the Central University of Odisha in Koraput. However, considering the vast area of KBK, we request the following.
4.1 The 11th plan has provision for having medical colleges and engineering colleges in 5 of the 16 new central universities. (See the page from Volume 3 of 11th plan below.) We request that the one of those medical college and engineering college be established as part of the Central University of Orissa, Koraput.
4.2 A centrally funded engineering college of the kind in Longowal Punjab (SLIET), Kokrajhar Assam and the one being made in Malda (GKCIET): These three centrally funded engineering colleges have rural focus and we request that one such rural focused 3-tier (catering to workers, technicians and engineers) is needed for KBK. We request that it be made in Balangir. In the next page we have cut-outs related to the above mentioned three colleges which show their mission perfectly matches what is needed in the KBK districts.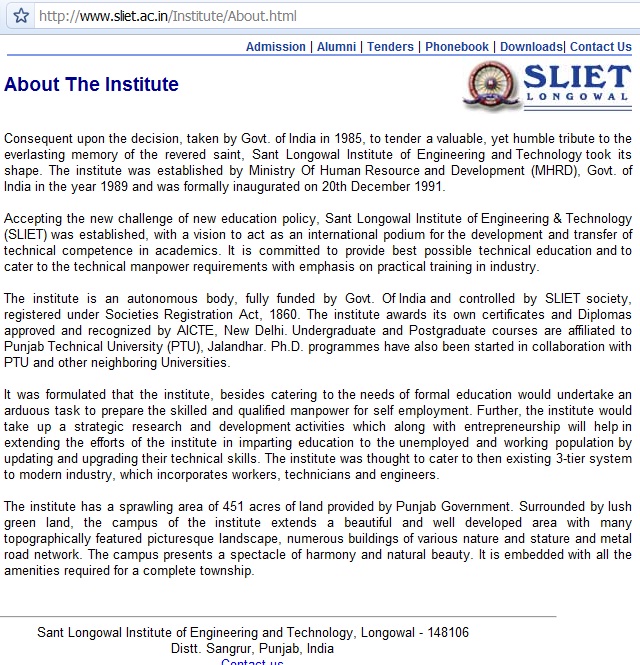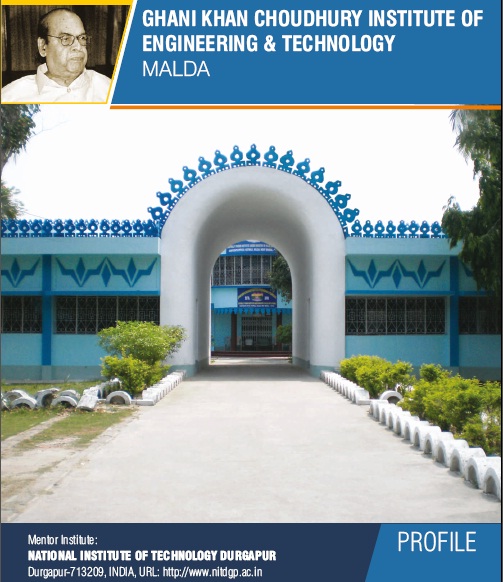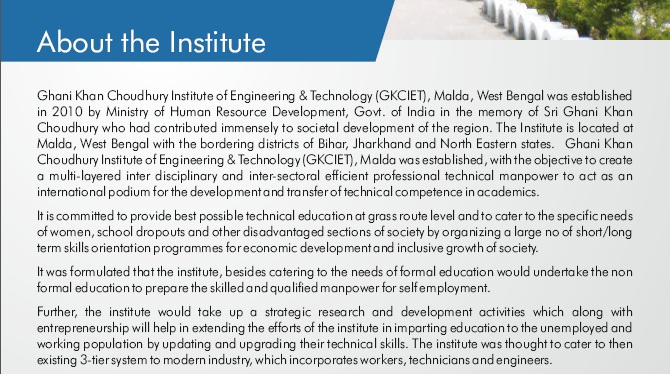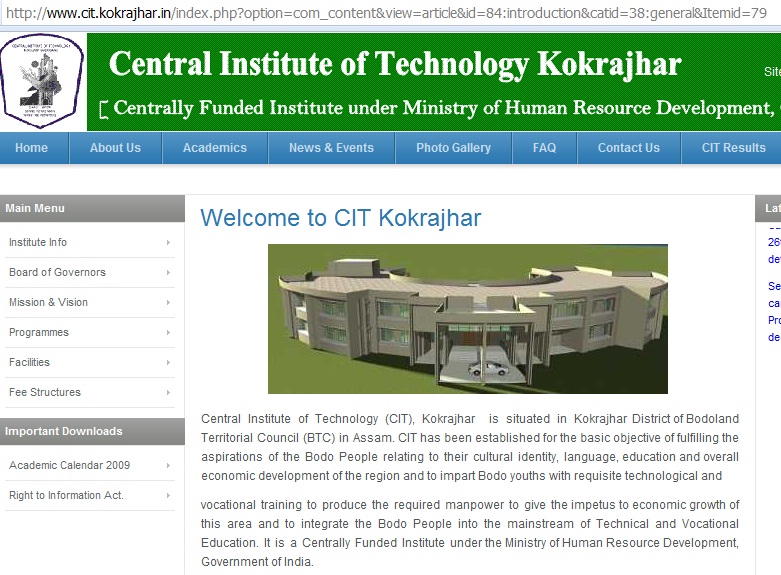 4.3 Upgradation of Food Craft Institute Balangir to an Institute of Hotel Management.
4.4 Some kind of a centrally funded institute in Kalahandi: One has to be realistic in pursuing something that is achievable; something central government has established in smaller towns in other states; something with similar philosophy as SLIET/GKCIET/CIT-Kokrajhar but in a different field.
Added on Dec 11th 2010: I think a Central Agricultural University can be pushed for Kalahandi. Currently a Central Agricultural University exists in Imphal (http://www.cau.org.in/). I came across the news item in http://bundelkhand.in/portal/NEWS/Centre-clears-an-AIIMS-like-institute-for-Jhansi-Bundelkhand that says "the Union agriculture ministry had given the go-ahead to develop a central agriculture university in Jhansi". So a similar one can be pushed for Kalahandi.

4.5 Special funding for proposed state Universities in KBK: The Odisha government higher education task force has recommended new state universities to be made in Jeypore (Koraput), Bhawanipatna (Kalahandi) and Balangir. We request that the central government give a one time 50 crore grant to each of these proposed universities so that they can be started at the earliest.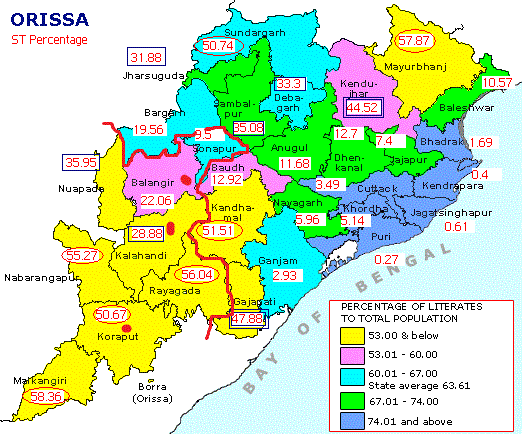 5. Job Centers:
Wagon factory in Kalahandi.
Tourist infrastructure around Gandhamardan hills and Harishankar.
Tourist infrastructure around Kolab dam and tribal hamlets of Koraput.
6. KBK+: In addition in the KBK+ district of Kandhamal a branch of Indira Gandhi National Tribal University (IGNTU) can be realistically pursued and achieved.
Final Word: Please make additional suggestions. But be realistic. Also, note that here we are talking about what to pursue with the central government.