Thanks very much Bikash Dash for the pointer to http://wiki.iricen.gov.in/doku/lib/exe/fetch.php?media=9209%3Aabkhare.pdf. The solution presented there to expand the current Bhubaneswar station to 10 platforms is very good. Since the expansion of existing Bhubaneswar station is deemed economically feasible, they should just go ahead with that immediately (asap) and at the same time start acquiring land in the New Barang location so that a large station can come up there in 10-15 years when that will be needed.
Following are some pictures from the above mentioned slide sets.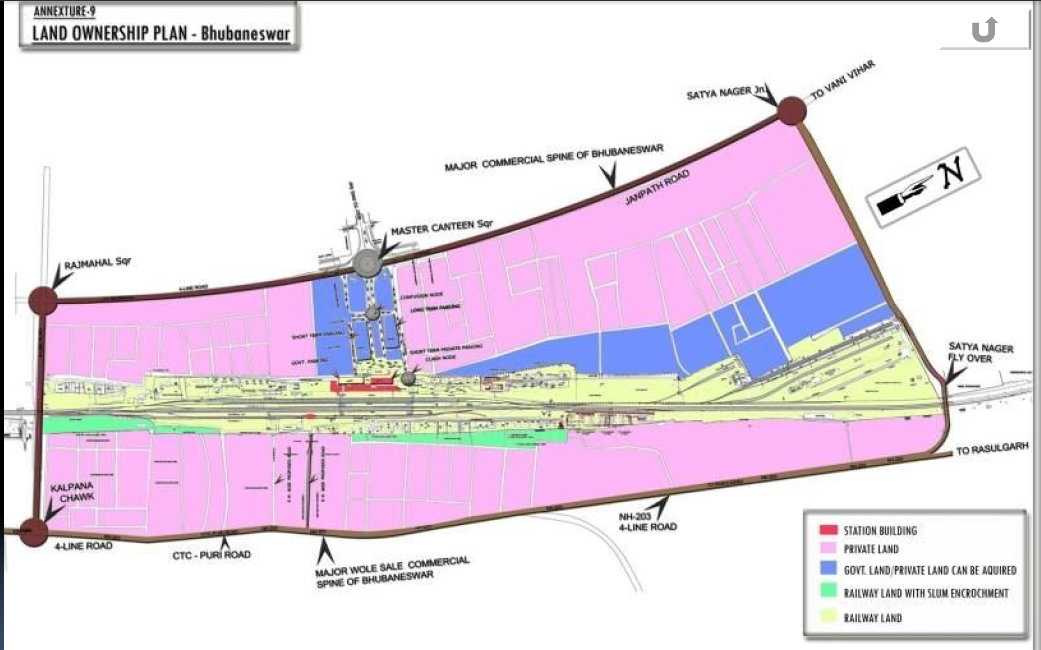 The main hurdle with respect to the above plan is the private land that is marked as "to be acquired". That part is shown in red in the map below.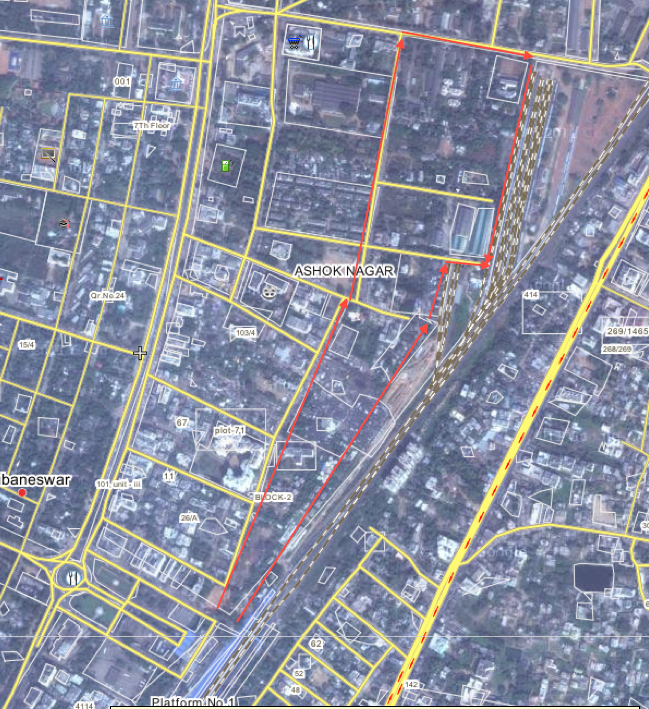 I hope that hurdle is overcome and the expansion gets going asap. If there is trouble then a simple alternative is to move the commercial part to the area marked in green (in the map below) and make the parking area marked in orange a multi-level one with the underground part going under the Janpath to the commercial complex marked in green.
Since the land marked in green is government land this would not cause a lot of trouble and as mentioned before it will connect the station complex with the IG park, Secretariate, Assembly, and Rabindra mandap. In the future there may be a Las Vegas style monorail connecting all these parts. (Note that this plan will not affect the existing coaching yard much. That money can be used in making the underground path connecting the green part and the orange part.)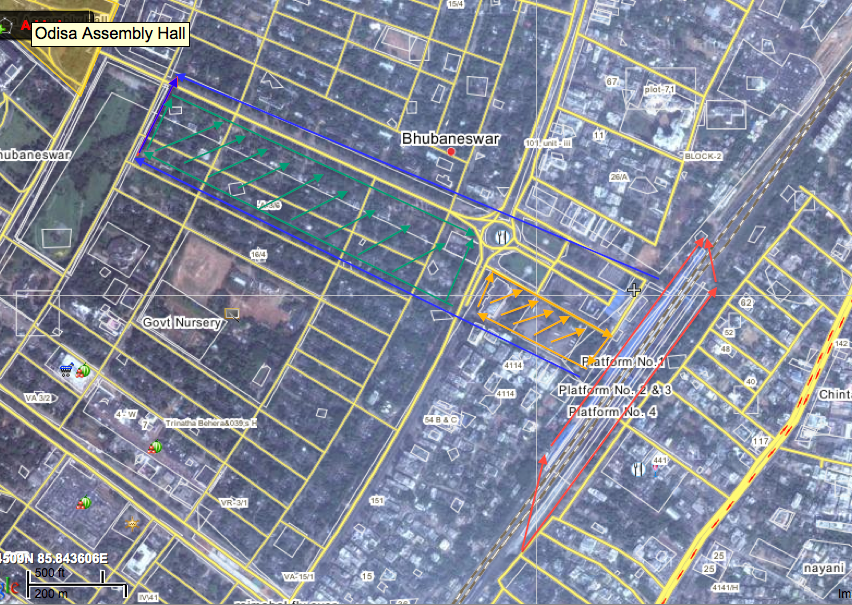 ---
But in 10-15 years the ten platforms will not be enough; especially when there will be many suburban routes with more frequent trains. Examples of such lines:
Bhubaneswar-Puri-Konark (Puri-Konark extension is expected)
Bhubaneswar-Berhampur-Gopalpur (Berhampur-Gopalpur extension is expected; post connectivity)
Bhubaneswar-Khurda Rd-Nayagarh (part of Khurda-Balangir line)
Bhubaneswar-Talcher
Bhubaneswar-Rajathgarh-Tangi
Bhubaneswar-Bhadrak
Bhubaneswar-Paradeep
Bhubaneswar-Barang-Astaranga (new port connectivity)
Bhubaneswar-Puri-Baliharchandi (new port connectivity)
Bhubaneswar-Jakhapura-Sukinda
So the alternative plan of a major station near Barang should also proceed but with a slower speed. Especially the land should be acquired asap before the prices become very high.