Following is from Dharitri.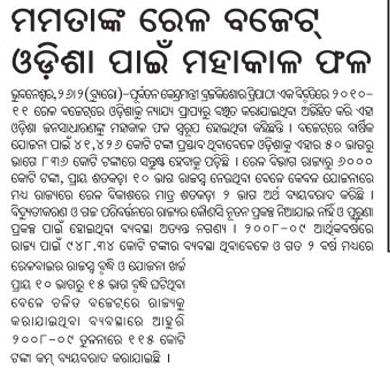 ---
The above article writes about the analysis of ex-MP Braja Tripathy. His main complaint is that Indian Railways makes 10% of its revenue (about 6000 crores) from Odisha but has spent only 2% of the budget in Odisha; 836 crores out of 41,426 crores. He also says that in 2008-09 the Rail budget had 948.34 crores for Odisha and since then while the revenue and planned expenses have increased 10-15%, Odisha's rail budget has decreased by 115 crores.
Mr. Tripathy has a very good point. We made similar points in our page http://kbkrail.orissalinks.com/ and in the article http://www.orissalinks.com/orissagrowth/archives/1550.
However, I partly agree with the comment made by Mr. Prasanna Mishra; this year's allotment of 120 crores for the Khurda-Balangir line is pretty good. The Odisha government must facilitate land acquisition so that the full 120 crores is spent this year. That way it can ask for more in the next budget and possibly get it. Otherwise next year Khurda-Balangir will get a smaller allocation and we will be back to square one.