Archive for the 'State river routes' Category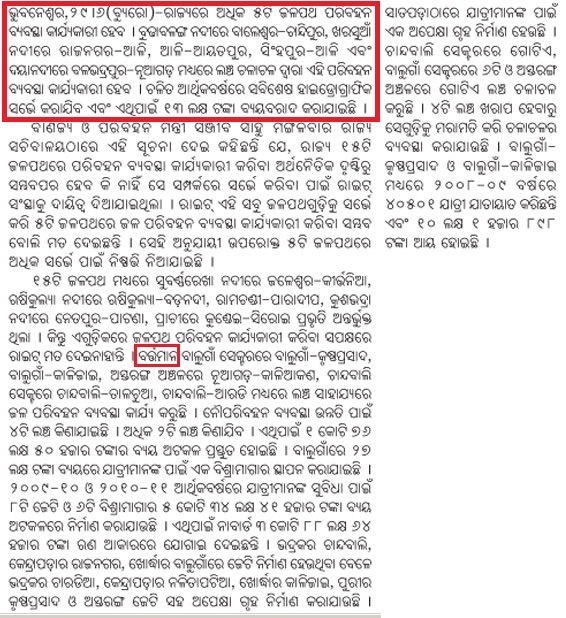 Astaranga, Puri (Navayuga interested), Bahabalpur, Balasore (unlikely), Bahuda Muhana, Ganjam (many interested), Baliharchandi, Puri (many interested), Barunei, Kendrapada (many interested), Chandbali, Chandipur, Balasore (Unlikely), Choumukha-Kirtania, Balasore (Creative ports, Chennai interested), Chudamani, Bhadrakh (Birlas interested), Dhamara port (under constr.), Gopalpur port (under constr.), Inchudi, Balasore (many interested), Inland waterways, Jatadhari port (POSCO), National Waterway 5, Palur, Ganjam (Future metals interested), Paradeep port, State river routes, Talsari (Bichitrapur) - JSW interested
Comments Off

on Samaja's Shilpayana Supplement: New ports to come up in Odisha
As per a report in Telegraph these routes are:
Jaleswar – Kirtania on Subarnarekha
Balasore – Chandipur on Budhabalanga (12 km)
Rajnagar – Aul , Aul – Aetepur and Singhapur – Aul on Kharsuan (63 km)
Rushikulya – Badanadi on Rushikulya
Netapur – Pathna on Kushabhadra
Kundhei – Siroi on Prachi
Balabhadrapur – Nuagarh on Daya (9 km)
Following is an excerpt from that report in Telegraph.
The state government has initiated steps to conduct surveys to identify river stretches having the potential for detailed hydro-graphic surveys and detailed project reports.

Rail India Techno Economic Services (RITES) has been engaged by the state government for conducting the studies, …

As many as 13 rivers … were identified by the government for the studies.

Of them, a 12km stretch of Budhabalang, three stretches comprising a total of 63km in the Kharsuan and 9km of the Daya have been identified for further detailed hydro-graphic surveys and traffic studies to be conducted by RITES.

Also locations, for the provision of infrastructure, would also be identified in these stretches, officials said.

According to preliminary studies, the identified rivers have enough potential and economic viability to serve as an effective waterway.

RITES has, therefore, suggested the development of an inland water transport corridor comprising three stretches of the Kharsuan river from Rajnagar to Aul-Singhpur-Aetpur and extend it up to Jajpur along the Brahmani.

The body has proposed to develop another corridor on the Daya up to Balugaon on the banks of the Chilika lake.

At present, the state directorate of ports and inland water transports run passenger launch services in Chandbali, Chilika and Astarang.

Initiatives are being taken by the directorate to start motor launch service in reservoirs of major and medium dam projects.

A river project report for construction of jetties and waiting halls in navigational routes at a cost of Rs 5.34 crore, prepared by ocean engineering centre of the IIT, Chennai, has been submitted to Nabard for assistance under the Rural Infrastructure Development Fund.