The various phases of NHDP and their meaning, as obtained from wikipedia, is as follows:
Phase I: The Golden Quadrilateral (GQ; 5,846 km) connecting the four major cities of Delhi, Mumbai, Chennai and Kolkata.
* In Odisha: Part of the GQ connecting Kolkata to Chennai.
Phase II: North-South and East-West corridors comprising national highways connecting four extreme points of the country. The North-South and East-West Corridor (NS-EW; 7,300 km) connecting Srinagar in the north to Kanyakumari in the south, including spur from Salem to Kanyakumari (Via Coimbatore and Kochi) and Silchar in the east to Porbandar in the west.
* In Odisha None
Phase III: The government recently approved NHDP-III to upgrade 12,109 km (7,524 mi)of national highways on a Build, Operate and Transfer (BOT) basis, which takes into account high-density traffic, connectivity of state capitals via NHDP Phase I and II, and connectivity to centres of economic importance. contracts have been awarded for a 2,075 km (1,289 mi).
* In Odisha (From http://www.nhai.org/nhdpphase3.asp.)
Panikholi-Keonjhar- Rimoli, NH 215, 106kms
Duburi – Talcher, NH 200, 98kms
Bhubneshwar-Puri(Approved Length 59 Km) 203 67
Chandikhole-Duburi 200 39
Rimoli – Roxy – Rajamunda(Approved Length 163Km) 215 96
Sambalpur-Baragarh-Chattisgarh/Orrisa Border 6 88 Balance for award
Phase IV: The government is considering widening 20,000 km (12,000 mi) of highway that were not part of Phase I, II, or III. Phase IV will convert existing single lane highways into two lanes with paved shoulders. The plan will soon be presented to the government for approval.
* In Odisha (From http://www.nhai.org/ppp.htm.)
Phase V: As road traffic increases over time, a number of four lane highways will need to be upgraded/expanded to six lanes. The current plan calls for upgrade of about 5,000 km (3,100 mi) of four-lane roads, although the government has not yet identified the stretches.
* In Odisha (From http://www.nhai.org/nhdpphase5.asp.)
Six Laning of Chandikhol-Jagatpur-Bhubaneswar(Approved Length 61 Km) 5 67
Dhankuni-Balasore (Orissa portion Balasore – Laxmannath) 2 , 6& 60 235.68
Bhubneshwar-Ichchapuram 5 164.33
Balasore –Chandikhol 5 138.14
Phase VI: The government is working on constructing expressways that would connect major commercial and industrial townships. It has already identified 400 km (250 mi) of Vadodara (earlier Baroda)-Mumbai section that would connect to the existing Vadodara (earlier Baroda)-Ahmedabad section. The World Bank is studying this project. The project will be funded on BOT basis. The 334 km (208 mi) Expressway between Chennai—Bangalore and 277 km (172 mi) Expressway between Kolkata—Dhanbad has been identified and feasibility study and DPR contract has been awarded by NHAI.
* In Odisha: None yet.
Phase VII: This phase calls for improvements to city road networks by adding ring roads to enable easier connectivity with national highways to important cities. In addition, improvements will be made to stretches of national highways that require additional flyovers and bypasses given population and housing growth along the highways and increasing traffic. The government has not yet identified a firm investment plan for this phase.
* In Odisha: None yet.
---
In addition to the above some of the other major highway development activities are:
The following annotated map shows the above highways on the Odisha map.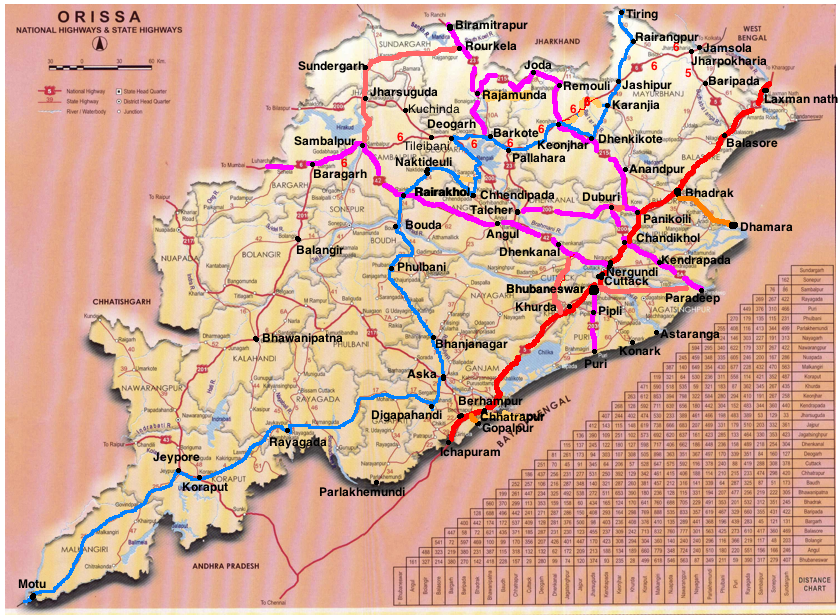 The blue path is the divided 2 lane Vijaywada-Ranchi highway; the red one, already a 4-lane highway as part of the Golden Quadrilateral will become a 6-lane highway; and the orange (state/PPP funded) and pink (part of NHDP) ones will be 4-lane highways. I believe soon the remaining parts of NH 5 (for port connectivity to ports in Balasore district) and NH 6 (as it connects Mumbai-Kolkata) will also become 4-lane highways and all the new ports coming up will be connected to the GQ by 4-lane highways.
The concern is the bottom half of Odisha which will not have good roads except the Vijaywada-Ranchi highway. Unless particular attention is paid to that part, it will fall further behind.
---
The expressway plan at http://www.orissalinks.com/orissagrowth/topics/tnc-all/roads-and-highways-infrastructure-in-orissa/expressways does cover all of Odisha in phases. If parts of it can be expedited then it will help.