Following is a picture from http://www.tathya.in/2008/story.asp?sno=2360.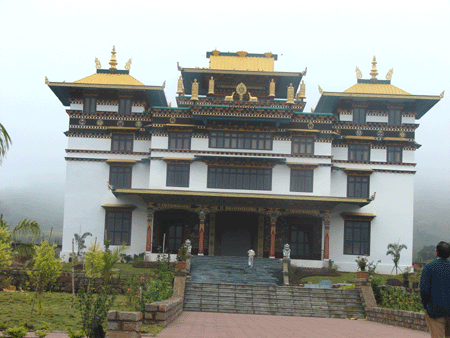 Following is an excerpt from a report in the Telegraph.
Come January, a narrow ribbon of fraying tar would lead you to the hills of Chandragiri where the largest Tibetan monastery in north India is coming up.

The monastery, being built since December 2003, is all set to push the "little Tibet" —where 3,000-odd immigrants have made their home for the past five decades — on the international tourism map.

After living together for years and growing vegetables, maize, rice and pulses, the Tibetan refugees roped in about 200 artisans from Nepal, Bhutan and Tibet to build the beautiful complex with plated statues, elaborate frescoes and expensive silk hangings in the hill in Gajapati district, about 300km from Bhubaneswar.

The refugees — for whom arrangements were made by the government during the Chinese aggression in 1959 — have renamed Chandragiri as "Phuntsokling" meaning "land of happiness and plenty".

"This place already attracts a good number of foreign tourists, especially Buddhist pilgrims. With the monastery being completed, we expect over 10 times the present inflow," said said Khenpo Pema, in-charge of the monastery. "We have been trying to convince the government to facilitate in promoting this place in a bigger way," he added.

The Rs 7-crore structure is spread over15 acres and will not just serve religious purposes but also double as an educational institution on Buddhist philosophy. "Our ancestors had been planning a monastery for long but arranging funds were difficult then," said Pema. Facilities for accommodation have been arranged with a 10-suite guesthouse at the monastery where a shopping complex would also be opened.

"Tibetan refugees are highly religious. We will soon be recognised as an ace religious institution too," said Pema, adding that classes for around 200 wannabe lamas from Bhutan, Nepal, Sikkim and Arunachal Pradesh had already started.

The complex is spread across mediation hall, administrative quarters, assembly hall of lamas, chapels, shrines and a vast library of Buddhist scriptures. The architecture of the monastery represents the Tibetan style designed with frescoes out of Buddhist scriptures. The huge golden statue of Buddha presides in the monastery with statues of Lord Padmasambhaba and Lord Avalokiteswara on either side. "We have ensured that it has all the flavours of Tibetan architecture," said Jaampa, the chief architecture.