Archive for the 'Forest camps' Category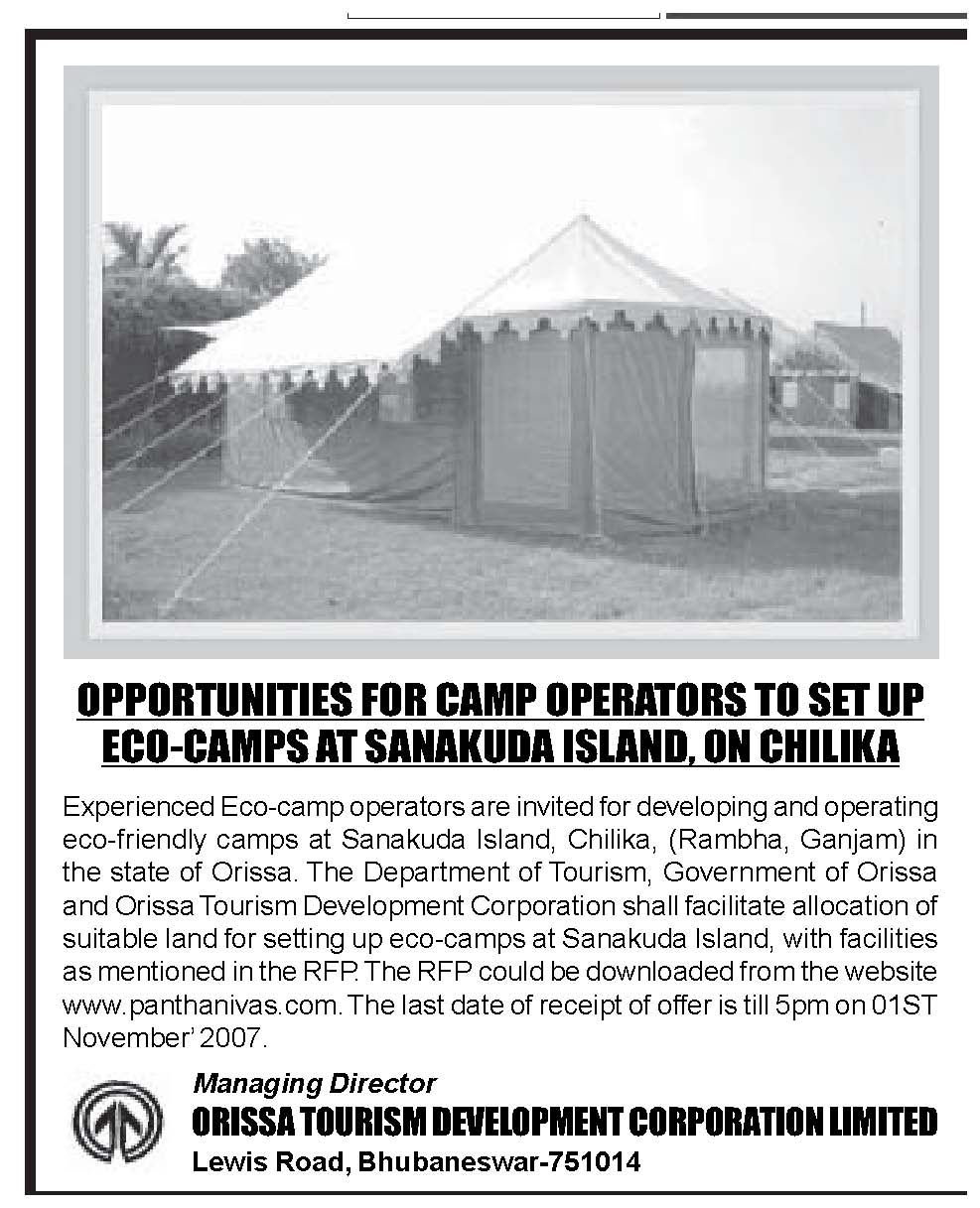 Following are excerpts from a Pragativadi report:
For the first time, the state government, under its eco tourism has decided to set up camps inside the forest for the tourists, to be known as the eco camp.

The state government has taken elaborate measures to attract the tourists to enjoy the long stretch of forests replete with wild animals in the state.

This novel scheme is the brainchild of chief minister Navin Patnaik under whose directive, the forest and environment department has taken up the eco camp project.
The tourists, during their stay at these eco camps would enjoy the natural forest landscape and witness free movement of wild animals.

The department, in its first phase has decided to set up three eco camps at Ramchandi, Sankuda and Rajhansa islands.

In the next phase, these camps would be set up at Satkosia-Baisipalli, Bhitarakanika, Similipal, Talasari-Dogra, Ushakothi-Badarama, Koraput, Phulbani, Hirakud and some other selected places.

Talking to this paper, tourism minister Debi Prasad Mishra said that a project report on eco camp has been completed.

The project would be taken up on a public-private partnership while the Orissa Tourism Development Corporation would construct the eco camps, he added.
As per the project proposal, laid down by the tourism department, the eco camps would be set up at a selected site in the forest where permanent tents would be set up.

These tents will have toilet and food arrangement facilities. The tourists can stay at these tents in night if they wish. The forest staffs would provide adequate security for the tourists and enable them to enjoy the landscape and free movement of wild animals. The state tourism department would seek cooperation from the forest department in this connection. Mishra said that there has been gradual increase in the number of tourists in the state to enjoy its natural environment.

He said that since tourists are keen to enjoy the 480-km long sea coast with a long stretch of forest cover, natural streams laced with a variety of flora and fauna while staying within the natural environment, the state government has come up with eco camp concept that would surely provide a thrilling experience to the tourists.
Economic Times also reports on this.