This year 162 degree colleges are participating in e-admission to their B.Sc/B.A/B.Com programs. Following are some numbers on this process from a Telegraph report.
After the announcement of Council of Higher Secondary Education (CHSE) or Plus Two results on May 30, students had applied to colleges of their choice online. Higher education officials said they had received a total of 74,968 application forms.

Around 48,019 candidates have been shortlisted according to the first selection merit list. …

In Bhubaneswar, BJB (Autonomous) College has increased the qualifying marks by one to five per cent in separate subjects for general students. In the arts stream, the cut-off mark for the general category was announced as 63.5 per cent as against 58.67 per cent last year. In commerce, it is 77.58 – an increase of over one per cent from the previous year. The science subjects, too, have seen a substantial rise. For physics-chemistry-mathematics (PCM) combination, it is 84.33 per cent, against last year's 84.20 per cent, and in chemistry-botany-zoology (CBZ) combination, the cut-off is 80.33 per cent as against 78.5 per cent last year.

… Srilekha Ray, principal of Ramadevi Women's (Autonomous) College here.
"We have raised the qualifying marks by over 10 ten er cent in PCM, around nine per cent in CBZ, seven per cent in arts and two per cent in commerce for the general category," she said.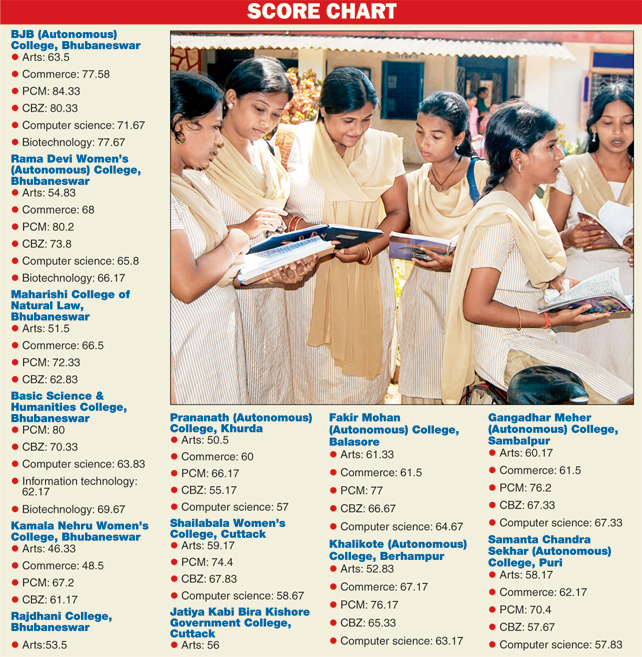 June 25th, 2011