Bhubaneswar- Cuttack- Puri, Khordha, Parks
January 27th. 2009, 12:52am
Update2: Following is from a Pioneer report about Medicinal Plant's garden in Patrapada.
At the Patrapada Medicinal Plants' Garden, presently consisting of 50 species of bamboo trees, another 100 species of bamboos from across the globe will be planted.

CM Naveen Patnaik planted a Budha Belly bamboo sapling at the garden on Tuesday. He advised the high authorities of the Forest Department to develop the garden so that it can attract even international visitors.

It may be mentioned here that the garden is constructed over a land of 150 acres.
---
Update: Following is about Jayadev Batika on the back side of Khandagiri.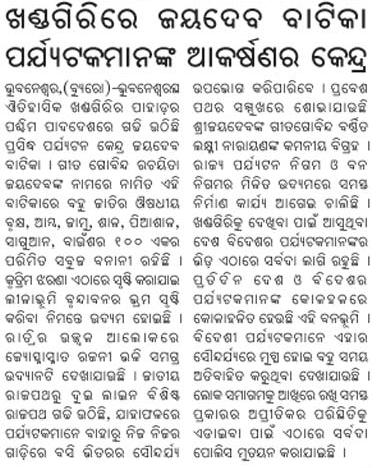 ---
Following descriptions and pictures are from http://www.bdabbsr.in/bdaservlets/more4.jsp.
INDIRA GANDHI PARK (The old parade ground in front of the Secretariat and assembly)
Indira Gandhi Park was developed over an area of 10.60 acres of land. It is centrally located infront of Orissa Secretariat and State Assembly. Indira Gandhi Park was previously the parade ground of Bhubaneswar city, and is the place where Late Prime Minister Smt. Indira Gandhi delivered her last public speech on 30th October, 1984. The park was dedicated to the public with a statue of Smt. Indira Gandhi designed and sculptured by Russian sculptor Mr. Dimitry Ryebachev and Alexander Ryebachev.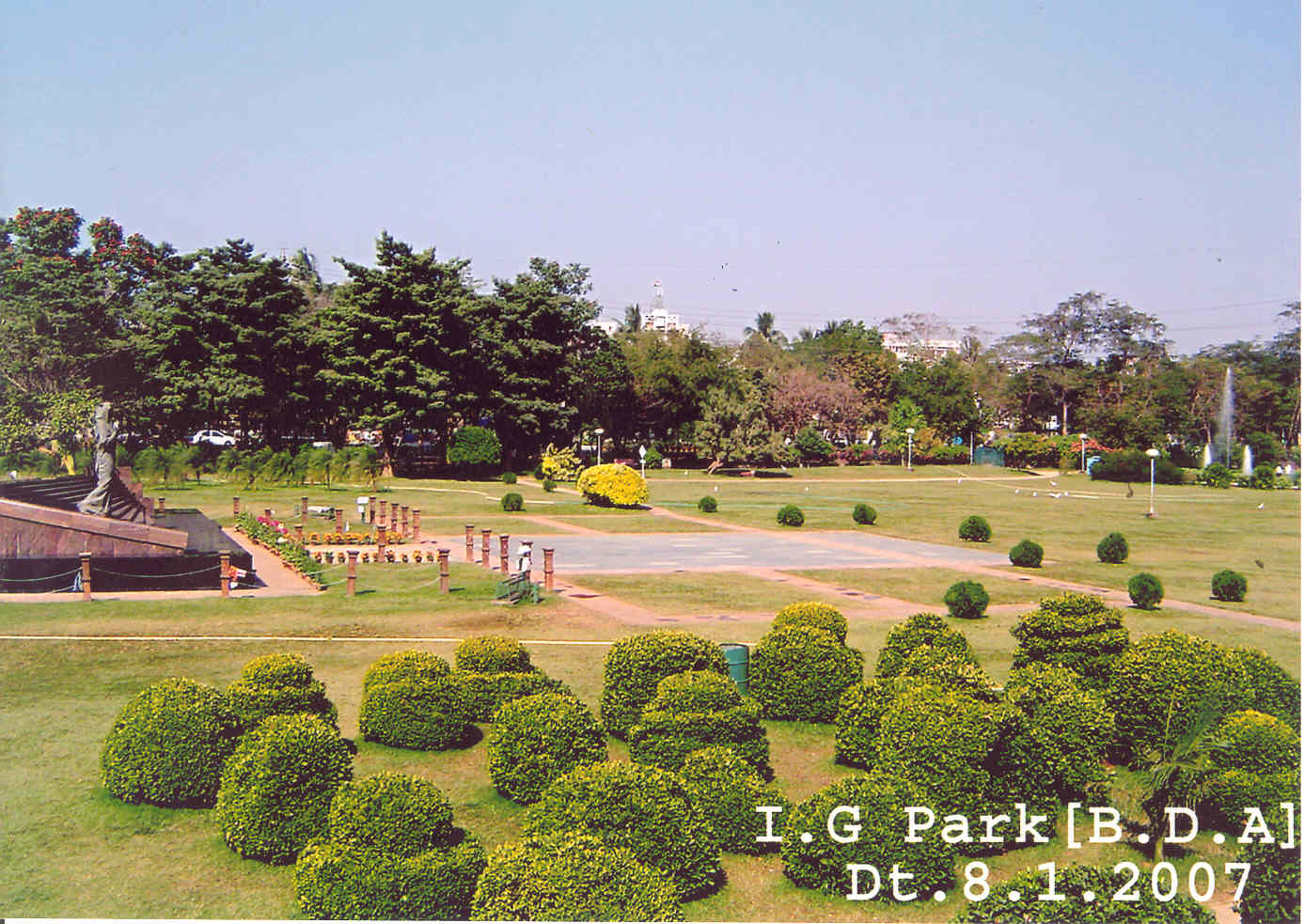 BIJU PATTNAIK PARK (Earlier called Forest Park)
Biju Pattnaik park is located in front of Capital Hospital , Unit – 6. Biju Pattnaik park has a lot of forest species, ornamental trees, flowering and foliage shrubs with a view to provide a forest in the centre of the city. A statue of one of the greatest leaders of Orissa and former Chief Minister Late Biju Pattnaik was unveiled in the park on 5th March, 2002 by Sri Naveen Patnaik, Hon'ble Chief Minister, Orissa and the then Union Minister Steel & Mines Sj. Ram Vilas Paswan on theauspicious occasion of Biju Pattnaik Jayanti. The park covers an area of 22.00 Ac. Of land. Multiple jogging track, colourful fountain, children play corners, rosarium, rockeries etc are the main attractions of the park.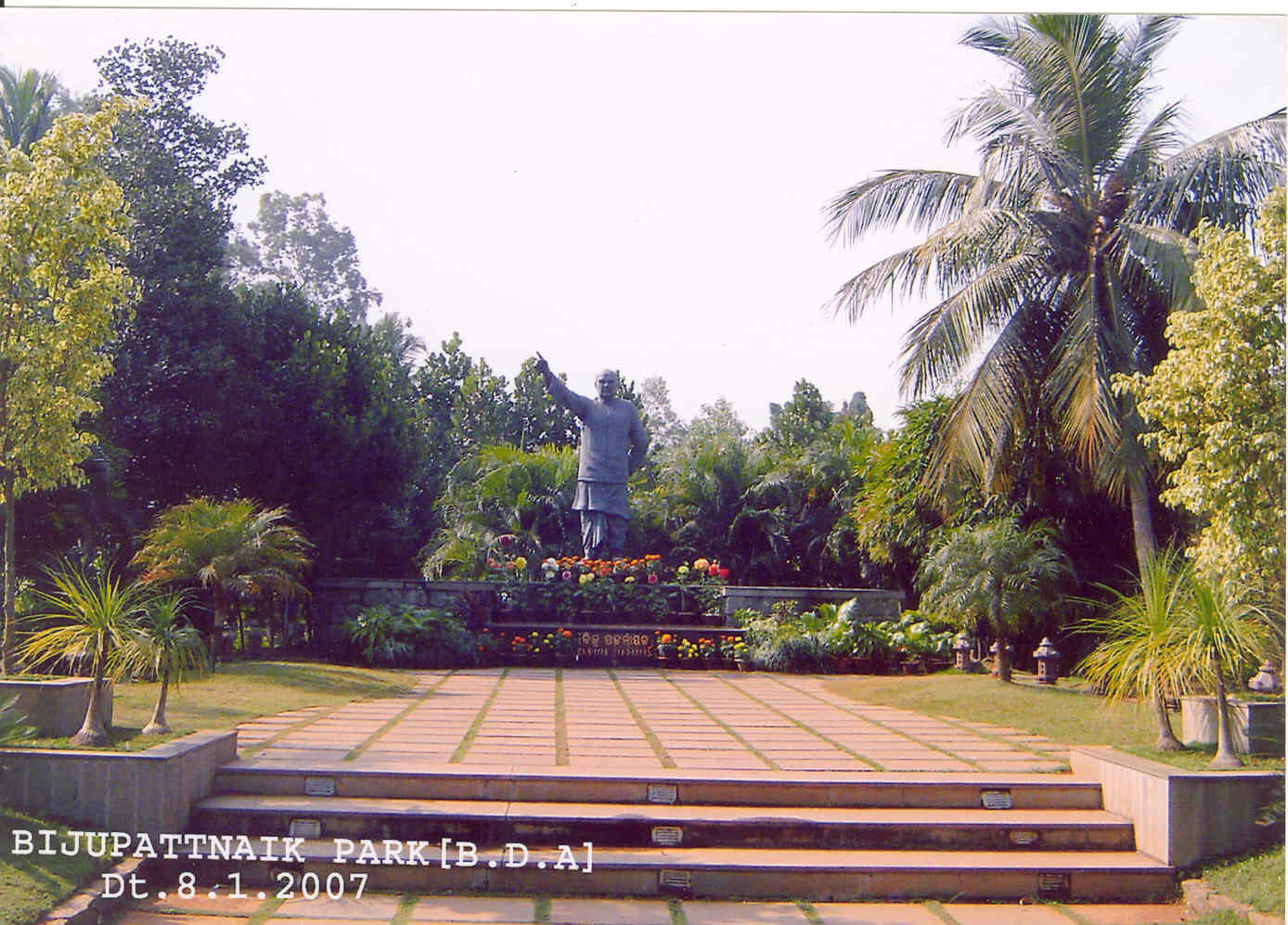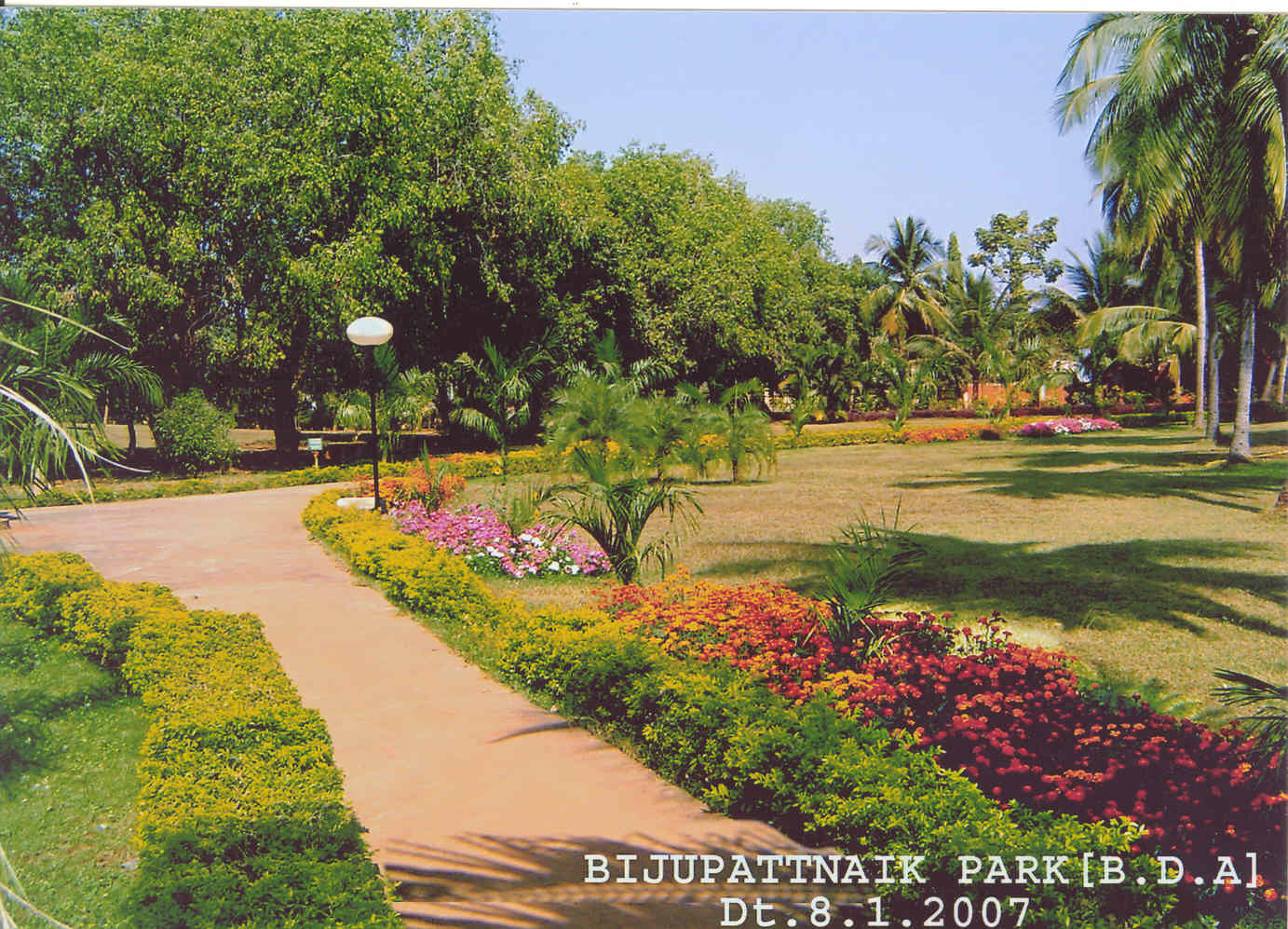 MAHATMA GANDHI PARK (Just north of Swosti Plaza hotel)
Mahatma Gandhi park has been developed by Bhubaneswar Development Authority on a part of 27.00 Ac of Janta Maidan. The park has landscape lawn, rockeries, fountain & stream jogging track, lighting system etc. The statue of Mahatma Gandhi sitting in the prayer position is very attractive and a number of visitors coming to Bhubaneswar pay their homage to the Father of the Nation.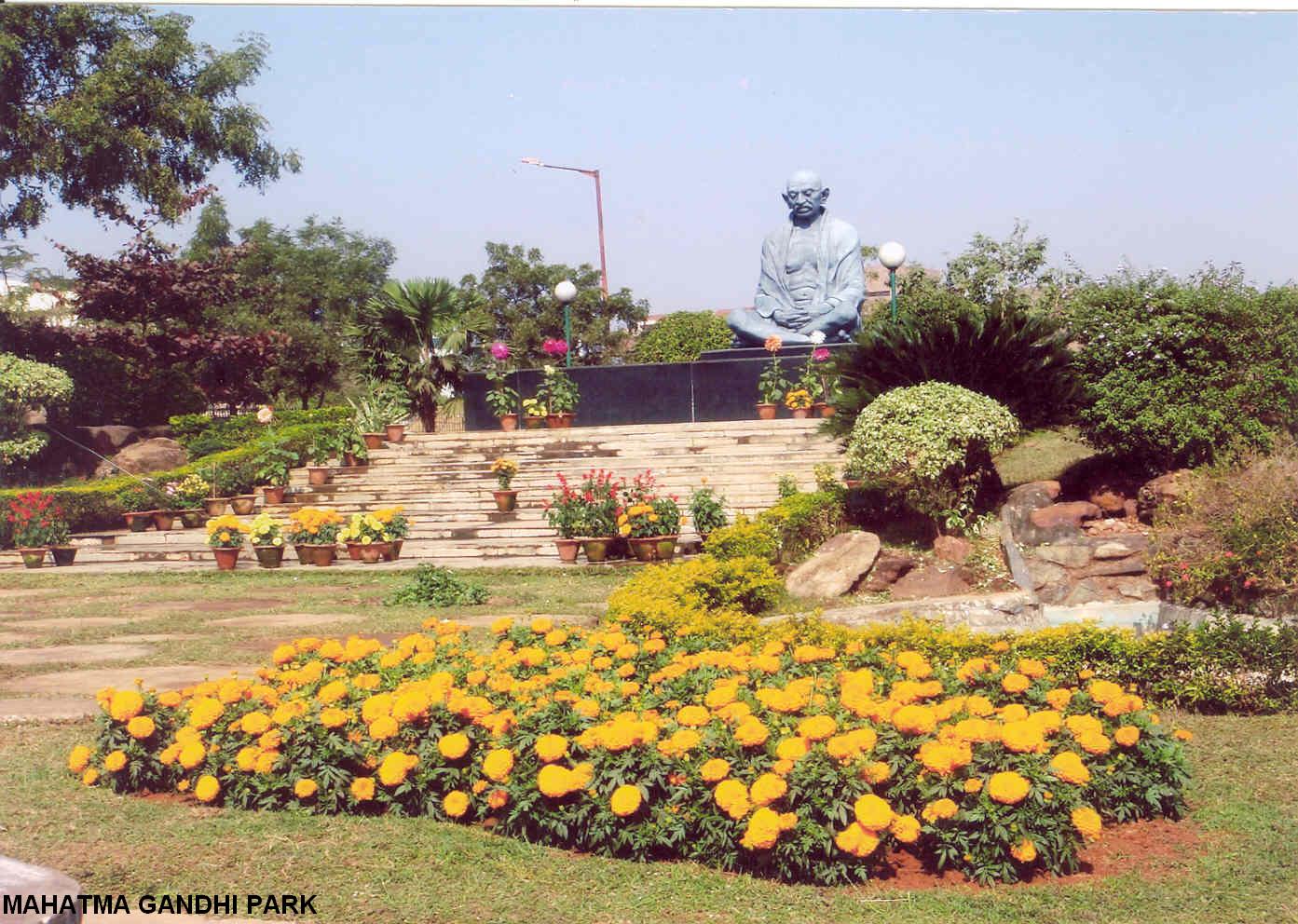 BUDDHA JAYANTI PARK (Near Niladri vihar and Shailashree vihar)
After Kalinga War Buddhisim in Orissa took a new dimension in propagating various aspects of Buddhism for human development. In view of this Bhubaneswar occupies a special position in the history of Buddhism in entire Asia . To up-keep this great history of Bhubaneswar, Bhubaneswar Development Authority has developed Buddha Jayanti Park at Chandra Sekhar Pur over an area of 44.00 Ac. The park is located at a high elevation & one side of the park is the boundary of Chandaka natural Forest . A part of the park is developed with lake, plantation, Buddha Stupa, pathways, host of trees & shrubs etc. The park was inaugurated by Shri Naveen Pattnaik, Hon'ble Chief Minister, Orissa on 5th May, 2001 with a vision to make the park a tourist place.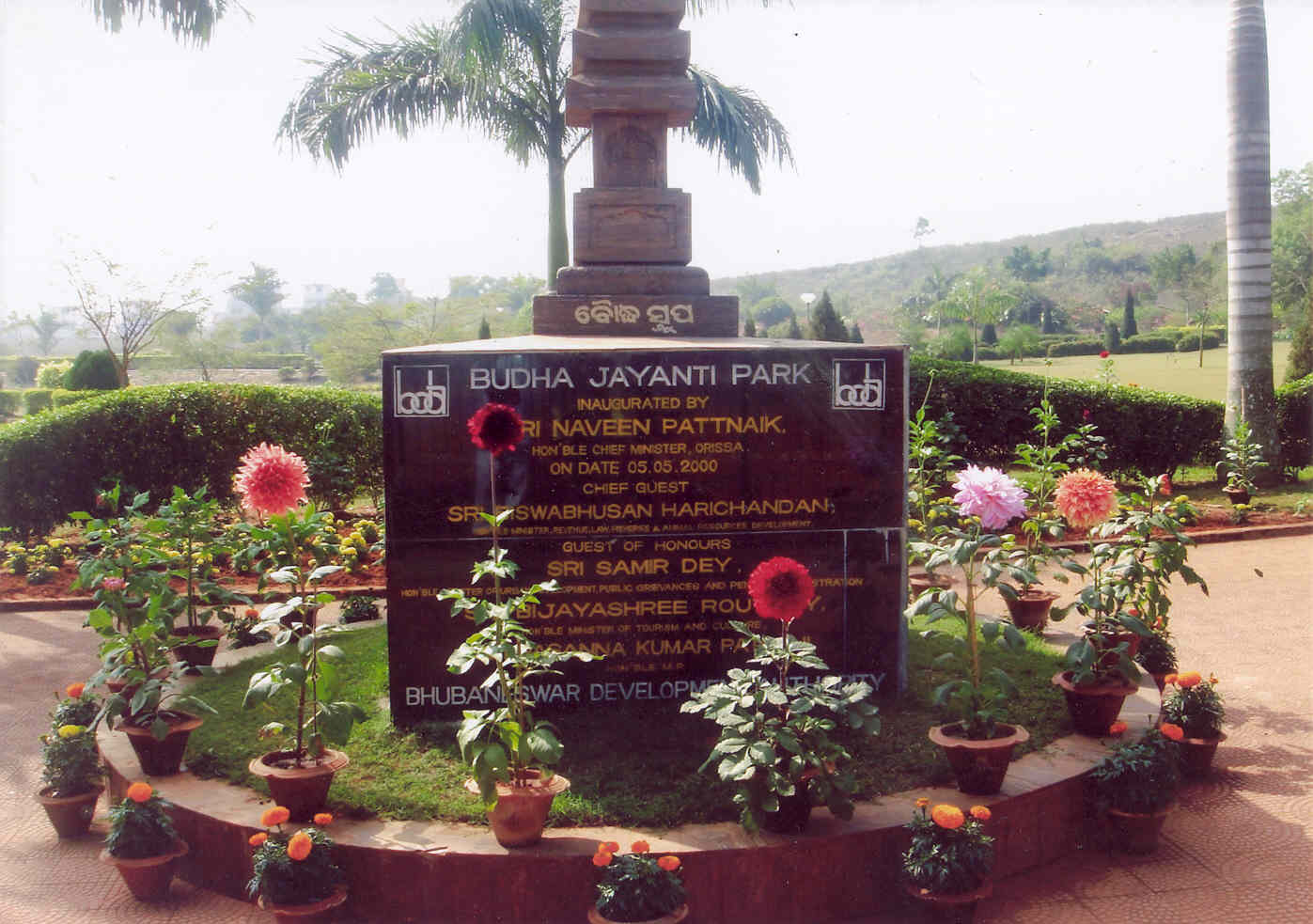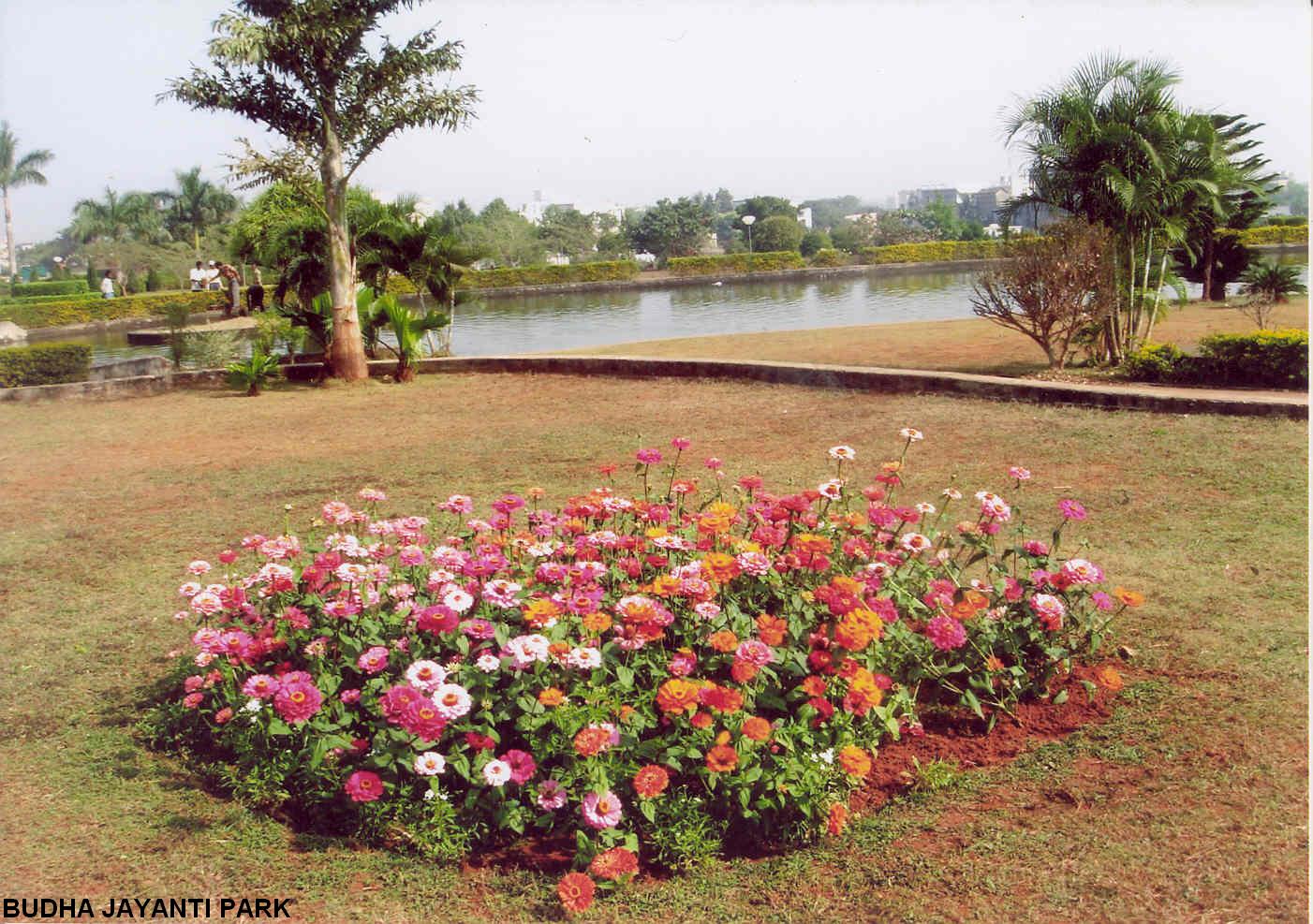 Shyamaprasad Mukherjee Park (Where NH5 crosses the Railway line near Vanivihar)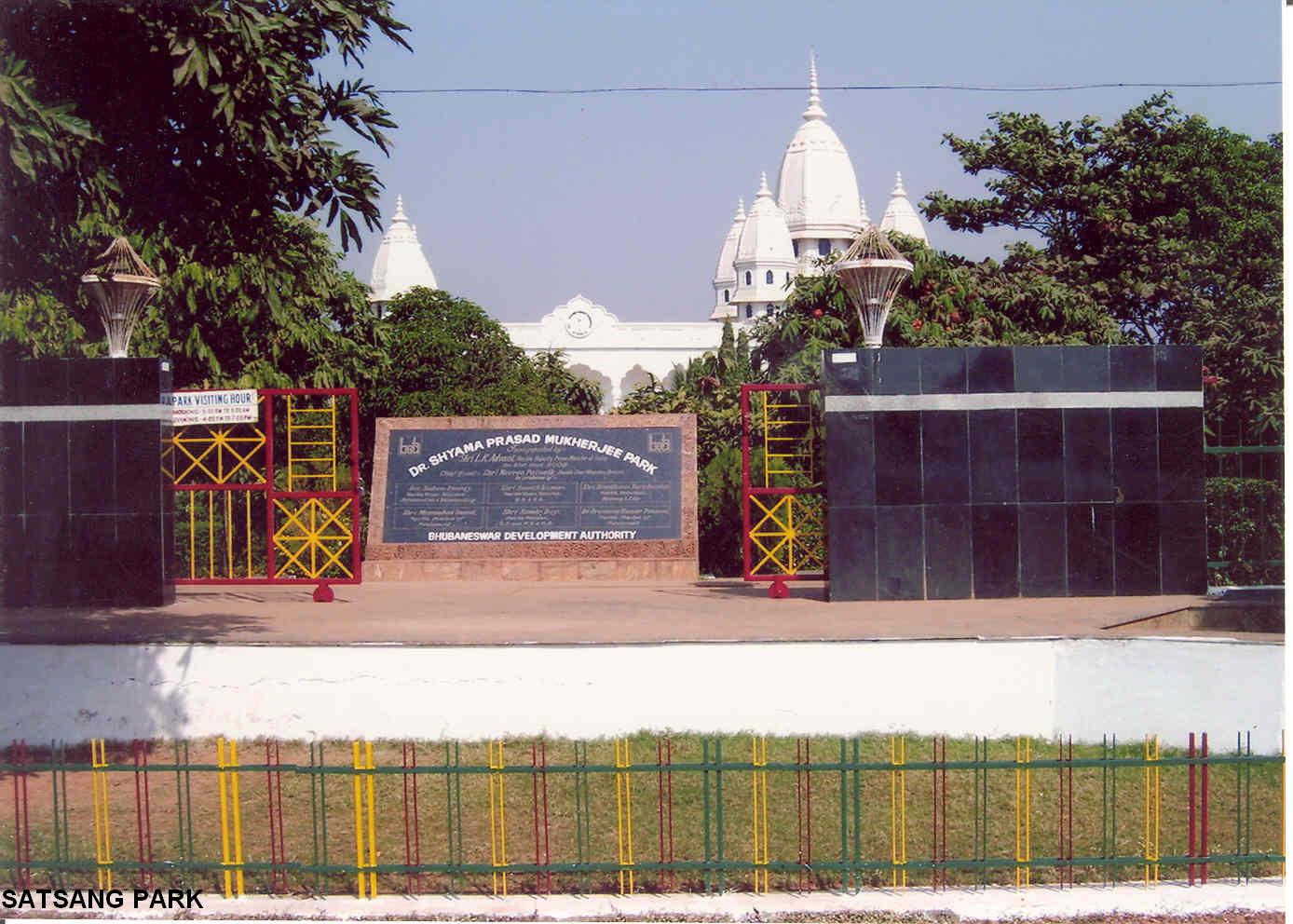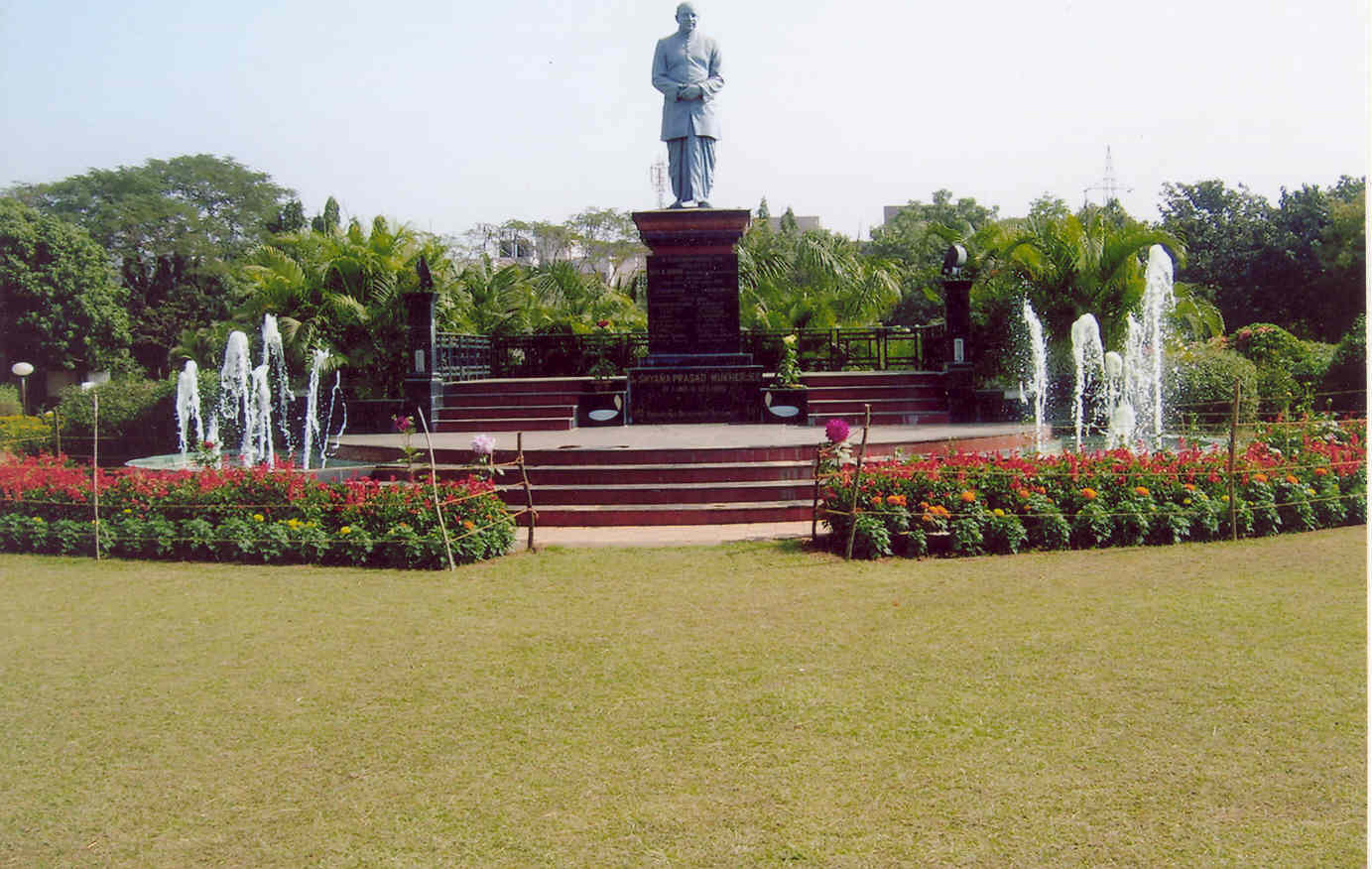 Nehru Park (Near the station)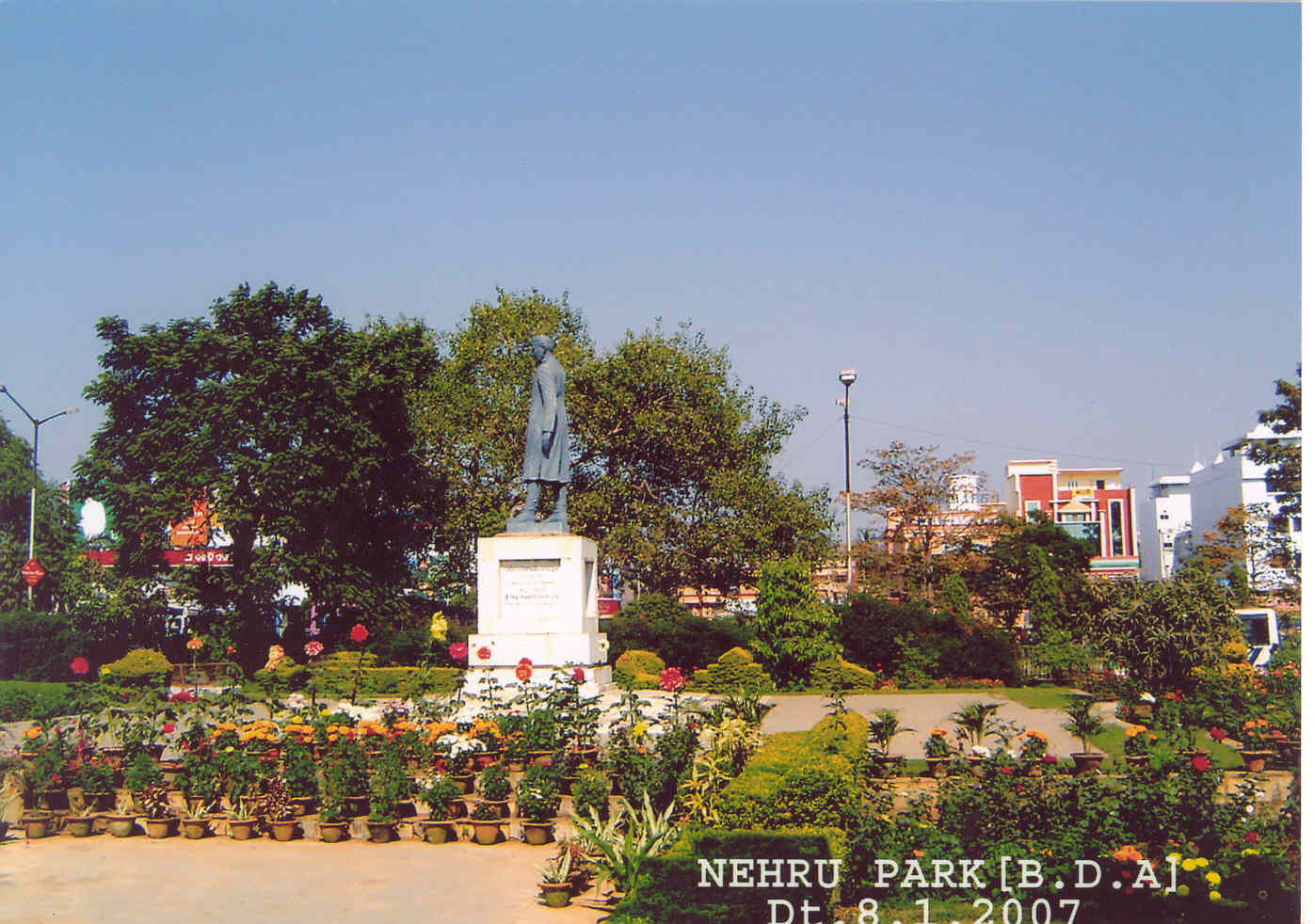 Other Parks and park like nature areas:
Nandan Kanan zoo and botanical garden – has entrance fees
Regional Plant Resource Center – has entrance fees
City center park (formerly BDA-NICCO park) – has entrance fees
Khandagiri – Udaygiri
Spice garden around Bindusagar lake – no entrance fees
Sikharchandi hill – no entrance fees
Chandaka – Dampada elephant sanctuary – has entrance fees
FUTURE PARKS
Dhauli Peace Park
The Government of Orissa has taken a decision to develop a park around Dhauli Peace Pagoda to spread the message of peace & tranquility to mankind. The Orissa Tourism Development Corporation (OTDC) has entrusted the work to BDA for which funds have already been sanctioned. The "Heritage Wall" that is proposed to be constructed around the Peace Pagoda will showcase the rich art & craft of Orissa apart from imparting beauty to the structure and preventing trespassing. A number of medicinal plants, flowering trees, shrubs including saplings of foliage will be planted around the park. An amphitheatre will run programmes to attract tourists and visitors. Provision for parking of vehicles, rest rooms, cafeteria etc. will be provided for the convenience of visitors.
Guru Kelucharan Park
It will be developed at Gadakana over an area of 21.00 Ac (approx). Conceptual drawing and other preliminary ground work have been completed for the project.
---
Update: Following is from the site
http://www.bdabbsr.in/bdaservlets/html/chatter.jsp?page=page5
.
Horticulture Wing in Bhubaneswar Development Authority has started functioning from April, 1987. The Wing has developed and maintaining 51 nos. of parks & open spaces in and around Bhubaneswar City , Khurda & Jatni. The major parks are:
Indira Gandhi park
Bijupattnaik park
Dr. Shyamprasad Mukharjee park
Jawaharlal Neheru park
Jayaprakash Narayan park
Mahatma Gandhi park
Buddha Jayanti park
Kharvela park
Netaji Subash Bose park and
Panchasakha parks at M.L.A Colony
In addition to these there are colony parks like:
N-1 park, Nayapalli
N-2 park (Raju Bhaya park), Nayapalli,
N-3 park, Nayapalli
Pallashpalli park
Kapilprasad park
BJB Nagara parks
Sahid Nagar parks
Bhoinagar park and
Baramunda H.B Colony park are also developed by BDA
The parks provided with garden lighting system are open to public in the evening, they are:
Dr. Shyamprasad Mukharjee park,
Buddha Jayanti park
Bijupattnaik park
Panchasakha Park
Indira Gandhi park
N-1 park, Nayapalli
N-2 park(Raju Bhaya park), Nayapalli
N-3 park,Nayapalli
Indradhanu Market park
Netaji park and

Mahatma Gandhi park
All these parks are opened to public from 4.00 PM to 8.00 PM & 5.00 AM to 8.00 AM. These parks are provided with pathways, jogging track, benches etc. to facilitate morning & evening visitors, Bijupattnaik park, N-2 park, Nayapalli and Kudiary park at Jatni are also provided with children play equipiments. All these parks are beautifully created parks with landscape lawn, shrubbery, flower beds, trees, rosarium, hedges, water bodies, sprinkler system and two parks have Sulabha Souchalaya & public convenience. At Indira Gandhi park & Bijupattnaik park visitors can park their vehicle by paying usual parking fee.
Horticulture Wing also give permission for commercial shooting at different parks @ Rs. 2000/- per day. BDA has also developed a large public meeting place at Janta Maidan in front of NALCO Head Office at Chandrasekharpur over an area of about 22.00 Ac. The ground rent for booking of Janta Maidan to hold any public meetings/ conference, exhibition is Rs. 15,000/- (Rupees fifteen thousand) only per day for the entire field. Organisations can also book Maidan big patch @ Rs10,000/- per day & small patch @ Rs. 5,000/- per day.
BDA Horticulture Wing has also developed a nursery at Laxmisagar, Bhubaneswar where a number of seasonal plants, sapplings are propagated. The annual production capacity of nursery is about 50,000 sapplings of different trees, shrubs, forest species etc. Seasonal saplings are produced more than two lakhs per annunm. Sapplings are sold to the public at very reasonable price. During monsoon, sapplings are also provided to NGOs, Residential Welfare Associations, Municipalities, public and private institutions, Schools and Colleges etc. at free of cost with prior approval of authority.