Khurda Rd - Balangir (under constr.)
March 31st. 2010, 1:45pm
Update on May 7 2010: From Dharitri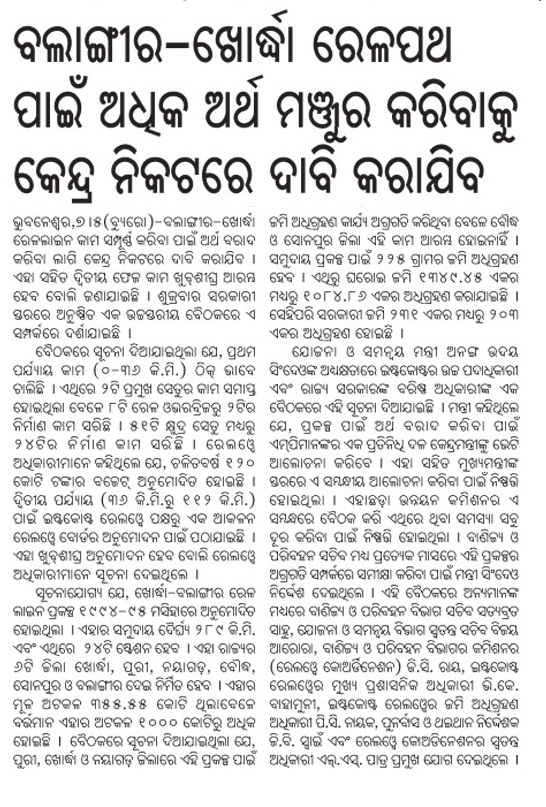 ---
Update on May 7 2010: From http://www.tathya.in/news/story.asp?sno=4058.
… Ananga Udaya Singh Deo, Minister Planning & Coordination reviewed the progress of the Khurda-Balangir Link Project here on 7 May.

This fact came to the fore during the discussion and insiders feel that unless political pressure will be mounted on the Ministry of Railways (MOR), expecting a fair deal on this project is a far cry.

Poor political weakness makes Odisha Projects vulnerable, pointed out a senior lawmaker.

Project sanctioned in 1994-95 with a cost of Rs.355.38 crore has been revised to Rs.700 crore.

As on today this project needs Rs.1000 crore to be completed, said an expert on Railways.

There are three phases in which the project will be commissioned.

Till date expenditure on the project is only Rs.96.41 crore during last 16 years!

After a lot of hue and cry, MOR has allocated Rs.120 crore in 2010-11.

And officials at the helm feel that if they will be provided funding properly, project will be completed in a short period.

Satyabrat Sahu, Commissioner-cum-Secretary of the Department of Commerce & Transport (DOCT) briefed the Minister about the progress.

Mr.Sahu, a pro-active mandarin said thrust is being given for fast progress with funds available.

He said construction activities are going on from the side of Khurda, where as Minister wanted also to start construction from Balangir side.

V K Bahmani, Chief Administrative Officer( Construction) East Coast Railways said that as the current year budget provision has been hiked to Rs.120 crore, construction activities is likely to be carried out in 112 kilometre area.

Now work is going on from 0-36 kilometre area and proposal has already been submitted to IRB for 36-112 kilometre area.

It is expected that Rakesh Kumar Chopra, Member Engineering, IRB will be sanctioning in June.

Mr.Singh Deo urged all the Member of Parliament (MP) cutting across party line to march to New Delhi and press for this Coastal-Western Link, which is very vital for the interest of the state.
---
Following is from an email sent by Mr. Lalit Patnaik on 31st March 2010.
In last one month ECOR has made tender docs ready for many jobs up to Nayagarh.
Tigiria Begunia to Nayagarh is 58 kms.
From Nayagarh side 20 % land has been acquired.
Some land from Begunia side has been also acquired. But major chunk of land needs to be acquired by State Govt.
No information of any work from Bolangir side.
ECOR is waiting for some administrative sanction from Rail Ministry for that 58 km route length. MP Rudra Narayan Pani has been requested to follow up at Delhi.
4 Responses to "Khurda – Balangir Railway Construction status report"