Balangir, Bargarh, Jharsugurha, Rourkela-Jharsuguda, Sambalpur, Sundergarh
June 20th. 2010, 11:06pm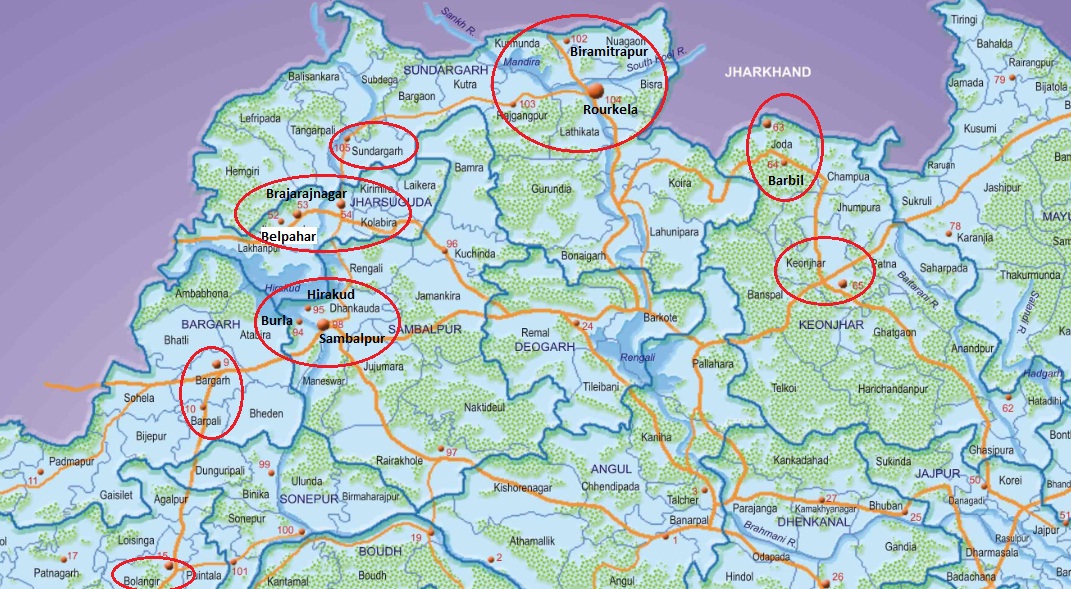 Currently the HRD infrastructure in the western corridor are concentrated at two locations (i) Rourkela and (ii) Sambalpur. While Rourkela has a lot of industries, the new ones are more concentrated around Jharsuguda.
In terms of connectivity the second airport of the state is being made at Jharsuguda and Jharsuguda has the best rail connectivity as it is a junction in the Howrah-Mumbai route as well as connected to Balangir via Sambalpur and Bhubaneswar via Sambalpur. Jharsuguda and Sambalpur, 40 kms apart, if taken together have superb rail connectivity to the rest of the country.
Very soon the western corridor will be connected to the eastern corridor by multiple railway lines:
Sambalpur-Angul-Bhubaneswar (exists)
Barbil-Keonjhar-Kalinganagr (exists; a more direct connection between Barbil and Keonjhar is being made)
Balangir-Bouda-Khurda Rd (under works)
Rourkela- Bimlagarh-Talcher (Bimlagarh-Talcher is under works)
This area has some knowledge infrastructure centered around Sambalpur-Burla and Rourkela:
There are two universities in Burla (VSSUT and Sambalpur Univ) with two more in the pipeline (Upgradation of GM College and upgradation of VSS Medical College).
There is a medical college in Burla.
Rourkela has NIT and BPUT and a metropolitan university is planned.
HiTech is making a private medical college in Rourkela. (SAIL should be pushed to make a medical college there; ESIC should also establish its medical college somewhere nearby.)
To bring this whole corridor together some focus needs to be directed towards Jharsuguda. The airport coming there; it being the main Railway junction; and Vedanta's plants there are additional reason to put some focus on Jharsuguda. I suggest:
A university be made there with partnership between the government and the industries there.
The Jharsuguda engineering school be made to an engineering college.
A medical college be made there (or in between Jharsuguda and Sundergarh) by the companies that mine from the Rampia block. (They should learn from MCL which is making its medical college in Talcher. MCL HQ is in Sambalpur, but I guess its coal mines are in Angul and hence the medical college in Talcher.)
The two other ends, Balangir and Joda-Barbil/Keonjhar need also some care.
A university has been proposed for Balangir and XIM is interested in opening a branch there. More needs to happen there.
Joda-Barbil is grossly neglected. A more direct rail connection between Joda-Barbil and Rourkela needs to be made. In addition HRD institutions need to be established in Joda-Barbil as well as Keonjhar.
One needs to note that NH-6, which at some point will become part of an expressway from Kolkata to Mumbai connects Keonjhar to Sambalpur and Bargarh. Thus one can envision a semi-ellipse with Baragarh-Sambalpur-Keonjhar line making the bottom part while the Sambalpur-Jharsuguda-Sundergarh-Rourkela-Barbil/Joda-Keonjhar making the upper curve. At some point Deogarh (next to the Rengali reservoir) the midpoint of Sambalpur and Keonjhar on NH-6 needs to be further developed.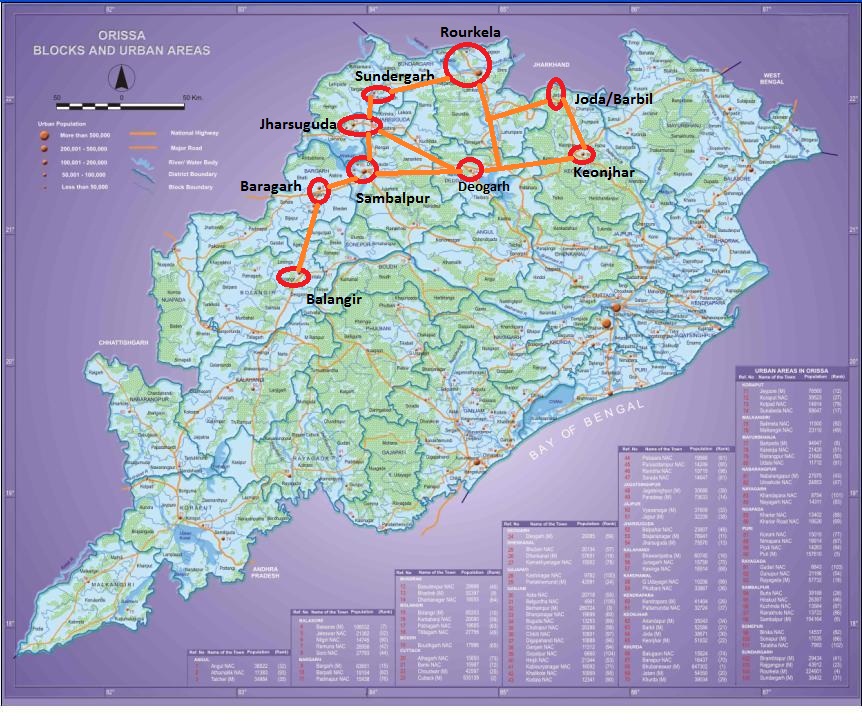 One Response to "The Rourkela-Jharsuguda-Sambalpur industrial corridor of Odisha"