Air India/Indian, Bhubaneswar, Bringing International Connectivity, Uncategorized
October 3rd. 2011, 9:27pm
Update on 10th October 2011: The Delhi – Bhubaneswar – Port Blair Air India (6 days a week) flight will allow boarding and deplaning of passengers at Bhubaneswar. This will not only provide Bhubaneswar – Port Blair connectivity; it will also incraese connectivity between Bhubaneswar and Delhi. Air India also plans to have another daily Bhubaneswar – Delhi flight taking the total number of daily AI flights between these cities to (almost) three and taking the total number of daily Bhubaneswar – Delhi flights to almost eight – 7 dailies and one 6 days a week. Following is a screen copy from http://www.cleartrip.com/ on the dates Nov 2 2011 and Nov 3 2011.

---
Following is an excerpt from a report in Deccan Herald.
Keeping in mind the high tourist potential, Air India subsidiary Alliance Air has introduced a direct flight to Port Blair from here via Bhubaneswar and would operate a new 70-seater jet plane.

Giving holiday makers another reason to cheer, Air India's direct flight AI 9603/9604 would be operated with Bombardier's CRJ-700 on all days of the week, except Saturday, a spokesperson said.
The above news item is confirmed from the Air India web site. See the screen capture below.
As the following map shows Bhubaneswar is very close to the straight line between Delhi and Port Blair. The stop-over in Bhubaneswar allows Air India to use a smaller aircraft that can be refueled in Bhubaneswar. I hope Air India will allow people to get on and off at Bhubaneswar.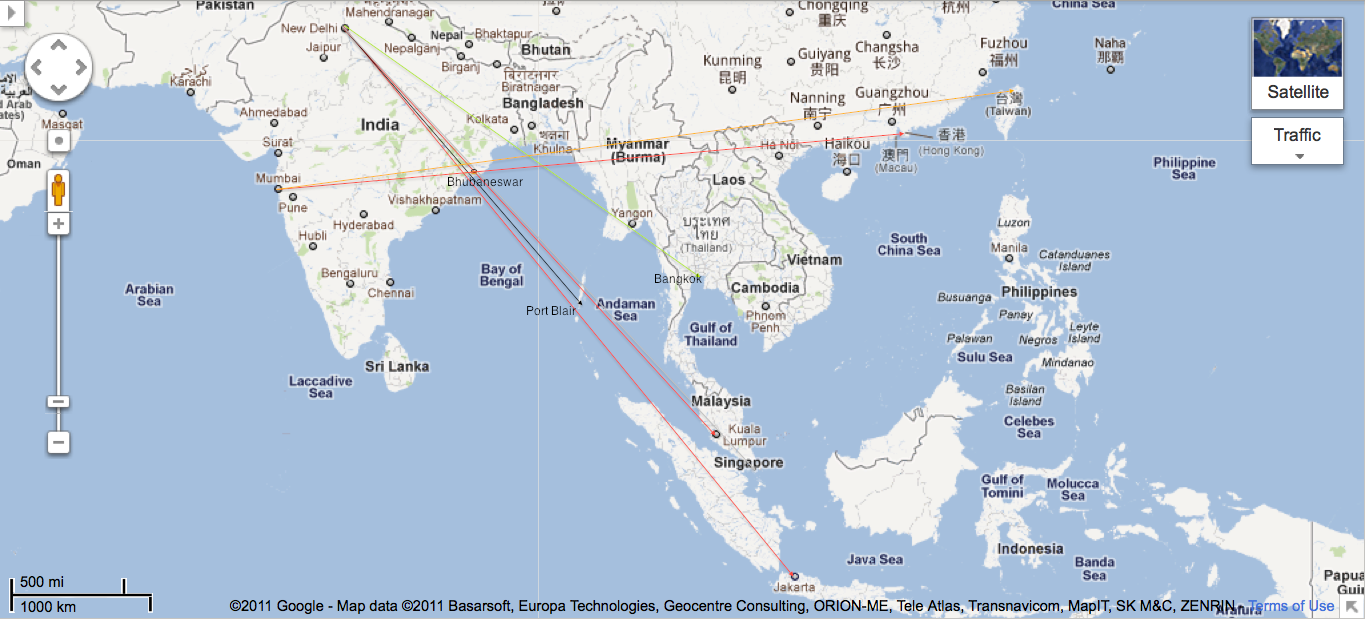 As the map above shows Bhubaneswar is also very close to the straight line connecting Delhi to Jakarta, Delhi to Singapore and Delhi to Kwalalumpur. I hope some of the airlines take note of that and introduce flights between those places with a stopover in Bhubaneswar.
Update: Mumbai to Hongkong and Mumbai to Taipei also passes very close to Bhubaneswar. Updated the map above to illustrate that.
12 Responses to "Air India introduces Delhi-Portblair flight with stopover in Bhubaneswar;"